This post contains collections of products that I personally recommend (it may contain affiliate links).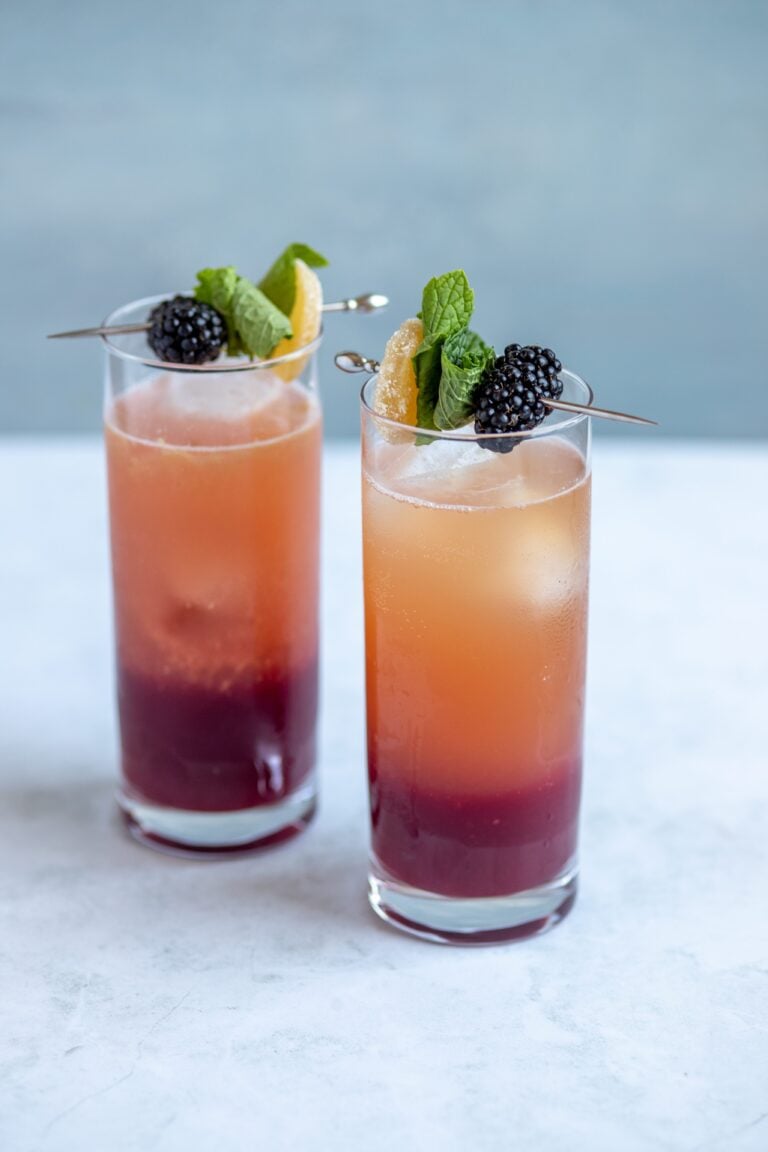 This Healthy Kombucha Mocktail is made with ginger and blackberry flavors. It's a play on a Moscow Mule—usually ginger and lime, mixed with vodka—but my mule has no alcohol. It was a perfect drink for my summer evening, rooftop hang with this beautiful Boursin cheese board. It's been a hot week here and this cool refreshing drink was just the ticket tonight! In case of colder weather, check out my Spiked Hot Chocolate Board.
How to Make a MOCKTAIL MULE
This drink has a classic summer combination of flavors: ginger, lime, and blackberry. The recipe at the end of this post serves two. Here are the steps to make it:
First start by pouring the lime juice and blackberry jam (you read that right! jam!) into a mason jar. Add a few ice cubes and shake to mix and chill the liquid.
Add some ice to two Collins glasses. You can use a traditional Mule glass but it will hide the pretty ombre colors of the drink. Pour the chilled blackberry mixture, dividing equally between both glasses.
Top each glass with ginger kombucha (pick your favorite brand!). Garnish a cocktail pick with a sprig of mint, fresh blackberries and candied ginger. A lime wedge would look great too!
How To Achieve the Ombré Look
What I loved even more than the way this drink tastes, is the way it looks. We definitely eat (and drink) with our eyes, so make a special treat for yourself today!
To get the layered look of this drink (so profesh!), you want to make sure you pour the blackberry liquid in first. It's heavier than the light, effervescent kombucha, so unless you shake it all up or stir them together, they will naturally keep separate, giving it a gorgeous ombre appearance, similar to an el Diablo cocktail.
The Jam Trick
Instead of simple syrup, I used jam in this drink. This easy swap is currently trending in the drink world and such a great substitution. It's super simple—you don't have to buy or make some fancy blackberry infused syrup just as one component of the drink. You can just reach in your fridge and use a bit of jam. I love this simple swap, so I'm going to be sure to show more drinks with jam moving forward.
Get Your Garnish On
You know me, I have to add a nice garnish. It's part of the visual appeal, plus it adds texture and plays up the flavors of this drink. For this mocktail I added a cocktail pick with a blackberry and piece of candied ginger. But honestly, there are soooo many options… You don't want to fill your pick all the way across. Leave a little room on either side so that it will rest on top of your glass easily. If you want more whole fruit or other items in your drink you can always float a few blackberries on top. You can also place a lime wedge on the rim of your glass, and add a sprig of mint to the top—even if you don't eat the mint leaves, it will smell really nice as you put your glass to your lips!
What is Kombucha?
Kombucha is a fermented tea that is slightly bubbly and sweet. It is related to vinegar, which you may taste in some more than others. Kombucha is often mixed and enhanced with spices, juice, or other flavors because it can get fairly strong on it's own. Many people believe it has great health benefits, but the verdict on that is still out. Personally I love how special kombucha tastes, healthy and so flavorful, unlike anything else!
Is Kombucha Alcoholic?
Kombucha is made by adding a culture of bacteria and yeast (called a SCOBY) to tea with sugar. The active SCOBY converts the sugars into mildly acidic liquid and alcohol. Yes, kombucha has some alcohol in it, but the actual amount of alcohol depends on the batch. You may remember Lindsay Lohan's run-in with the cops alarming her alcohol bracelet and she blamed it on kombucha? Store-bought brands list the alcohol contents on the label, not more than one or two percent. People who make kombucha at home will quickly learn that the longer you leave it to ferment, the higher the alcohol content and acidic flavors.
The Best Time for Mocktails?
I chose to make this mocktail for myself because it's been so hot and I really wanted a flavorful drink that felt special but was also refreshing. While alcoholic drinks seem refreshing (you know I love a good marg!) they can actually dehydrate you. So I went for a fruity and delicious mocktail, as the perfect summer chilled beverage.
Other occasions that may call for a mocktail like this?
Brunch! If you don't want to get hammered before noon, a mocktail might be your new brunch go-to.
A Baby Shower is a great place to serve mocktails to show solidarity with the non-drinking mom-to-be. (Just note that this particular mocktail uses kombucha which still has a bit of alcohol, which is not advised for all pregnant ladies.)
Kid-related gatherings like PTA meetings or team celebration parties
Office parties with mixed groups who may not drink
Parties for young adults like prom night or graduation
Show Me Your Mocktails
If you make a mocktail inspired by this post, please tag me at @ainttoooproudtomeg so I can see and share! And, if you like this recipe, please rate and review.
Blackberry Mocktail Mule
Description
Ingredients
1 1/2

cup

Ginger Kombucha

2

oz

Lime juice

2

oz

Blackberry jam

Lime wedge

for garnish

Mint

for garnish

Blackberries

for garnish

Candied ginger

for garnish
Instructions
Pour lime juice, blackberry jam and a few ice cubes into a mason jar and SHAKE.

Add ice to a Collins glass. You could use a traditional Mule glass but I wanted to see the pretty ombre colors of the drink so I used a Collins.

Pour in blackberry mixture equally into both glasses

Garnish with mint, blackberry and candied ginger on a cocktail pick. Optional: add a lime wedge
Tried this recipe?
Rate & Review!
Photos by my friends at Salt Worth Creative, who also shot The Cheese Board Deck.