This post contains collections of products that I personally recommend (it may contain affiliate links).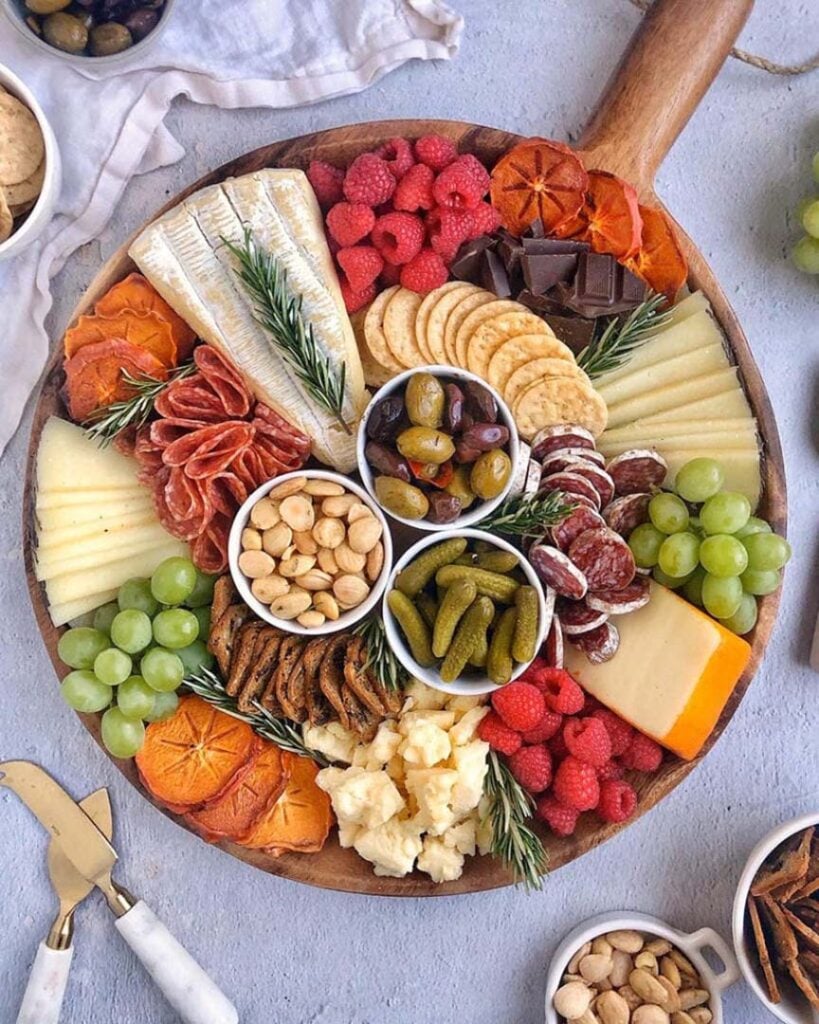 Looking for an easy charcuterie board shopping list? Trader Joe's is my go-to grocery store. They have a great selection, yummy cheeses & good prices! Read on… and consider this your ultimate guide to creating a delicious cheese & charcuterie board from Trader Joe's!
There are certain cheese board items from Trader Joe's that I continually go back to every time. You can find the full list on my ONE-STOP SHOPPING LIST. But since you always ask about how much boards cost, I wanted to focus in on two different price points. First, a $65 board with all the items I love without too much skimping, then a $35 Trader Joe's budget cheese board for keeping costs down. Check out my $50 Aldi Cheese Board too!
Full breakdown of costs in recipe at bottom.
So, here's what our $65 board looks like…
CHEESE BOARD 101
This is my idea of the Perfect Trader Joe's board; using all my tips and tricks for creating a well-rounded, balanced platter:
A variety of cheeses; a mix of hard cheeses ("Unexpected Cheddar" and Manchego) and soft cheeses (French Brie and Port Salud)
A couple different meat options (a subtle/smooth option with the Salami Secchi and a spicy option with the Calabrese)
Cracker options; A hearty cracker (Fig & Olive Crisps) and a gluten-free option (Savory Thins)
Colorful produce; I usually like to add lots of fruit, but for the sake of focusing and keeping within the $65 budget, I choose 2 items in different colors. In this case, green grapes and red raspberries. Since produce is seasonal, you can choose the most affordable items within that season. Browse the produce section and choose two items for under $10. NOTE: choosing organic options is obviously more expensive than conventional.
A sampling of accoutrement; While you could technically make a tasty cheese board with all the items above, these items take the board to the next level. Salty, briny items like olives, cornichons and marcona almonds add a tangy crunch. Plus, the sweetness from the dark chocolate and dried persimmons are the perfect compliment to the salty cheeses. Note that some of these items, like the marcona almonds and persimmons are on the pricey side. As a result, they wont be making it to our $35 budget boards. Stay tuned to see what I opted to keep in and take out.
Account For Leftovers
This round board is 14.5in in diameter within the lip, so there were plenty of leftovers. You can see the extra crackers, almonds, grapes laying around the board in the photo. For reference, I've added another photo below of the additional leftovers I did't put out with the spread:
half the Salami Secchi, half the Calabrese
1/4 of the Unexpected Cheddar
the rest of the dried persimmons.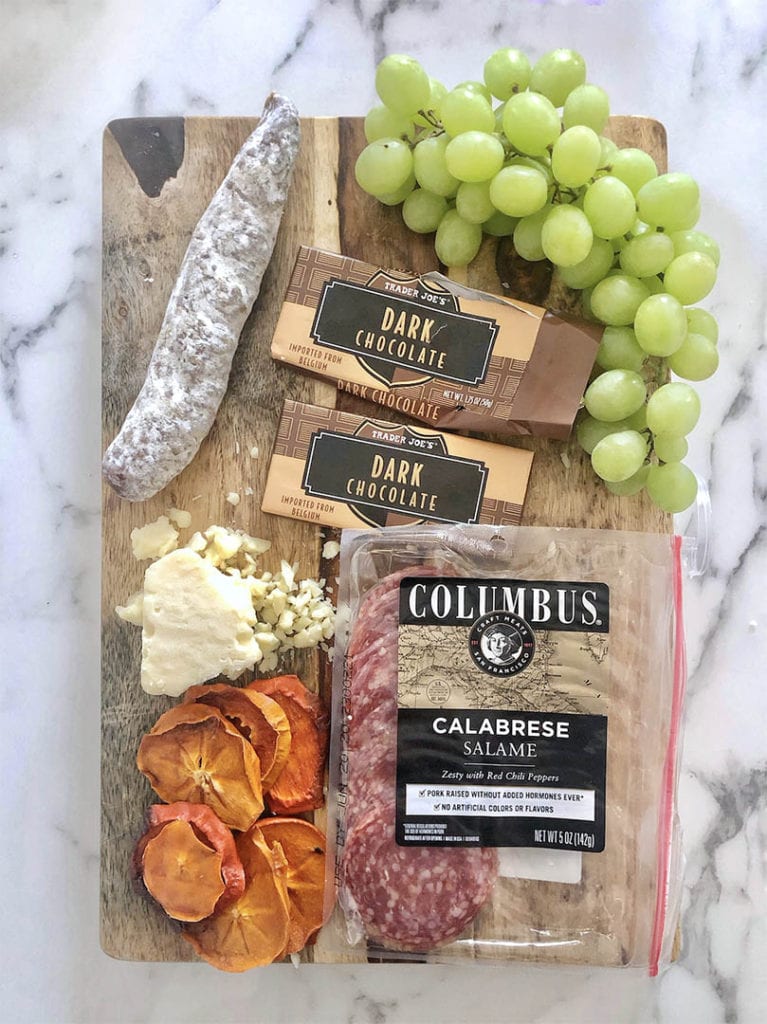 RECTANGLE BOARD VERSION
To give you a better idea of what kind of board all these items would fill, I've also shown a version on a 20in x 14in rectangle board. There are still some items in bowls around the spread (olives, almonds, chocolate & savory crisps), but most of the ingredients are used within the board.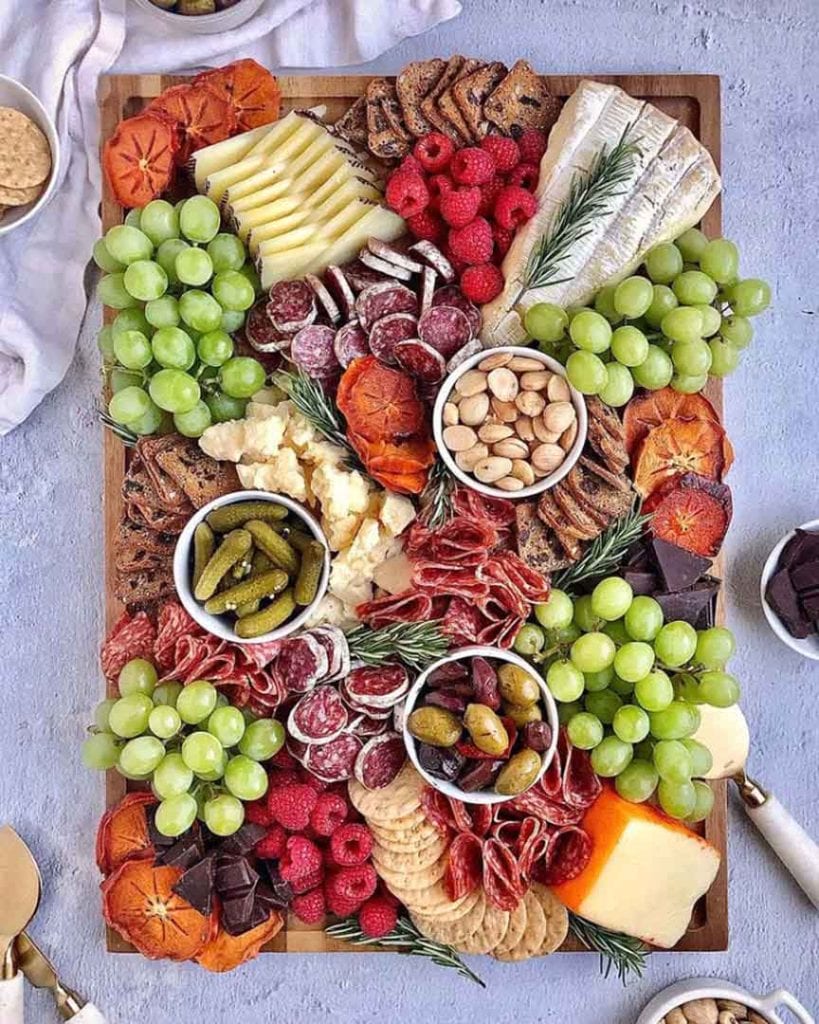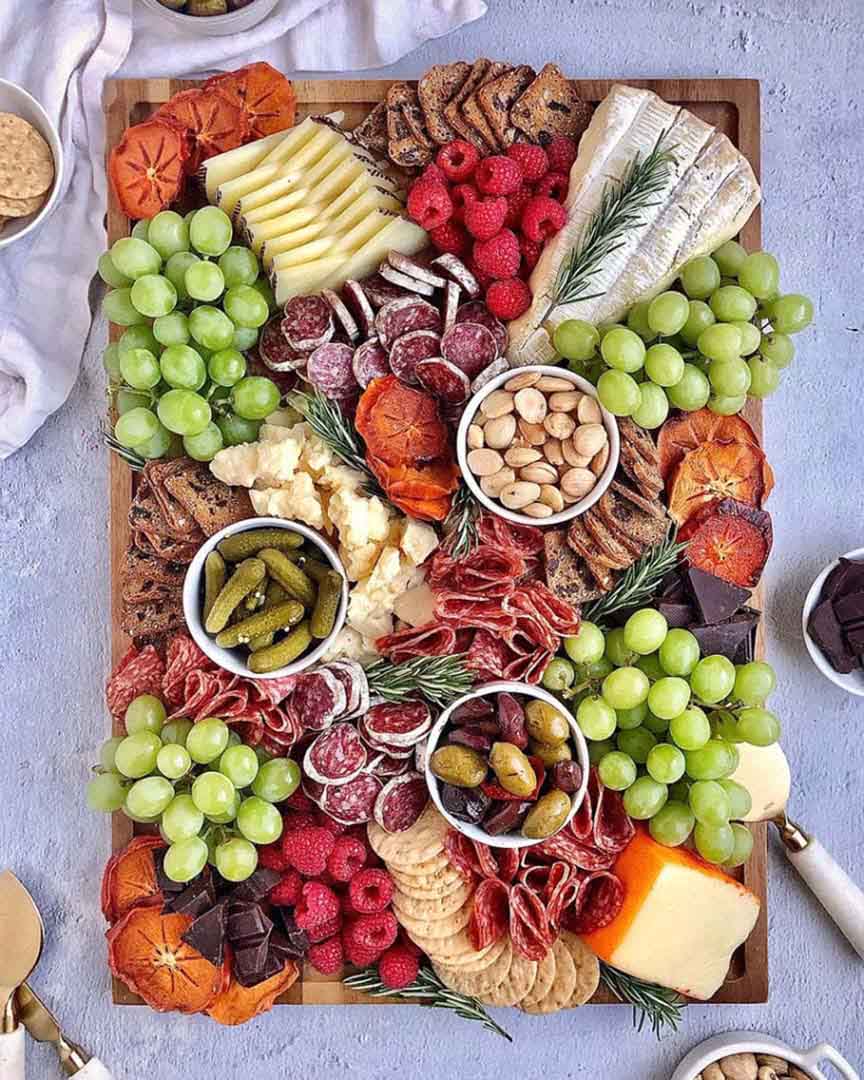 A FEW THINGS TO NOTE
The olives at Trader Joe's are not my favorite. I love castelevetrano olives, but since they are not available (other than a TINY pack of green olives for $0.99)…I went with the marinated olives in the vacuum seal. Note that many people like the refrigerated olives. All that said, these do a fine job. But if you keep a jar of castelevetrano olives in your pantry, you may want to choose those over these.
For all the cheeses here (except Unexpected Cheddar), the price of the cheese depended on the size/weight. Be mindful of this as you try to stay within a budget. Obviously, the smaller the piece, the lower the price, BUT the less people you can serve.
Trader Joe's has great seasonal cheeses at a good price. Be on the lookout for affordable options that might only be there a limited time.
I am a big fan of dried persimmons, but some people prefer the sweetened dried oranges. The oranges are cheaper, so if that's your preference anyway, you can easily just to straight for the oranges.
VIDEO SHOPPING GUIDE
For a little recap of these items, here's a Tik Tok video showing what the items look like in store. Prices included:
How Low Can You Go?
If you're looking to cut this $65 budget in half, here's my Trader Joe's $35 Budget Cheese Board. You can check it out to see what I kept from this board and where I skimped!
Where Do I Get a Board Like That?
As always, I've added similar boards and accessories in the SHOP THIS POST BELOW. Please always be sure to cross reference the dimensions of these boards with the ones use in this post. A different-sized board would fit a different amount of food. For reference, here are the sizes of these boards:
ROUND BOARD- 14.5in inside lip
RECTANGLE BOARD- 20in x 14in
Show Me Your Board
Nothing makes me happier than seeing you create beautiful boards from my tips. If you make a spread inspired by this post, please tag me at @ainttoooproudtomeg and #AintTooProudToCheese so I can see and share!
And, if you liked this board recipe, please rate and review.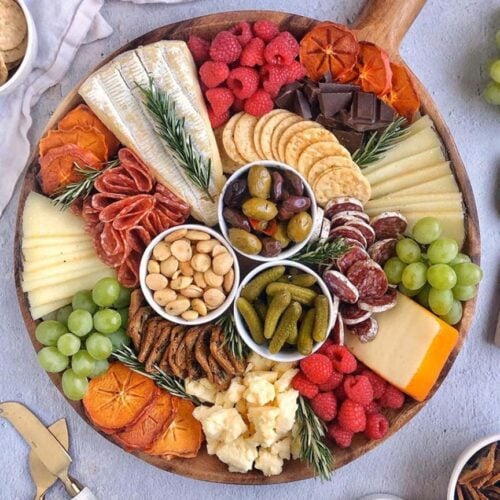 Trader Joe's Cheese Board $65
Description
For an affordable board and one-stop shopping, hit up Trader Joes' great selection of goodies. P.S. the ⭐️ = my go-to items.
Ingredients
Cheese
Unexpected Cheddar

sliced ($3.99)

Manchego

sliced ($4.68)

French Brie ⭐️

whole ($5.58)

Port Salud

whole or sliced ($3.90)
Meat
Salame Secchi ⭐️

sliced ($7.49)

Calabrese

folded ($2.99)
Carbs
Fig & Olive Crackers ⭐️

($3.99)

Savory Thins

($1.69)
Produce
Raspberries

($2.99)

Grapes

($5.49)
Accoutrement
Marcona Almonds ⭐️

($5.99)

Dried Persimmons ⭐️

sliced ($3.49)

Marinated Olives

($1.79)

Cornichons

($2.69)
Garnish
Rosemary sprigs ⭐️

($1.79)

Dark Chocolate

broken into small pieces ($1.79 – 3 pack)
Instructions
As you know, I like to start by adding the olives, cornichons, and Marcona almonds to separate small bowls or ramekins and place them in the center of the board to anchor it.

Place the prepared cheeses around the outside edge of the board.

Next, fan out a handful of savory thins and figs & olive crackers around ramekins. Serve any remaining crackers on the side.

Add the dried persimmons, raspberries and grapes sections throughout the board, paying attention to color placement.

Tuck the Calabrese salami folds and Salami Secchi slices into any remaining spaces around the ramekins and produce sections.

Garnish with rosemary and chocolate to serve.
Tried this recipe?
Rate & Review!