This post contains collections of products that I personally recommend (it may contain affiliate links).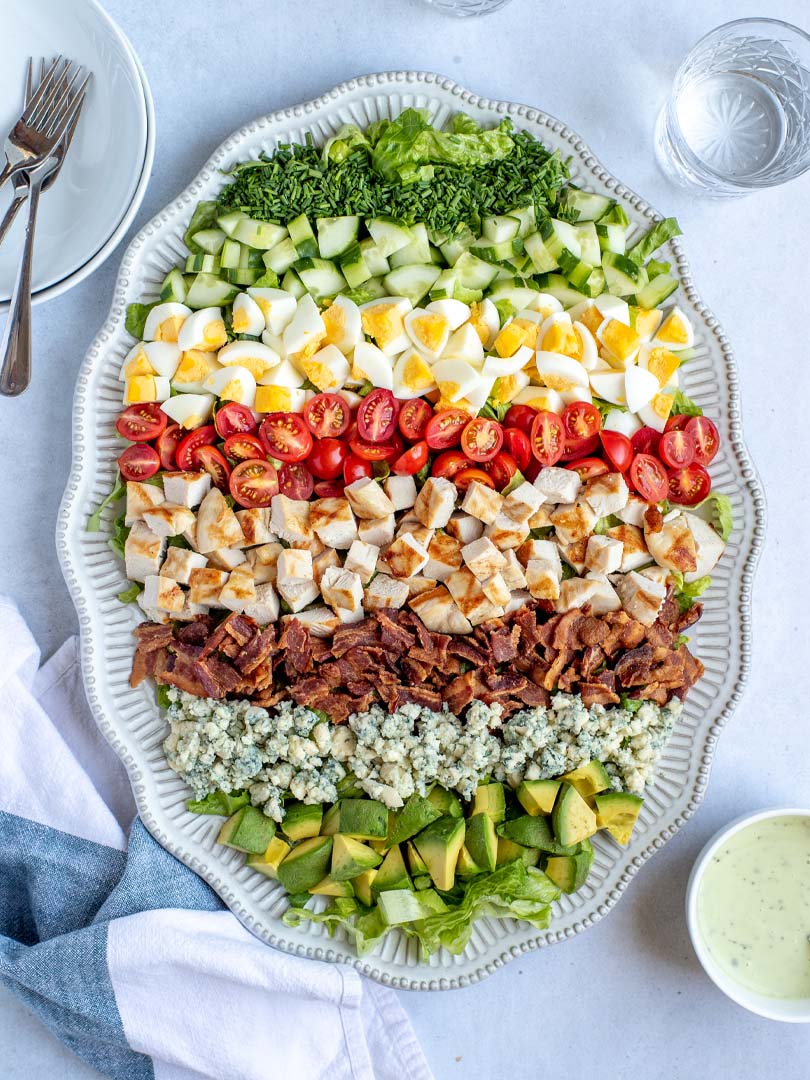 What's great about these salad boards (like my Waldorf and Fall Burrata versions) is that your ingredients will stay fresh for guests to make their serving at their leisure. No more worrying about dressing your salad at the last minute, or tossing away great ingredients just because they sat at the bottom of the salad bowl!
You can make this board and let your guests enjoy it at their leisure. It's one of the reasons I love grazing boards so much, you can really enjoy the company of your guests without all the worry and prep of cooking a big meal. Plus you get to extend the length of time of your meal.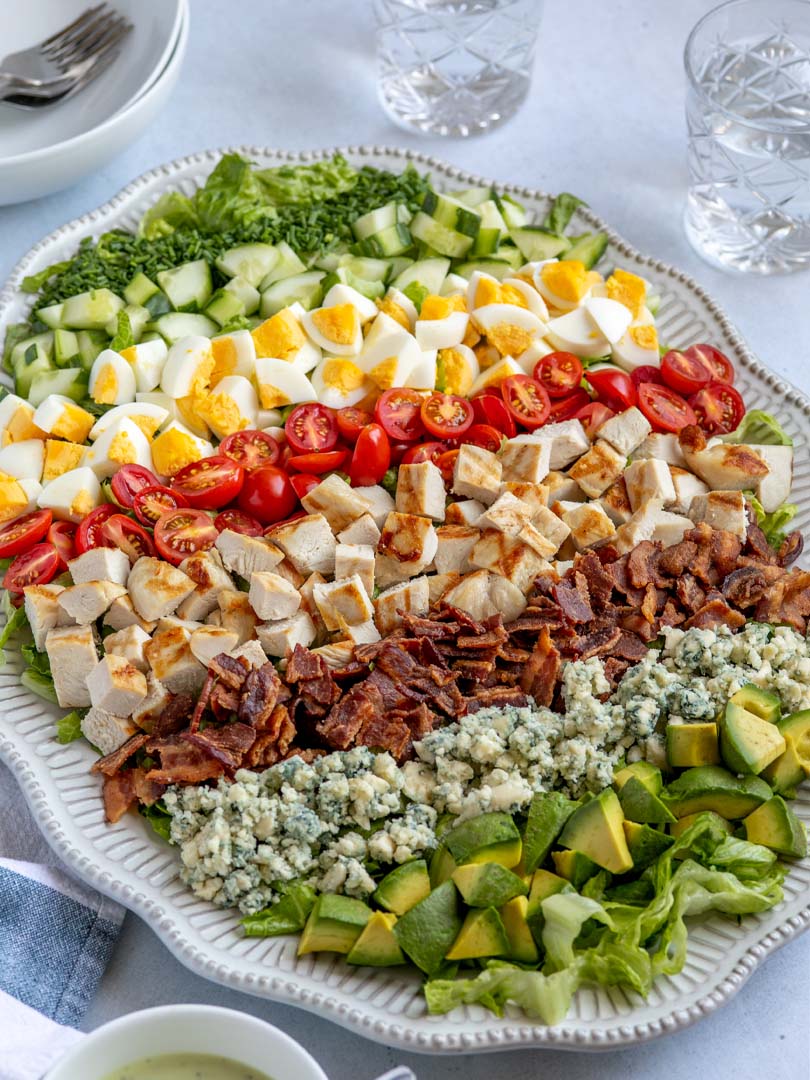 What is a Cobb Salad?
A Cobb salad is a very classic version of a chopped salad, which basically just means that all of the ingredients are bite-sized and ready to be mixed up all together.
Most typically a Cobb has the following ingredients: chopped lettuce (often iceberg or romaine), tomato, crisp bacon, grilled or roasted (but not fried) chicken, hard-boiled eggs, avocado, chives, and Roquefort cheese, with a simple vinaigrette. It's very flavorful and protein rich.
If you want to make it a vegetarian Cobb, you could substitute chickpeas for the chicken, or a meatless protein. Other ingredients I've seen people add to a classic Cobb include, black olives, more flavorful greens like watercress, endive, or arugula (mixed with the base lettuce), chopped green onions, or mushrooms.
What's on This Salad Board?
I went for the classic ingredients and laid them all out in rows on a large platter over my greens.
Chopped Romaine- the based layer under the ingredients.
Chicken—cubed up, grilled breast meat.
Bacon—I crisped up some bacon, let it cool and then crushed it into bite-sized pieces. You can also cube it up first then cook it on the stovetop.
Blue cheese—I didn't go for the traditional Roquefort here, mine's just a regular stinky and crumbly blue cheese. Focus on finding one that crumbles easily, and is flavorful enough to contrast the other ingredients in the bowl.
Cucumber—chopped into cubes, I used a regular english cucumber. Persian cucumbers are also a great option, just slice them into rounds.
Tomato—chopped into small bite-sized pieces, I used cherry tomatoes sliced in half.
Avocado—make sure you get a ripe one! You can squeeze just a few drops of lemon juice on top so that it doesn't brown.
Dressing—any vinaigrette will do nicely, I used an olive oil and balsamic based one. Use your favorite and it will be great!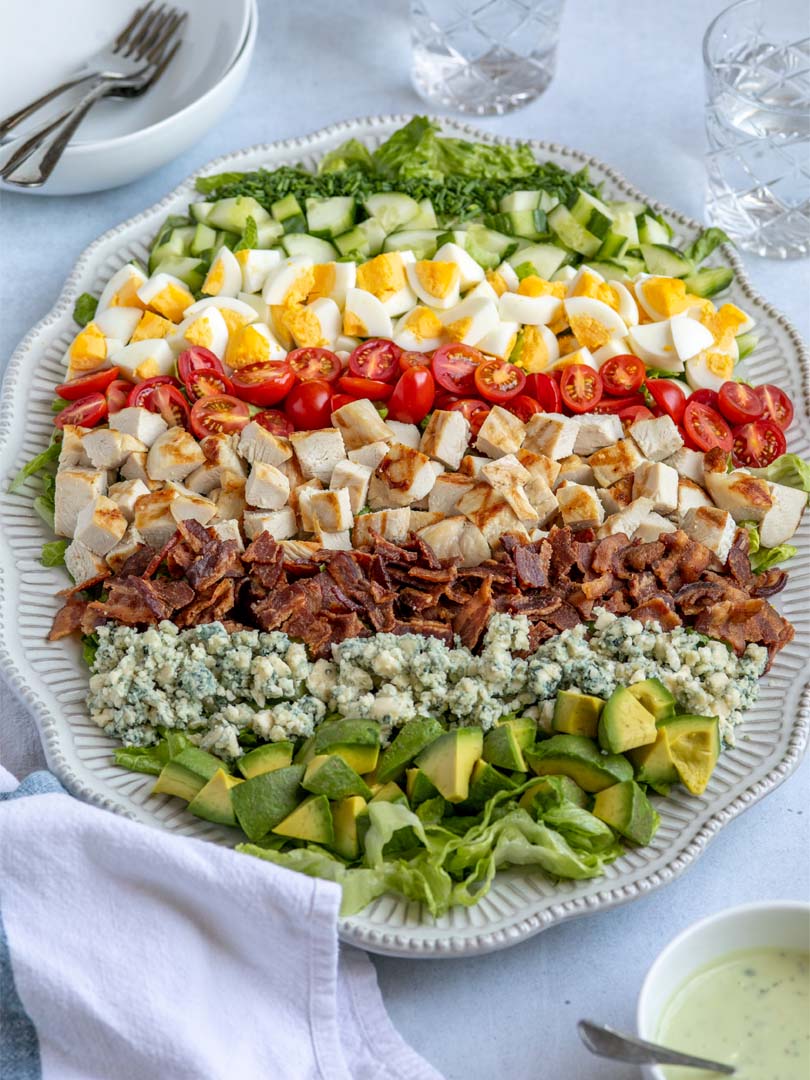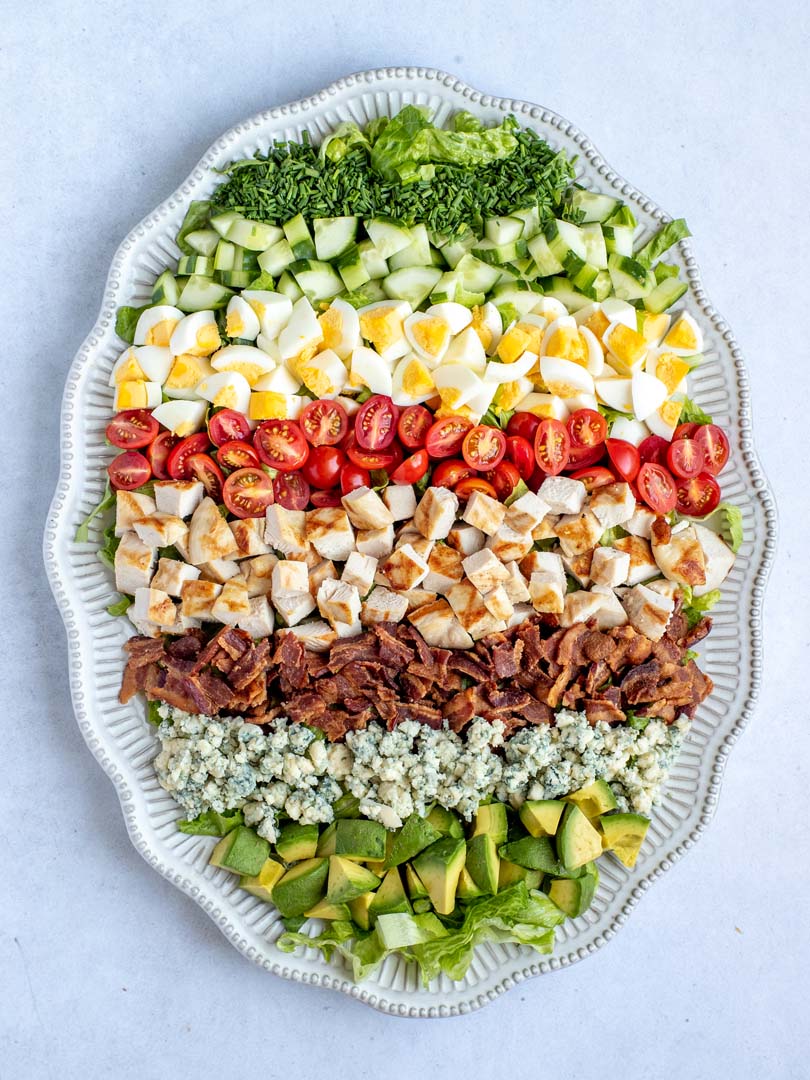 When to Serve This?
A Cobb salad is hearty and light at the same time. It makes for a really simple lunch time meal, you really don't need much else with it. If you are serving a crowd, pair it with some crusty bread, a soup, or a small cheese platter.
See the Italian Chopped Salad Board for two ways to serve this platter (toppings board vs. platter with lettuce under like you see here).
Show Me Your Salads
I want to see your versions of this Cobb salad board, I love seeing what you create. If you post a board inspired by this one, please tag @ainttoooproudtomeg so I can see and share!
And, If you liked this board recipe, please rate and review.
Photos by: Haley Hunt Davis
Cobb Salad Platter
Description
What's in a cobb salad? Gather all these Cobb Salad ingredients and lay them out beautiful on a platter. It's hand's down the best way to serve a healthy Cobb salad.
Ingredients
Protein
Grilled Chicken

Hard Boiled Egg

Bacon
Produce
Avocado

Romaine Lettuce

Cherry Tomatoes

Cucumber

Green Onion
Dressing
Dressing of choice. I used a Balsamic Vinegarette
Instructions
Pre-chop all items that will go on the salad, including the romaine lettuce

Lay down a base of chopped romaine on the whole platter

Start layering ingredients in order of the photo (or similar) to showcase contrasting colors and keeping similar colors seperate

Serve Dressing of choice on the side
Tried this recipe?
Rate & Review!