This post contains collections of products that I personally recommend (it may contain affiliate links).
You guys, I'm on a salad board kick. We've got the Italian Chopped, the Cobb, the Fall Burrata Board, and now this play on a classic Waldorf. I love the simplicity and elegance of these salad boards. Plus no more picking out the ingredients you don't like from someone else's salad, who doesn't love a build-your-own salad course!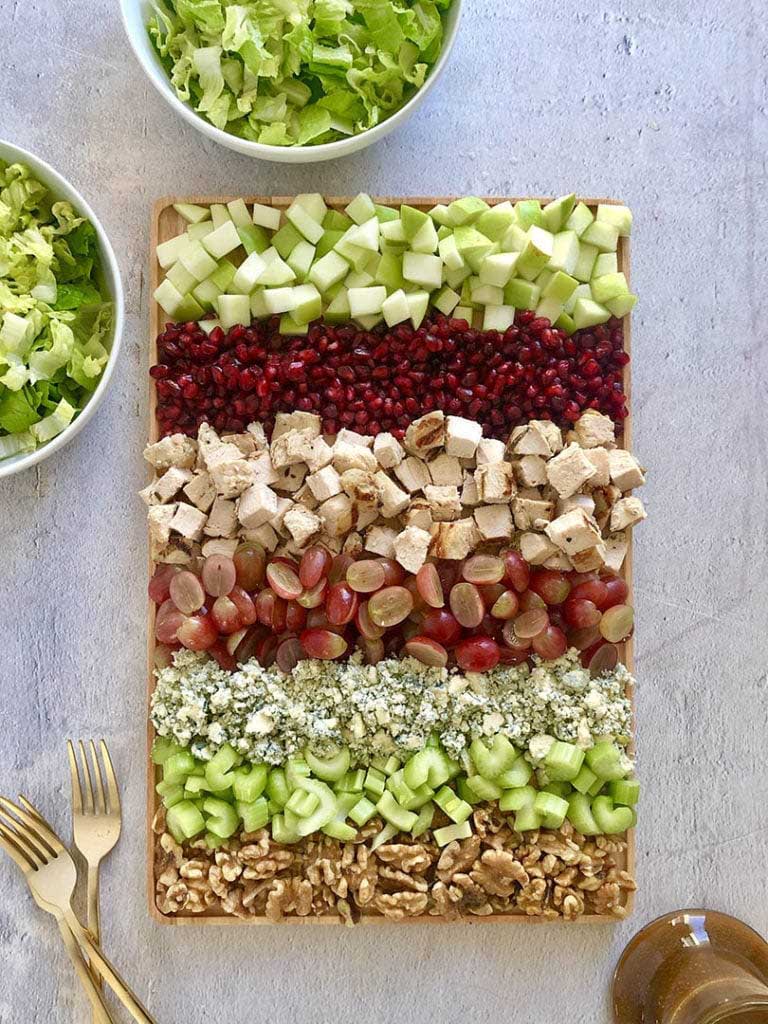 Waldorf Salad Two Ways
In this post, you will find my two favorite ways to serve a salad:
As a toppings board with chopped romaine served on the side for everyone to top their own bowls of lettuce, as seen on today's episode of The Dish on Dr. Oz. I'll refer to this as the "rectangle version" below.
As a platter with chopped romaine underneath the rows of ingredients. I'll refer to this as the "oval platter" for the rest of this post.
Both focus on the art of presentation displaying ingredients in a way that entinces guests to dig in.
What is a Waldorf Salad?
Typically a Waldorf salad incorporates fresh fruit and nuts, most traditionally grapes, apples and walnuts along with chicken and celery. The dressing is usually creamy or mayonnaise-based. Here's my version…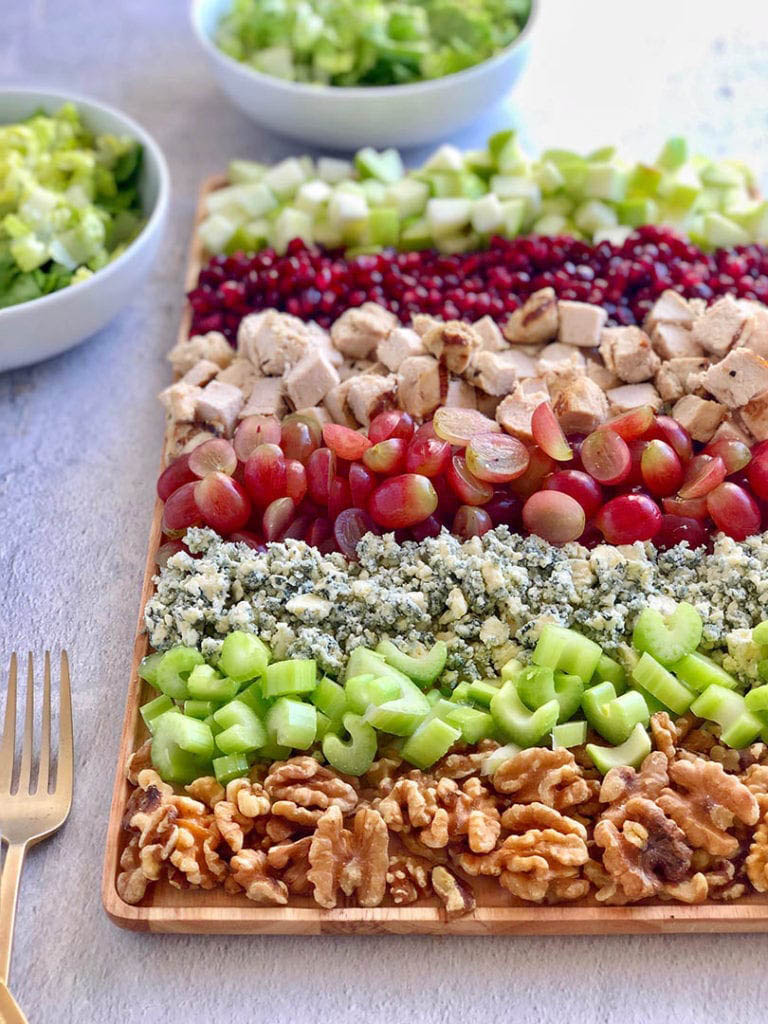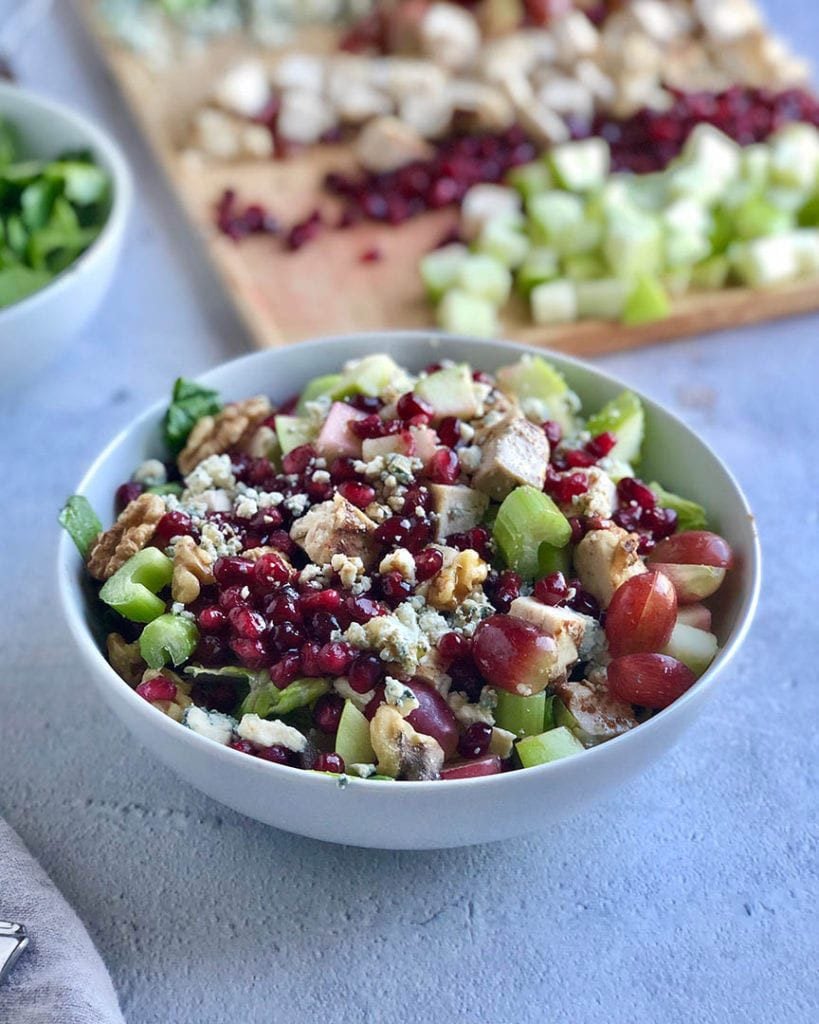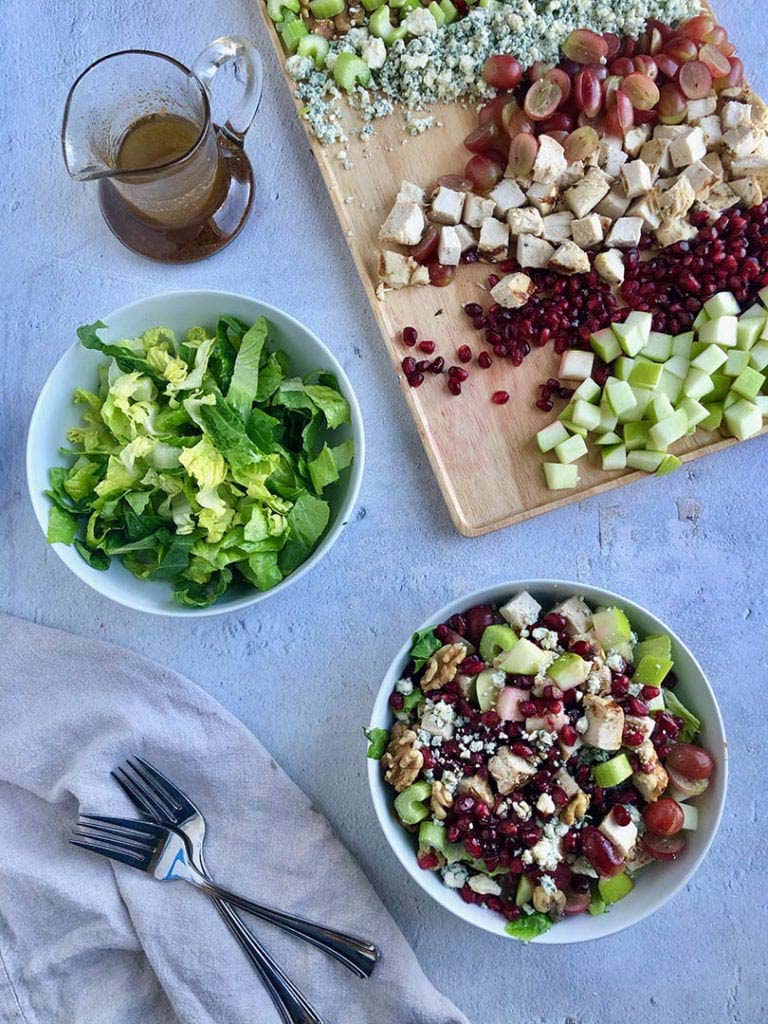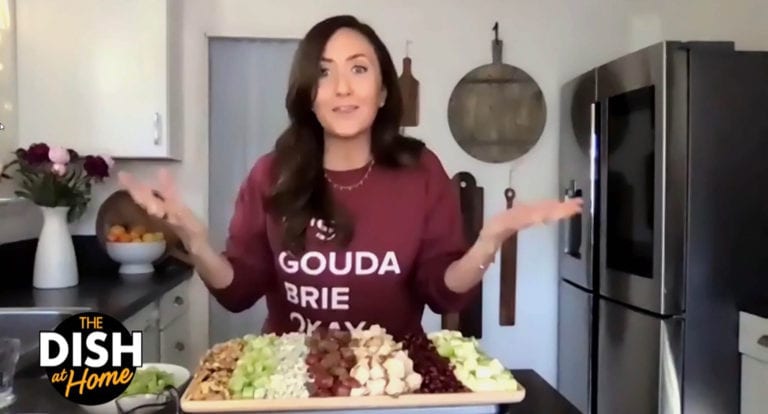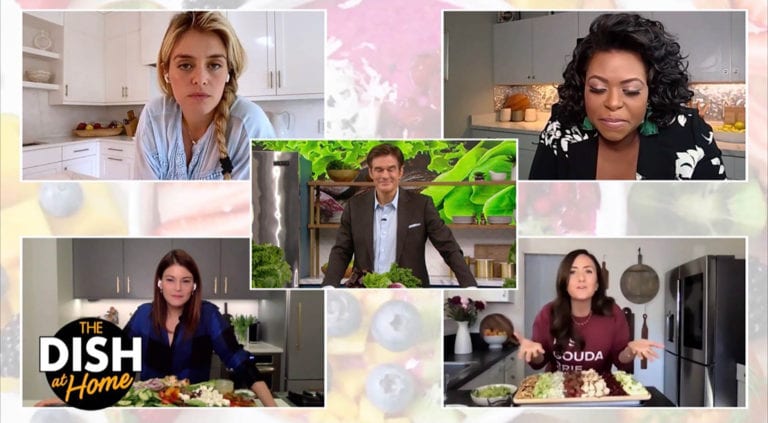 What's on This Board?
I made a few substitutions to give it my own twist and give off winter waldorf vibes. The options are wide open to make it your own!
I added grilled chicken, cubed into bite-sized pieces to make this more of a meal.
On the oval board, I subbed in pomegranate seeds for a fun twist. Much like celery, it adds crunch, but it's also a nice bit of sweetness and a winter feel to the board. The added color is another bonus, but if you don't have them available, the celery alone will dos a great option. I used both on the rectangle board because you can never have too much crunch in my opinion.
The apples I used are granny smith. They are really crisp and tart, so they hold up well when dressed and shuffled around in your salad bowl. There are so many apple varieties to choose from, others I love are Honeycrisp, Fuji, Pink Lady, or Jazz apples. Check out my Rosh Hashanah Board for my trick to keep apples from browning.
Oh boy do I love grapes in a salad. I sliced these red grapes so that they weren't so massive, plus it's no fun trying to elegantly spear a whole grape when it's slippery with dressing. Save your guests the cat and mouse game 😉 Plus the two colors from the inside and outside add beautiful texture to the board.
The nuts I included are candied walnuts on the oval board and regular roasted to the rectangle. It all depends on how much sweetness you like and since the pomegranate seeds give sweetness, I opted out of the candied for one of the boards. You can substitute these for your favorites, pecans or almonds.
The blue cheese I bought in a whole piece and crumbled it myself (first into a bowl then placed it on the board). In a pinch you can also buy pre-crumbled blue cheese, it just might not be as fresh. Plus I've heard that pre-crumbled cheese has more chemicals added to it, so that it stays longer. Your choice!
Celery (used on the rectangle board) adds the traditional texture that makes this board classic. You may think you don't like celery, but when mixed with the blue cheese and the other ingredients, it's the perfect compliment!
Dressing. I just added a simple balsamic vinaigrette.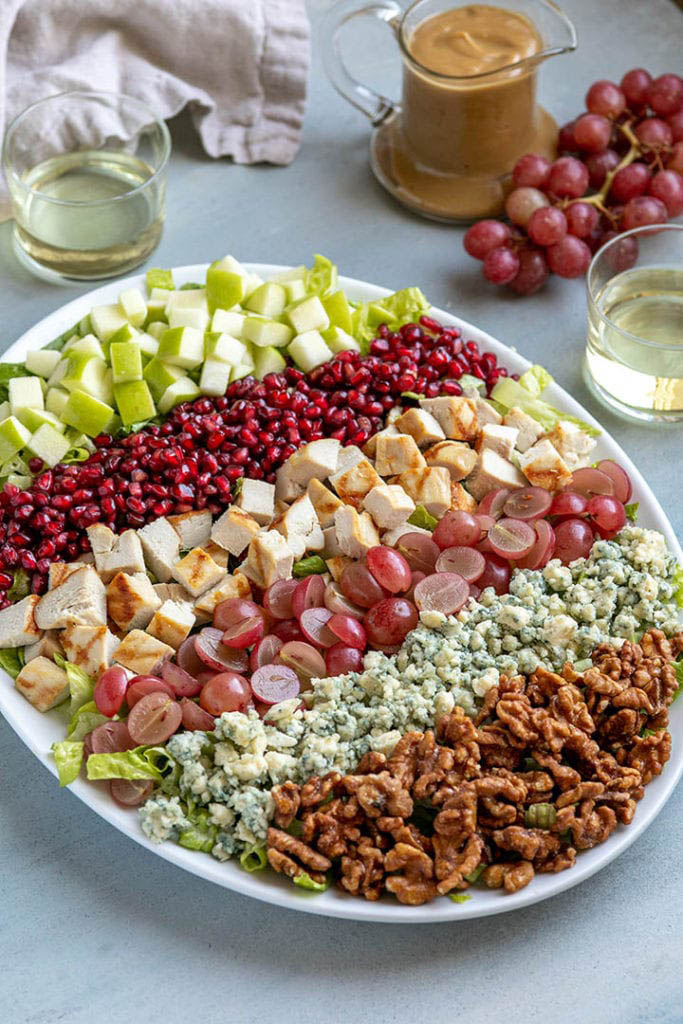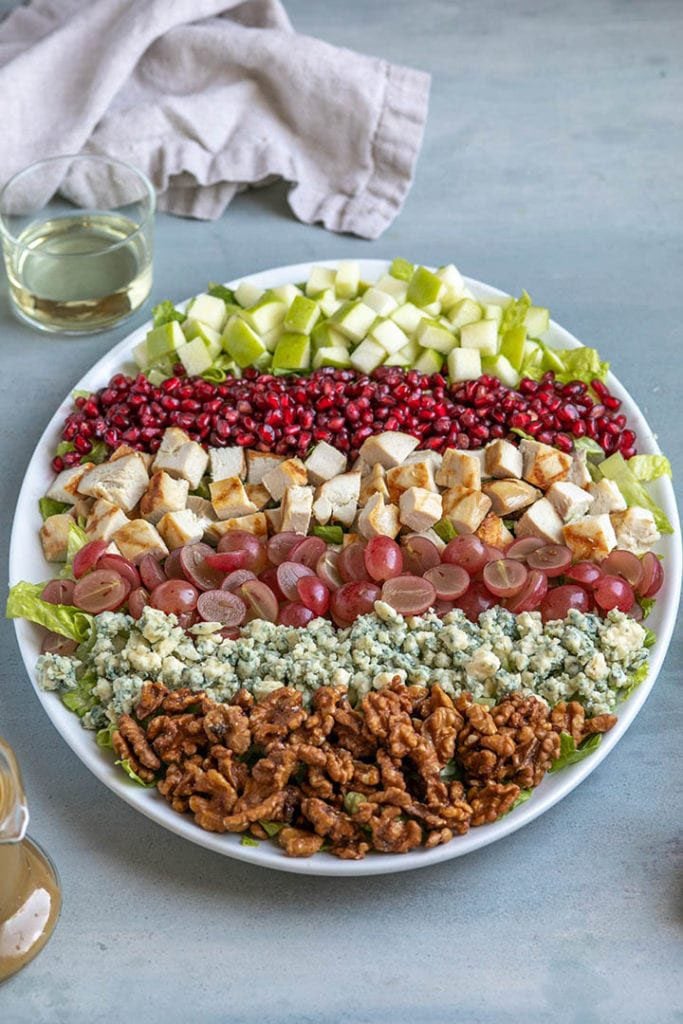 When To Serve a Waldorf Salad?
This salad is lighter, so it's usually an appetizer course. Since I added chicken and a nice blue cheese to mine, I think it kicks it up to more of a meal. You can substitute ingredients that make it more festive for wintertime, candied pecans, pears instead of apples (or both!). Alongside a nice cheese board, this salad board is a great way to make a great meal for your family or guests.
Show Me Your Salads
I want to see your versions of this Waldorf salad board, I love seeing what you create. If you post a board inspired by this one, please tag @ainttoooproudtomeg so I can see and share!
And, If you liked this board recipe, please rate and review.
Oval Platter Salad Photos by: Haley Hunt Davis
Waldorf Salad Board Recipe
Description
Line up all the Ingredients from this deconstructed waldorf salad for guests to customize their own salad bowl.
Ingredients
Produce
Romaine Lettuce

Celery

Red Grapes

Pomegranate Seeds

Granny Smith Apples
Accouterments
Walnuts

(candied or roasted depending on your desired level of sweetness)
Tried this recipe?
Rate & Review!