This post contains collections of products that I personally recommend (it may contain affiliate links).
I'm just going to say it… you NEED to make this! It's easy, delicious and sure to be a hit the next time you serve it.
This chopped salad board is an elegant way to serve a substantial salad and let your guests customize their plate. Mine features all the usual suspects you'd find on an Italian antipasto plate. It's salty and hearty, but also light and well-rounded. You'll find that the secret to making it extra yummy is adding double the Parmigiano Reggiano. Have at it friends!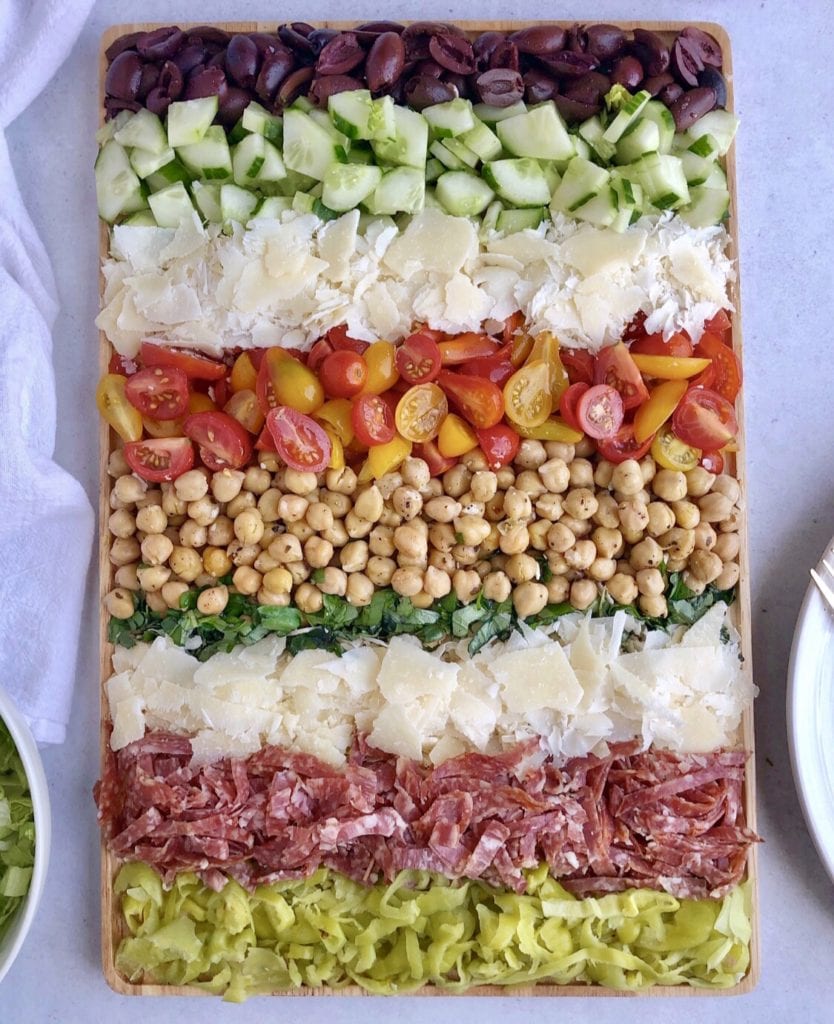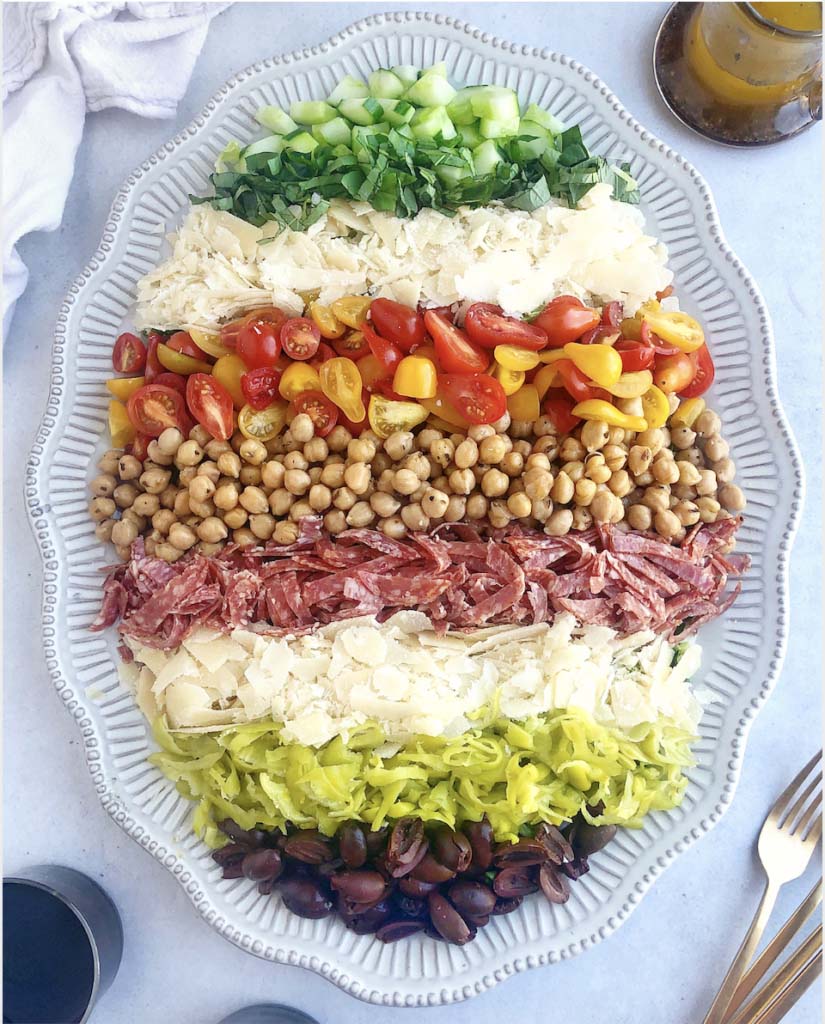 Two Ways to Build a Chopped Salad Board⠀⠀
Really this goes for any salad board (like this burrata board from the summer), I have two go-to ways for building what essentially is a deconstructed salad.
Make your choice based on the serving platters you own and what will suit your guests best. See photos and descriptions below for the two options…
Chopped Salad Serving- Option 1
Create a "toppings" board with all the fixins' that you love. I love using this rectangular wood board with a lip to help corral the ingredients in place.
Guests should fill their bowl with lettuce and add toppings to build their own chopped salad.
Note that you could also just give everyone a salad bowl already filled with lettuce.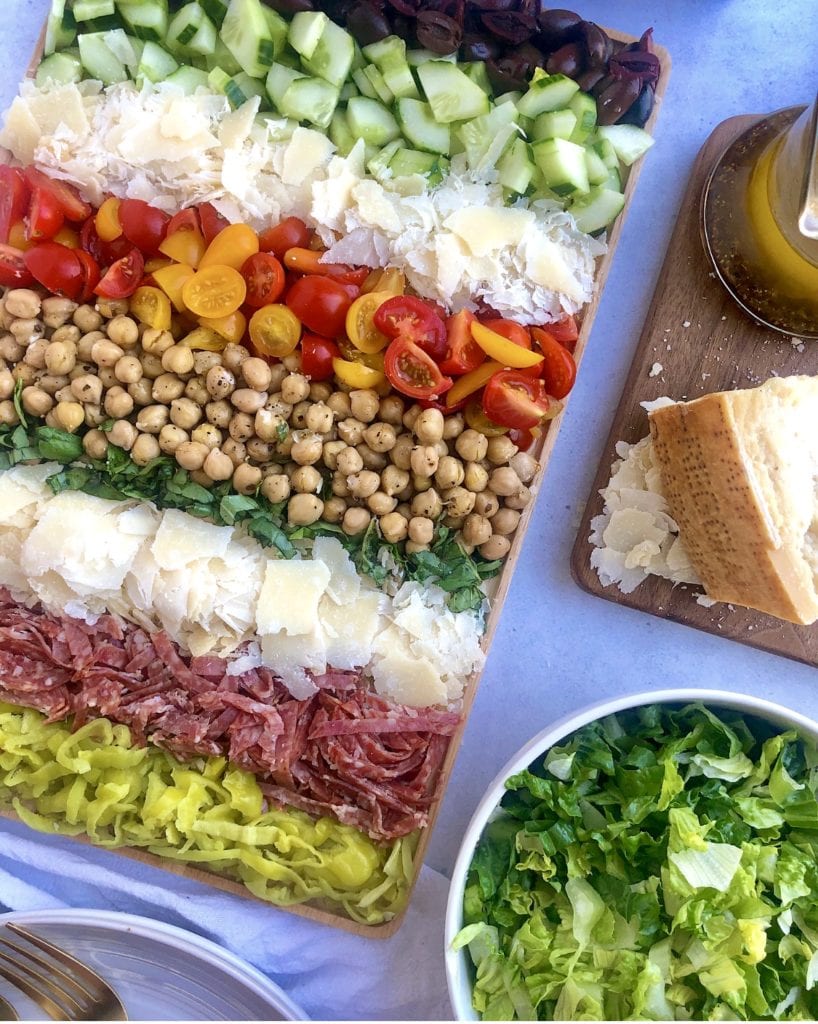 Chopped Salad Serving- Option 2
Place all the chopped lettuce on your platter as the first layer.
Now, line up the toppings over the lettuce (so it's no longer visible).
Your guests should be able to get a bit of lettuce each time they go for some of the toppings.
Same as above, serve dressing on the side in a cruet so everyone can choose their amount of dressing.
Big Cheese Lesson: What's up with Parmigiano Reggiano?
Prior to making this board, I didn't know the whole story behind Parmigiano Reggiano. Since then, I've learned why it stands apart from other cheeses. In fact, it's the true star of this Italian chopped salad! ⠀⠀
In the past, I thought that Parmigiano Reggiano was just the fancy Italian way of saying parmesan. To the contrary, not all parmesean is created the same. Parm Reg is a distinct type of parmesan, only made in a small region of Italy. Similar to how any old sparkling wine is not actually champagne.
For more on it's rigorous ingredient and culturing standards, check out my post, "All About Parmigiano Reggiano."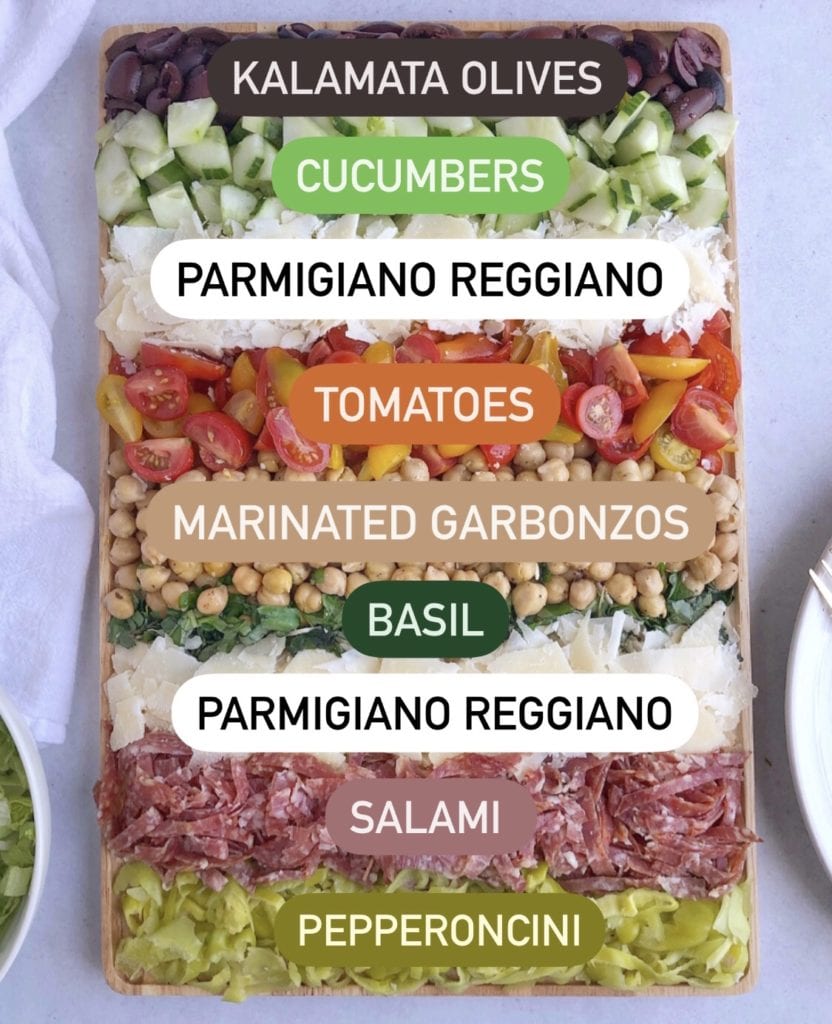 What Goes in This Italian Chopped Salad?
Marinated garbanzos—drain your beans and rinse the goopy bean liquid off. Marinate them overnight or for at least 30 minutes in olive oil, vinegar (balsamic or red wine), salt and pepper. You could also just use your favorite Italian dressing as the marinade here!
Fresh cherry tomatoes—slice these in half so that they match the sizing of the other ingredients and don't pop/squirt in people's mouths when eating.
Cucumbers—dice these up into bite-sized cubes (ahem, chopped). I used an English cucumber here, if you do as well some guests might prefer you take most of the rind off. It can get quite bitter. Persian cucumbers are a nice option as well, those you won't need to cut the rind off.
Salami—slice it up! I place a handful of rounds one on top of each other and slice away to create strips.
Romaine + Iceberg—I used a combo of both, thinly sliced. You can certainly choose one or the other. I wouldn't necessarily use other lettuces without the crunch, an important component of a chopped salad!
Basil—just a touch to garnish and add a flavor enhancement will do. Thinly slice this as well, or hand-tear the leaves into small pieces.
Parmagiano Reggiano!—the star of this salad, it adds saltiness and flavor. Slice it up using the side of a heavy duty cheese grater (the side with the large crescent shapes on it). You can also buy it already cut into these larger shreds.
Dressing- A great vinaigrette (more on that below)
Additional or Alternative Ingredients
As always, make this your own! The layout of this board is great for people who might want to opt out of certain ingredients. Everyone gets to customize their own bowl.
Don't eat red meat, salami, or pork? Use deli turkey, grilled shrimp or tuna!
Want to make a vegetarian option? The garbanzos have plenty of protein, so go without meat all together!
If you hate garbonzos, use white or kidney beans instead or simply omit them. I didn't realize this was a thing until I posted this on Instagram and learned of you sneaky garbanzo haters 🙂
Are you a cheese lover? Add mozzarella balls as an additional dairy layer.
Not a basil person, but love parsley, swap it out!
Finally, consider other ingredients like marinated artichoke hearts, sun dried tomatoes, bell peppers, radicchio, red onion, celery or croutons. The options are endless!!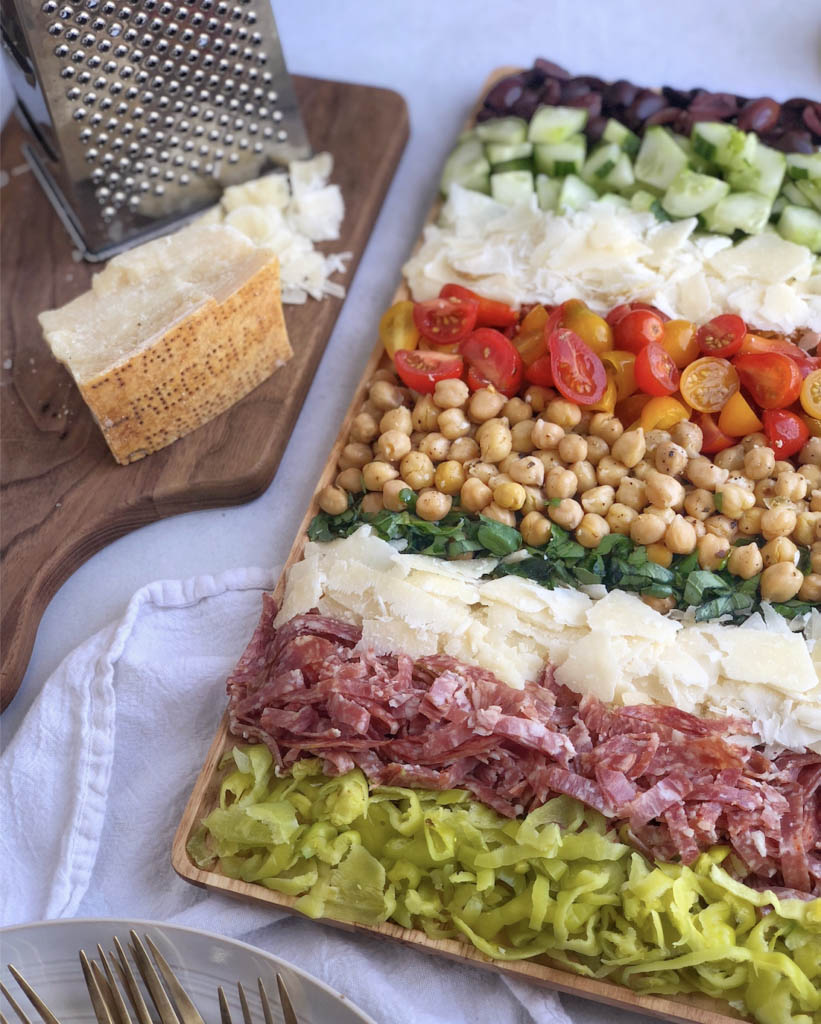 Let's Talk Dressing & The Recommended Oil & Vinegar Ratio
This ratio is key in any dressing. And once you've mastered it, it will pay so many tasty dividends. Use the ingredients below as a guide, but I always recommend tasting along the way.
Ratio—The tried & true culinary ratio is 3 parts oil to 1 part vinegar; a 3-to-1 vinaigrette.
Oil—I go with olive oil because there's already a depth of taste. You can always consider a more bland oil like avocado oil or walnut oil, but honestly, olive oil is best for anything italian-based like this salad.
Salt & Pepper—Both necessary to bring out the flavor of the other ingredients. Feel free to experiment with other seasonings like dried oregano or basil, which are prominent in Italian Dressings. Instead of exact measurement, I tend to season to taste.
I like to keep mine simple and usually stop there, but you can also add:
Citrus—I love the addition of lemons or limes in dressings. This can be in place of or in addition to the vinegar, however, note that both are acids (with citrus being slightly stronger), you you may need to increase your oil to counterbalace
Minced Shallots—Similar to the dried spices noted above, shallots can add an additional flavor level, especially given the fact that it's fresh. Add 1 Tbsp to start.
Or, scratch all this and buy a store-bought Italian dressing.
Show Me Your Salads
Tag @ainttoooproudtomeg and use #AintTooProudToCheese in your Italian chopped salad posts so I can see and sure! I'm sure you have opinions about what ingredients you like best, and I can't wait to hear all of them.
And, if you liked this board recipe, please rate and review.
Italian Chopped Salad Recipe
Description
How to make a chopped salad. This is the best & most beautiful way to serve your favorite Italian chopped salad ingredients. Make it today!
Ingredients
Salad Ingredients
Romaine Lettuce

chopped

Iceberg Lettuce

chopped

Parmigiano Reggiano

grated into large shavings

Garbanzo Beans

marinated in vinaigrette for 30 minutes or more prior to assembly

Cherry Tomatoes

sliced in half

Salami

in slices

Pepperoncinis

chopped

Cucumber

peeled & chopped

Kalamata Olives or Italian Marinated Olives

chopped

Basil

sliced & chopped
Dressing Ingredients
Olive Oil

Balsamic, Red Wine or White Wine Vinegar

Salt & Pepper

Dried Oregano and or Dried Basil
Instructions
Make salad dressing with 3 parts vinegar and 1 part olive oil. Add salt, pepper and dried herbs to taste. I suggest starting with 6 tbsp oil to 2 tbsp vinegar to uphold the ratio.

Open canned garbanzo beans, drain and rinse. Then, marinate in store-bought Italian dressing or some of the salad dressing mixture noted above. You could also wing it and just drizzle olive oil, salt & pepper over the beans. Let sit for 30 minutes up to 24 hours.

Depending on if you are making Option 1 or Option 2, put out your chopped lettuce into a side serving bowl or line the bottom of the board with your lettuce

Line up all ingredients in rows. Be mindful of color order. One order option is: cumber, basil, Parmigiano Reggiano, tomatoes, garbanzo beans (in the middle), salami, more Parmigiano Reggiano, pepperoncinis, then olives.
Tried this recipe?
Rate & Review!