This post contains collections of products that I personally recommend (it may contain affiliate links).
It's a Girl! I created this epic candy board for my best friend's baby shower and it was a hit!! See ingredients list & steps below so you can create your own.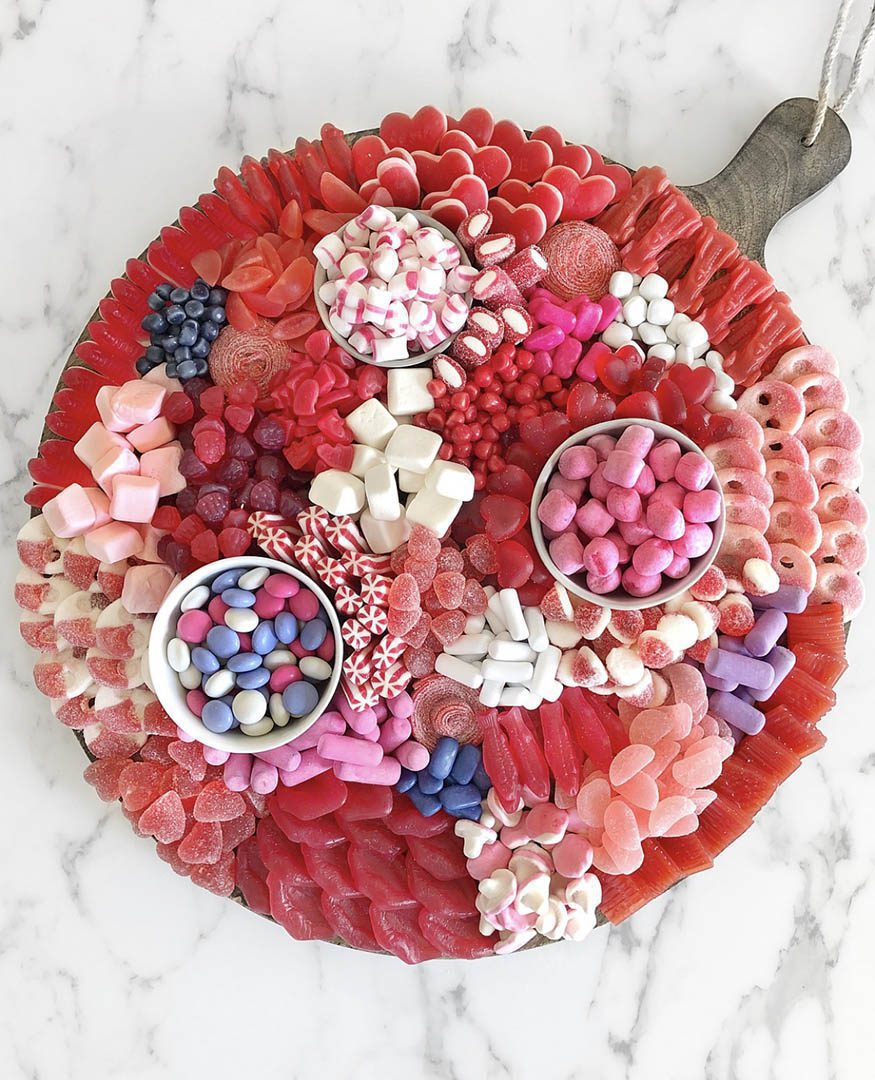 How to Create a Candy Board
It's actually pretty easy to create a beautiful candy board. If you've seen my cheese boards, you'll notice some similarities in the way I lay out the design with these steps:
Start by picking a color palette
Place a few smaller candies in bowls or ramekins around the board (similar to olives & cornichons on a cheese board)
Arrange candies in fun and uniform patterns (I.e along the edge of the board or in a triangular patter similar to the shape of a piece of cheese)
Fan candies around the bowls (I do this with crackers or cucumbers on a cheese plate)
Fill in the holes with smaller candies (similar to garnishing with almonds & rosemary on a cheese board)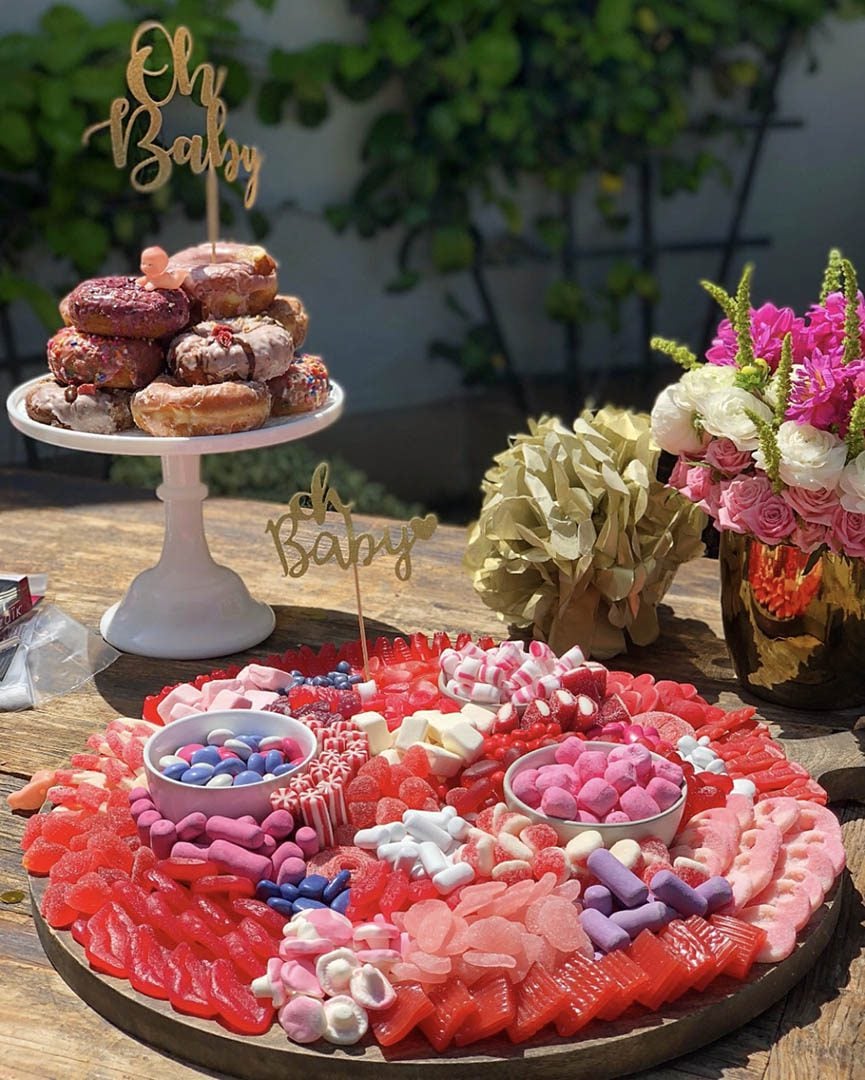 Finish with a Themed Cake Topper
Cake and cupcake toppers are my favorite way to reinforce a theme. I've used them for baby showers, engagement parties, birthday parties and more.
They're great on both candy/dessert boards and cheese boards. Cake toppers are bigger than cupcake toppers (see donut board vs. candy board above). So, use your discretion depending on how big the board is and what you'll be able to stick the topper into. For cheese, you usually have a bigger item to stick it in (I.e. a wedge of brie), but with a candy board, the candies are smaller, so I usually stick a cupcake topper it into a couple larger gummies. Note that you may need to cut the stick down so it doesn't topple over.
For this one, I topped with a small "Oh Baby" cupcake topper, but you can also use the bigger, "Oh Baby" Cake Topper or an "It's A Girl" or "It's a Boy" to go with the baby's sex.
Video How-To
Other Occasion Variations for this Board
Valentine's Day: Most obviously switch out the cake topper and serve this fitting color palate for your VDAY or Galentine's Day festivities.
Boys Baby Shower: Switch out the pink candies for blues, whites (and even greens). Note that I very much understand that gender and sex are different and that color choices can be problematic. Pick whatever color the theme of your party is and go from there. There's definitely no rule on having pink be only for girls and blue be only for boys anymore.
Gender Reveal Party: Make a board with both a pink and a blue side and have people drop a piece of candy in a BOY JAR or GIRL JAR as they guess the baby's sex. PS- these gender reveal cupcake toppers are cute!
Graduation Party: Use the colors of from the student's school to create a fun board.
Show Me Your Boards
Nothing makes me happier than your take on my boards. If you make a spread inspired by this post, please tag me at @ainttoooproudtomeg and use #AintTooProudToSweet so I can see and share!
And, if you liked this board recipe, please rate and review.
Girls Baby Shower Candy Board
Description
Ingredients
Gummy Hearts

Swedish Fish

Pink and White Skull Gummies

Pink and White Pacifier Candy

Raspberry Fruit Snacks

Sour Strawberry Filled Bites

Strawberry Sour Rolled Belts

Pastel M&Ms

Pink and White Peppermint Candies
Tried this recipe?
Rate & Review!