This post contains collections of products that I personally recommend (it may contain affiliate links).
Looking for ocean-themed candy ideas or some Shark Week snacks? I got you covered! I'm a big beach vacation girl, so when The Beaches of Fort Myers & Sanibel asked me to create a Beachside Bite as part of their Beach Ready Spirit Week, my creative wheels started churning…
So, in the spirit of future seaside vacations, I dreamed up this cute beach board inspired by one of my favorite beach holidays. Coincidentally, it was 6 years ago in Florida with my best friend and her family, not far from The Beaches of Fort Myers & Sanibel. We swam, we sunbathed, played nightly card games and had so many laughs. I can not wait to plan a visit to this fabulous area in the future.
And if you are making this board for Shark Week or any other summer / beach-themed party, pair it with my signature "Shark-Choochie" Board.
What You'll Need
AirHead Rainbow Bites (or rainbow belts) to create those cute beach blankets. I got mine at a local drug store (CVS). Also found these AirHead Rainbow Bites on Amazon.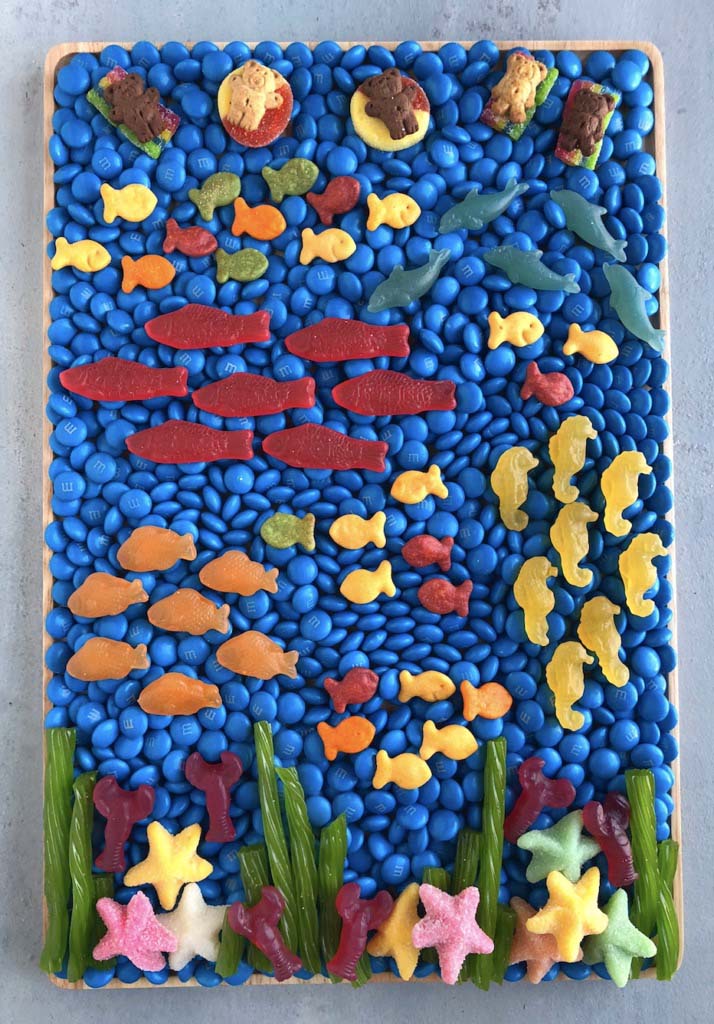 Scandinavian Swimmers from Trader Joes. This mix of soft chewy gummy candy features red lobsters, yellow seahorses, orange fixes and blue whales. Or, use whatever jellies of the sea candies you can find. Actually found the same Scandinavian Swimmers on Amazon. Or check out Sockerbit for the best Swedish candy.
Goldfish Baked Crackers, the ultimate beachside bite. I used the color version to have more fish color options. Amazon link: Goldfish Baked Crackers.
Giant Gummy Sharks, if you dare! The addition of gummy sharks are optional, but super fun, especially for a Shark Week Board. See bottom two photos for these sneaky predators in action (these are the Giant Gummy Sharks from Dylan's Candy Bar) and similar called Blue Gummis on Amazon.
How to Assemble Your Beach Scene
Start by laying down a layer of blue M&M's as the ocean layer of the board.
Create a seaweed floor by cutting the green licorice to different lengths and laying them in a few different places at the bottom of the board.
Add sea-life that would normally be found at the bottom of the ocean (such as the gummy lobsters and starfish) on top of the green licorice.
Layer in your "schools of fish," grouping different candies together throughout the board, including the Swedish fish, seahorses and the goldfish crackers. Have fun with it.
Finally, layout some "swimmers" (aka the Teddy Grahams) at the top of the board on top of their "floaties" (i.e. gummy rings and rainbow candies). Note that because the AirHeads run small, I put two together to form a longer floatie that fit the swimmer's body.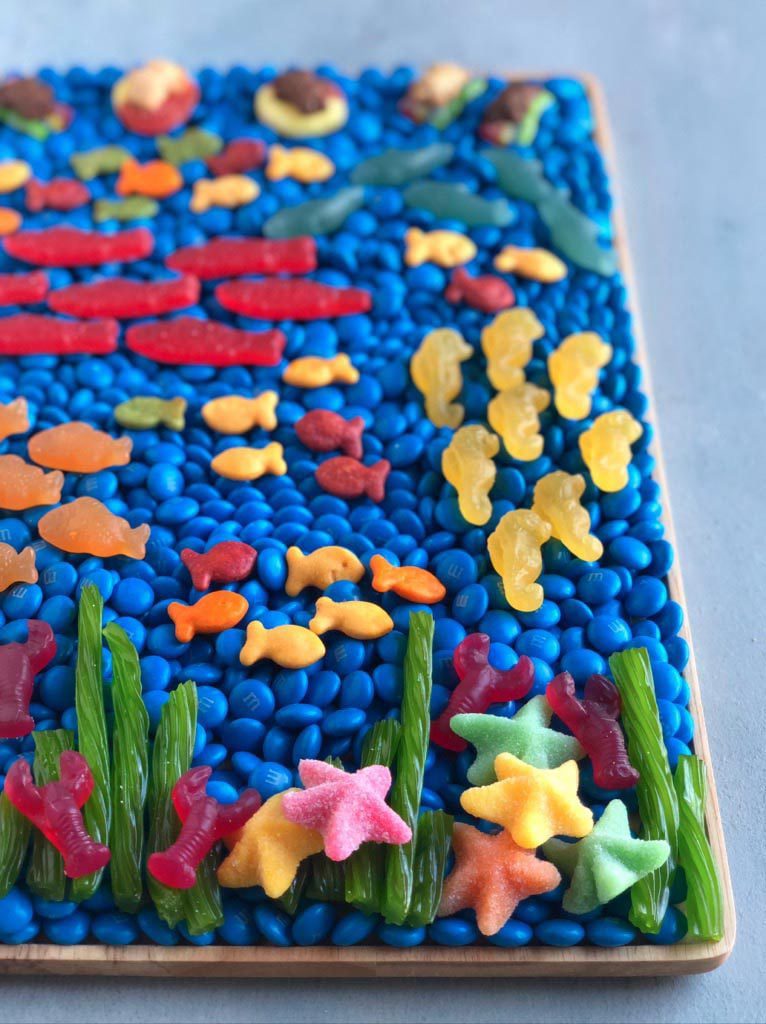 To Goldfish or Not to Goldfish
Are Goldfish crackers a candy? No. But do they have a place on a candy board? I'd say yes. And in the case of a Beach Board… Absolutely! If you want to keep it an all-candy board, feel free to omit.
Do I Really Need to Buy All This Candy?
No. As always, I aim to inspire… to give you a look at all the different ways you can create a scene. I like to experiment with a number of ingredients in order to show you all the options, but please plan according to your budget and how many people will be eating the board. Here are some considerations to limit the grocery list:
Skip the M&M candy ocean and create your scene on top of a blue tray (like this one) to create your blue background. As you saw above, I used a ton of M&M's. You can omit them all together and use the tray or just use less and fill up on layers of Goldfish instead.
Use a smaller serving platter, like a regular 8in dinner plate to create a smaller scene. In fact, a round plate will look like a super fun old school fish tank.
Choose between just the bag of Goldfish Crackers or just the bag of Scandinavian Gummies. You can create plenty of schools of fish with just one of these items.
Only use one kind of Teddy Grahams (honey or chocolate) and one kind of floatie (peach gummies or rainbow belts). You could also lay out the remainder of the swimmers/floaties on another platter to maximize the amount of food served. A whole plate of floating bears on that would be adorable!
To that point, lay out some candy goodie bags for people to take home leftovers as a parting gift. I do this for all my candy boards, that way you are maximizing all ingredients. In fact, use any of the extra items (that didn't make into the design of the board) and put them in bowls around the spread for your friends to snack on.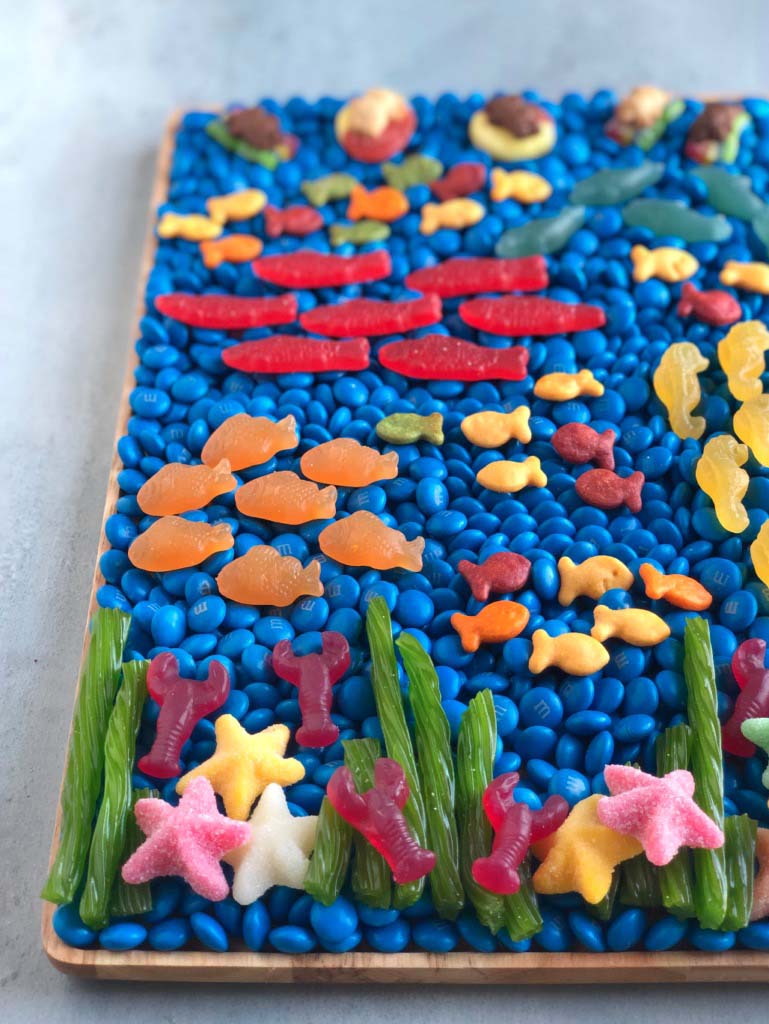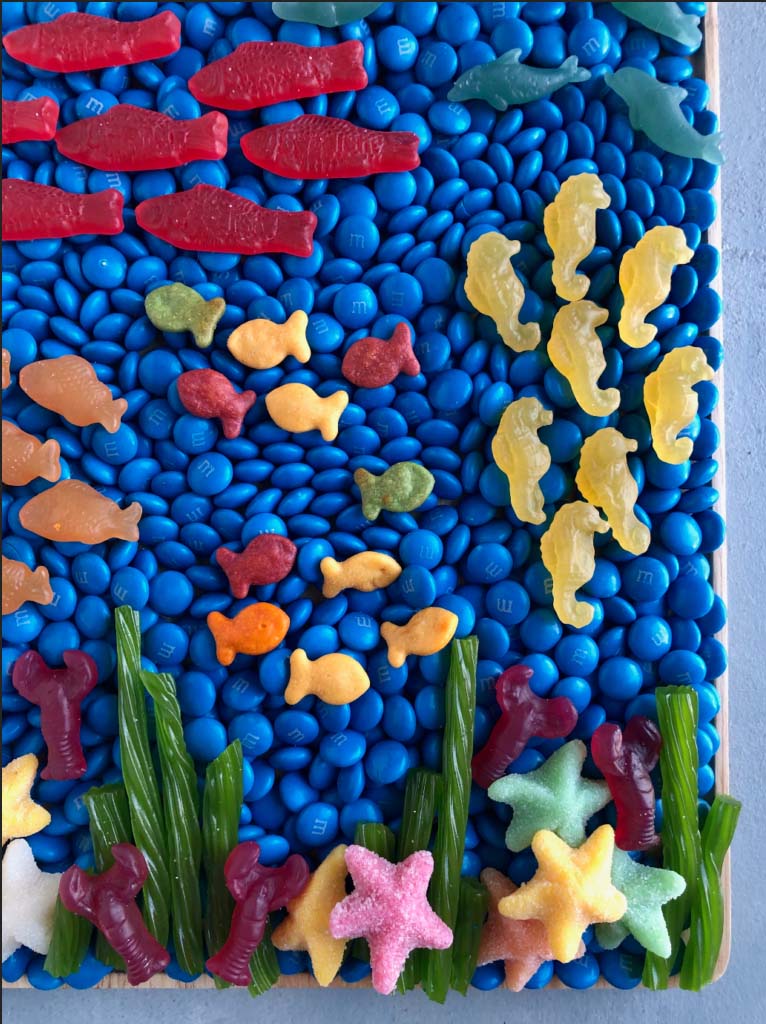 The Best Occasions for This Board?
Shark Week. Add some gummy sharks in, like I did below photos and celebrate our favorite TV week of the year.
Kids' Birthday Parties. Having a beach-themed party at home? This Board is perfect.
School's Out For Summer Celebration. Nothing says "goodbye homework" and "hello to beach weather," like this fun beach-themed dessert.
Pool Party. Snack on some sugar as you prepare for the next cannonball contest of the day.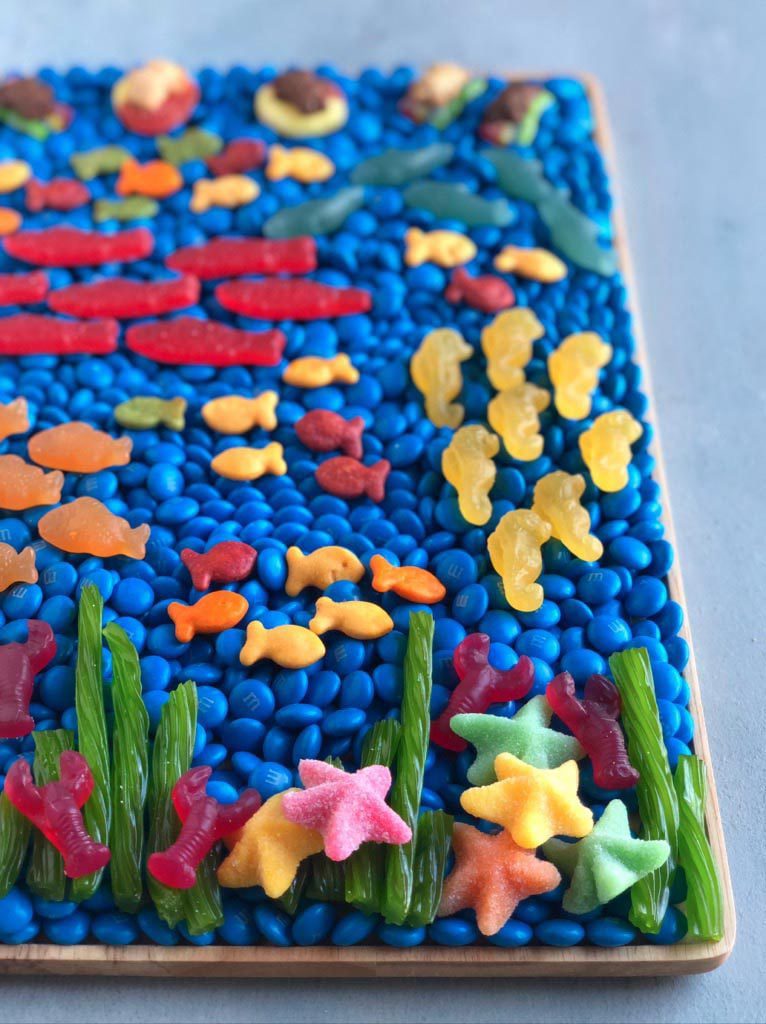 The Best Kind of Board for this Spread?
This lightweight rectangle board is my current favorite. You've seen it all over my instagram lately. It's particularly great for a candy board because of the lip at the edge, which will help you avoid spilling. Whether you're carrying it from your kitchen to the backyard or wrapping it up in tinfoil up for a park picnic, it will keep the candies on the board.
Join in on the fun
If you're like me and are dreaming of future beach vacations, I hope this board inspired you to bring some beach vibes home. I'd love to see what kind of beachside bites you create. Tag me and #BeachReadySpiritWeek and I'll share all this week!
In the meantime, check out The Beaches of Fort Myers & Sanibel and join me in day-dreaming about visiting the area for a vacation in the near future.
Beach-Themed Candy Board
Description
Dessert board for a SHARK WEEK or beach-themed party using goldfish crackers, Swedish fish, giant gummy sharks, & more.
Ingredients
Chocolate Teddy Grahams

Honey Teddy Grahams

Airhead Rainbow Bites

Sour Rings

Green Licorice

Scandanavian Swimmers

Gummy Starfish

Blue M&Ms

Goldfish Baked Crackers

Giant Gummy Sharks
Tried this recipe?
Rate & Review!