This post contains collections of products that I personally recommend (it may contain affiliate links).
I mean… you must have known this one was coming. The French are undoubtedly, the CHEESE MASTERS.
In France, you can simply pick up a baguette, a few slices of cheese, walking the streets of Paris and feel like you've just had a Michelin star experience.
So let's try and recreate that feeling at home…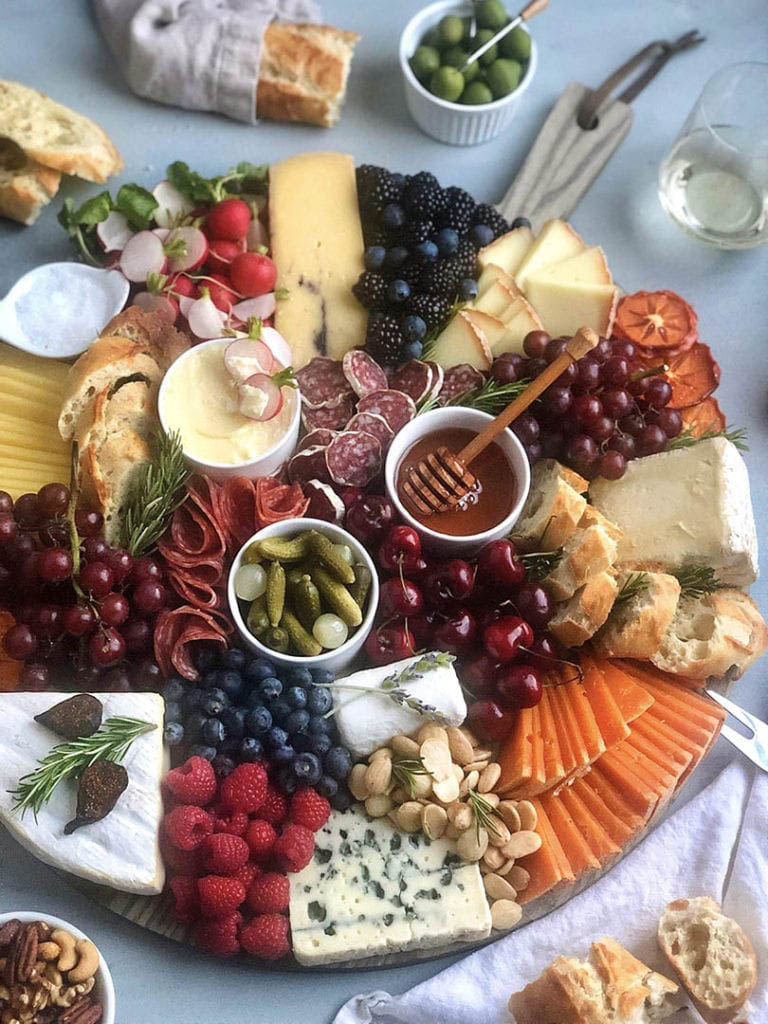 Let's start with the cheese! When it comes to French fromage, there's no shortage of options. I went to a few local grocery cheese sections (Trader Joe's, Ralph's, Whole Foods) to give you a lay of the land. See below for in-store photos.
hard cheese: I used Comté & Mimolette. Other options are a Beaufort or a French Gruyere (traditionally a Swiss Cheese)
soft cheese: I used Camembert and Saint André. You can also use Brie (similar to Camembert but less robust), Port Salut or Munster.
semi-soft cheese I used Morbier & P'tit Basque. Morbier is a semi-soft cows' milk cheese; it's ivory colored, soft and slightly elastic, and is immediately recognizable by the distinctive thin black layer separating it horizontally in the middle. P'tit Basque is made with pasteurized sheep's milk and is aged 70 days.
stinky blue: Add in a classic french blue like Roquefort. This is easily becoming my favorite blue.
tangy goat cheese. I used a classic chévre log and topped it with two lavender sprigs, you could also top it with yummy fig preserves to balance out the fresh, tangy nature of the cheese.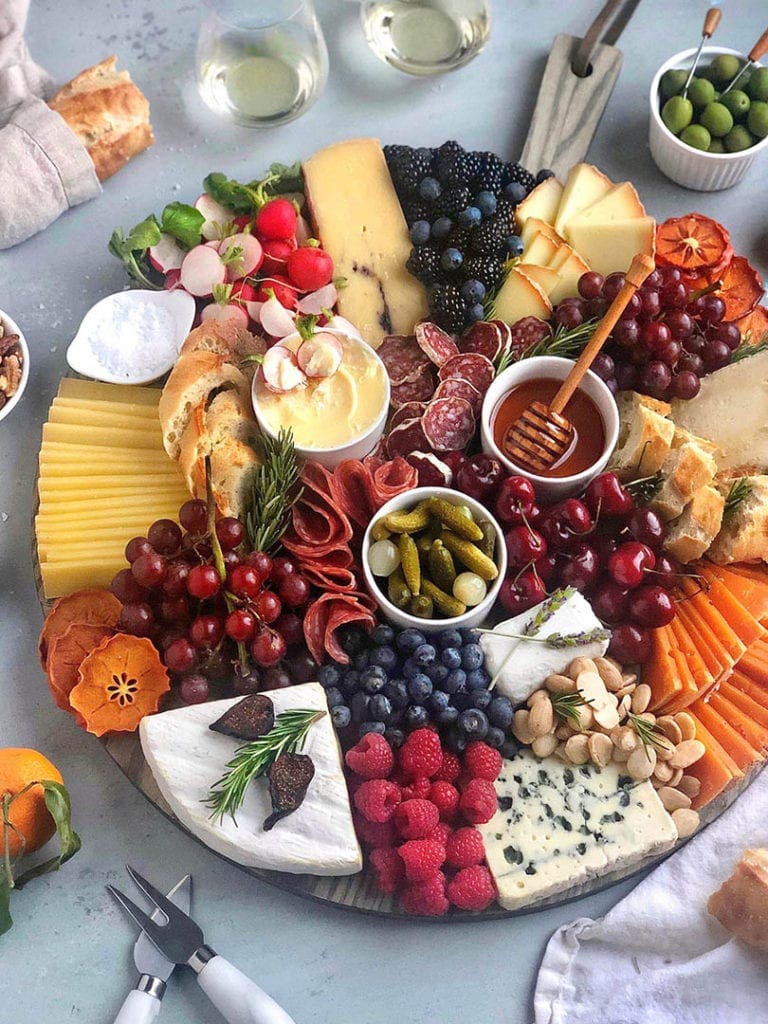 Now when it comes to carbs, the french don't mess around to much with crackers… break out the baguette and enjoy it with all the yummy cheeses.
In general, the French are purists. A baguette and cheese is really all you need. But, because I like to have plenty of color and dimension on my boards, I'm all about adding seasonal fruit and accoutrement. Here are my favorites to make it a particularly French cheese plate:
French Cornichons– these are the tiny pickles I use on just about every one of my cheese plates. They're tart, crunchy and a perfect compliment to cheeses. They're small (about the size your pinky finger) and have a bumpy exterior.
Radishes, French Butter & Sea Salt– I'll be honest, I don't really like radishes. That is, until they are dipped in creamy french butter and topped with salt. I really had no idea what I was missing until I tried this quintessential French starter. Even better, take a slice of that baguette and add the butter, salt & radish slices. YUM
Lavender– the perfect garnish to evoke french countryside vibes. I used on top of the chèvre, but a lavender honey would also be a perfect compliment to this board.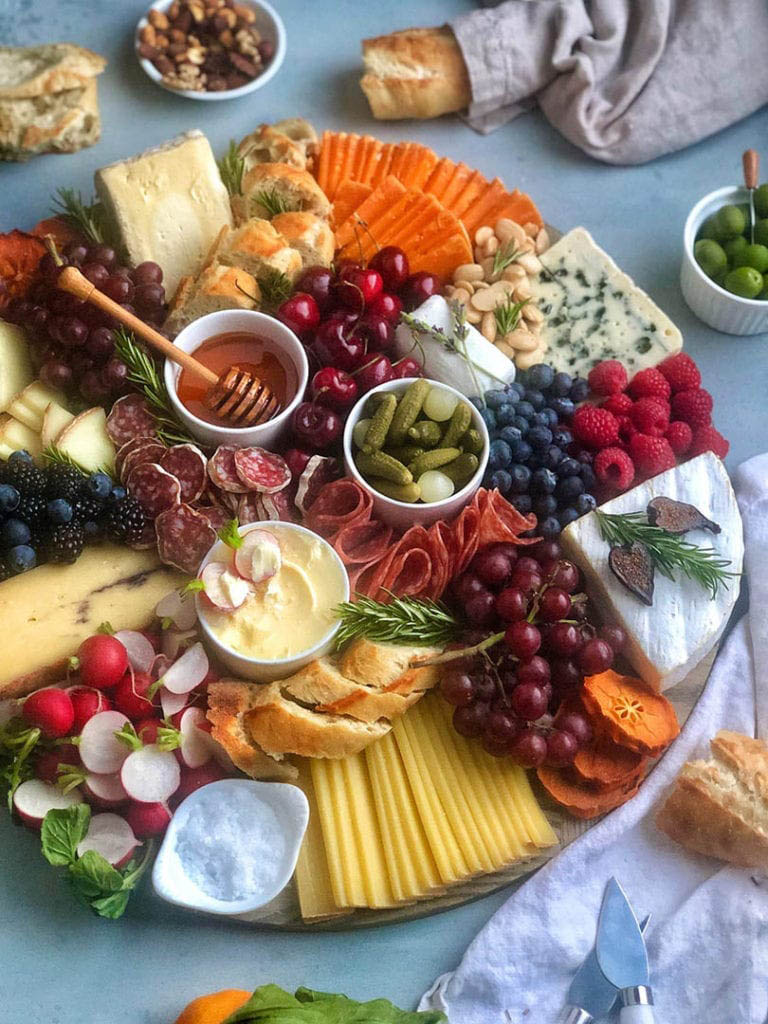 And here are some labels to help: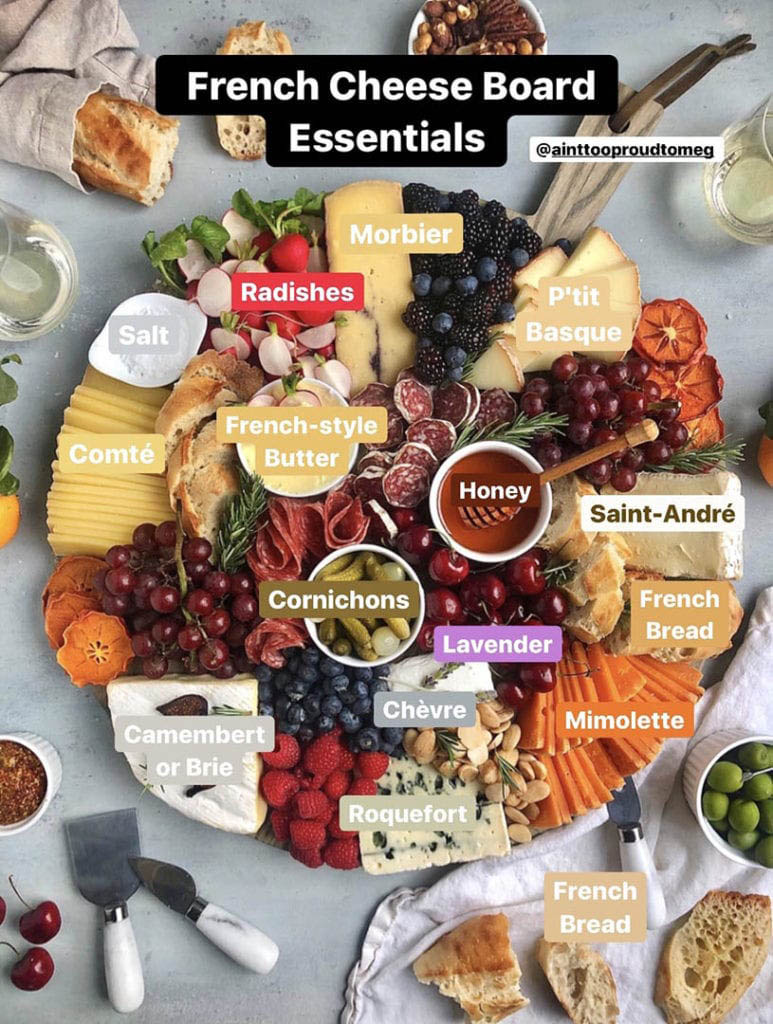 Here's some pics of cheeses I found at both Trader Joe's and Ralph's. My Ralph's has a nice cheese & deli section with a good selection.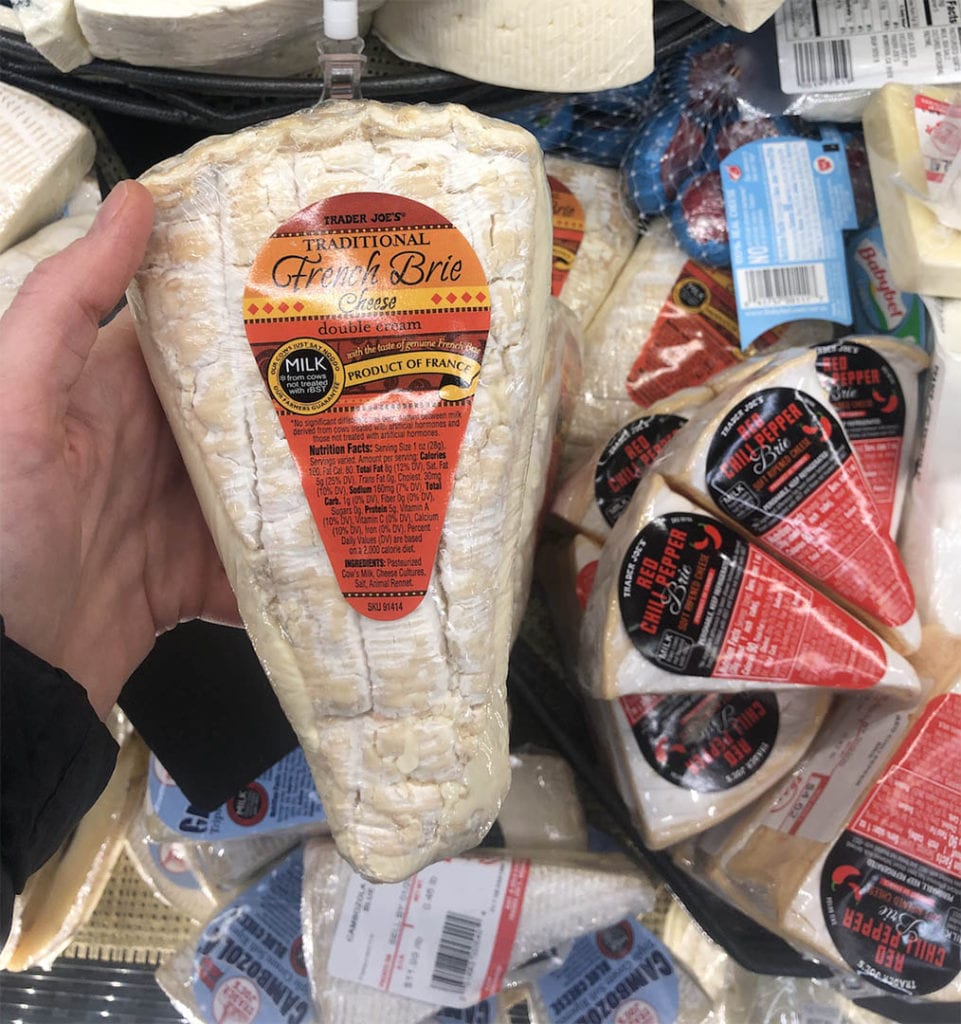 Board & Accessories Links
As always, I add a SHOP THIS POST at the bottom of each post with links to these items and similar ones. Additionally, here they are: Cheese Board (19in), Knives, Ramekins (5oz.), Wine Glasses, Mini Gratin Dish (1oz.), Olive Picks
Show Me Your Board
Nothing makes me happier than seeing you create beautiful boards from my tips. If you make a spread inspired by this post, please tag me at @ainttoooproudtomeg and #AintTooProudToCheese so I can see and share!
And, if you liked this board recipe, please rate and review.
How To Make a French Cheese Board
Description
Make this beautiful french cheese & charcuterie board inspired by all the best cheeses from France.
Ingredients
Cheese
Morbier

P'tit Basque

Saint-André

Roquefort

Camembert or Brie

Mimolette

Chévre

Comté
Produce
Blackberries

Blueberries

Dried Persimmons

Radishes

Red Grapes

Raspberries

Cherries
Accoutrements
Marcona Almonds

Fresh Rosemary

Salt

French-Style Butter

Honey

Cornichons
Tried this recipe?
Rate & Review!