This post contains collections of products that I personally recommend (it may contain affiliate links).
Updated 2023
Looking for a wholesome after school snack? This kid's board is fun, colorful, and interactive. It has fresh fruit and vegetables, adorable Babybel cheeses, and more. If your kids don't love these particular foods, make it your own—or better yet let them help you build it.
For other fun and healthy ideas, check out my other kid-focused boards for inspiration: St. Patrick's Day Snack Board, Thanksgiving Snack Board, Rainbow Board, and Muffin Tin Halloween Board. For sweeter treats, kids love my Beach Themed Candy Board, Movie Night Board, and Once Upon a Time in Candy Land Board. In fact, you can always go to my Kids Boards Category page for ideas for the kiddos.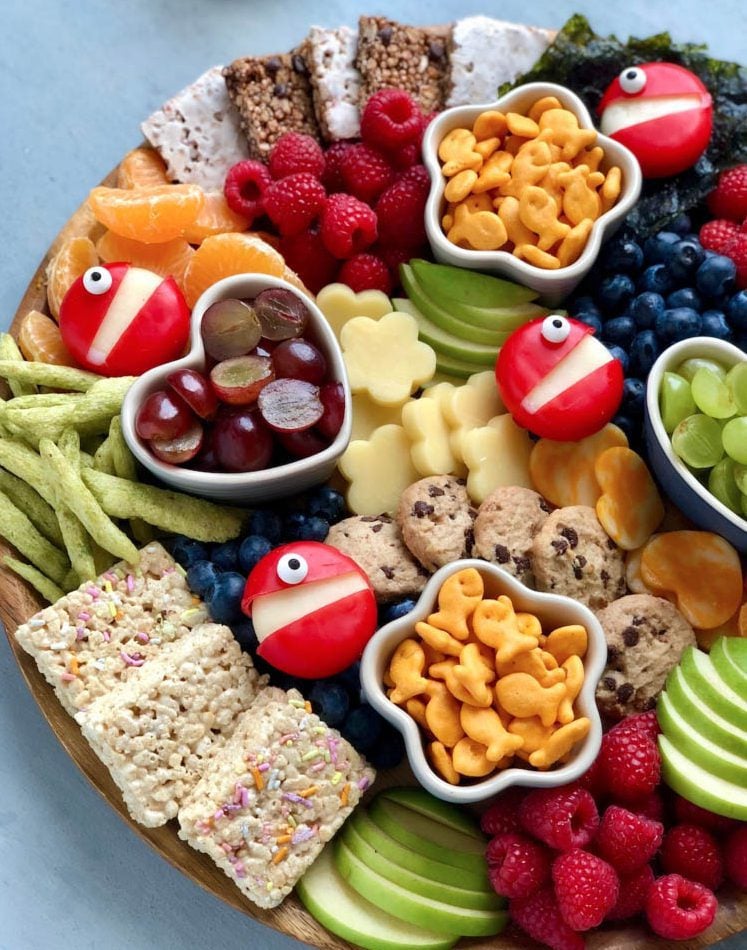 How to Build the Best Back to School Board
Produce
Load up on colorful fruits. As always, you know your kiddos best… Because grapes and blueberries can be choking hazards for younger kids, cut them in half if need be. See more notes on this in the next section.
Cheese
Include a couple sources of protein like cheese to hold your kiddos over until their next meal. Here I used white cheddar and colby jack. See labeled photo below.
Carbs
Add in kiddo classics like goldfish and granola bars. I love these kids bars from This Bar.
Novely Items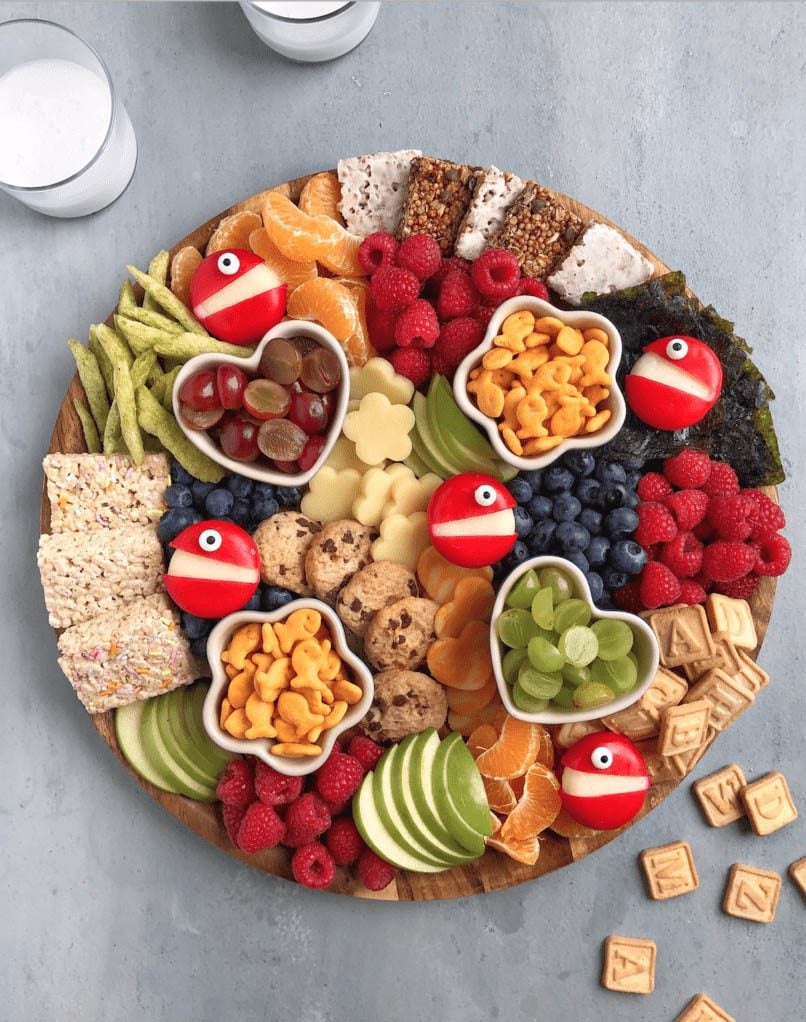 How to Get Kids to Eat Healthy
It's proven that if kids have the option to eat a variety of foods, they probably will (most of the time). One tactic that experts believe works is to let your kids make their own plate. Having the choice of how much, or which piece, might empower them to feel a little more like eating what they've chosen.
Of course don't force it and seek out expert advice as needed (I recommend Feeding Littles). Building fun boards is just one such way you can help introduce colorful, healthy foods.
Please note, I made this board with a few of my favorite kiddos in mind. But you know your kids best. As noted above, be aware of choking hazards like grapes (in fact, here's a great resource by Feeding Littles that can help you navigate). Tree nuts and dairy products are high allergy foods and should be left off the board completely if there's any chance you may serve this to someone with an allergy.
Most of all, make it your own! Have fun and get creative.
Interactive Learning
With so many elements on this board, don't let a learning opportunity pass you by. There are lots of ways to keep your kids engaged while sharing this snack.
The young ones can help sort colors and shapes. They can count how many different green items are on the board. Or if you get alphabet cookies, have fun sounding out letters and short words. Let them make up a few words of their own!
Elementary age kids can count, add, subtract, and work with simple fractions on the board. Measuring cups are great for kids starting to learn fractions. Use them so they can see how much a half cup of blueberries is versus a whole cup of blueberries. If they are more advanced you can talk about volume and spatial measurements of items on the board.
Older kids might be more interested in the properties of certain foods. How is cheese made? What's the difference between a peanut and an almond? How far did these grapes travel to get to my local store?
Fun Food Facts to Share
To get your kids in conversation, here are some other fun food facts…
Avocados help your body absorb the nutrients you get in other produce, so eat them alongside your favorite fruits and veggies
Bell peppers are technically fruits and they have loads of vitamins and minerals that help with eyesight (more than carrots!)
Blueberries are really great for your brain, they have been proven to improve short-term memory
Grapes are a great source of vitamins K and antioxidants which both help your body heal (like when you get cuts or bruises)
Figs are just as rich in calcium as milk, and calcium is great to build strong bones
Cheese has saturated fats that can actually help reduce the risk of diabetes by supporting adequate insulin levels—make sure to fill up on some cheese and just fruit and cookies!
Apples are great for a healthy gut, they have contain a high amount of pectin which is a type of fiber that helps feed the good bacteria in your belly
Clementines are packed with vitamin C, which is great for your skin and complexion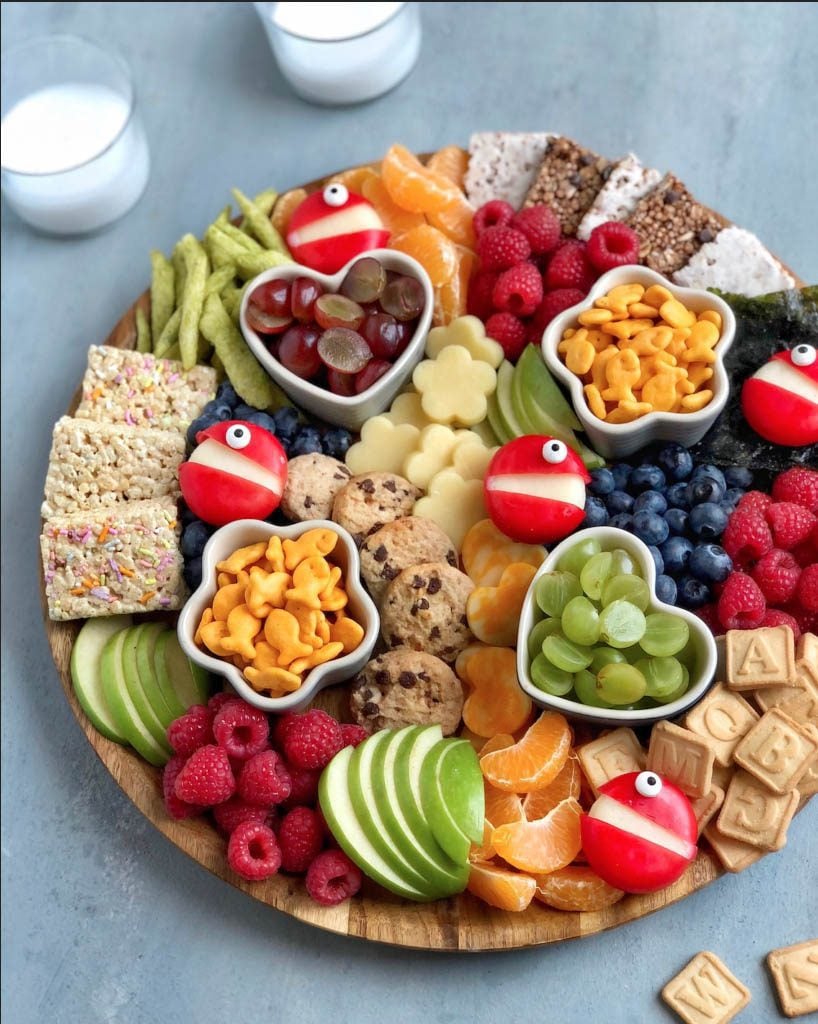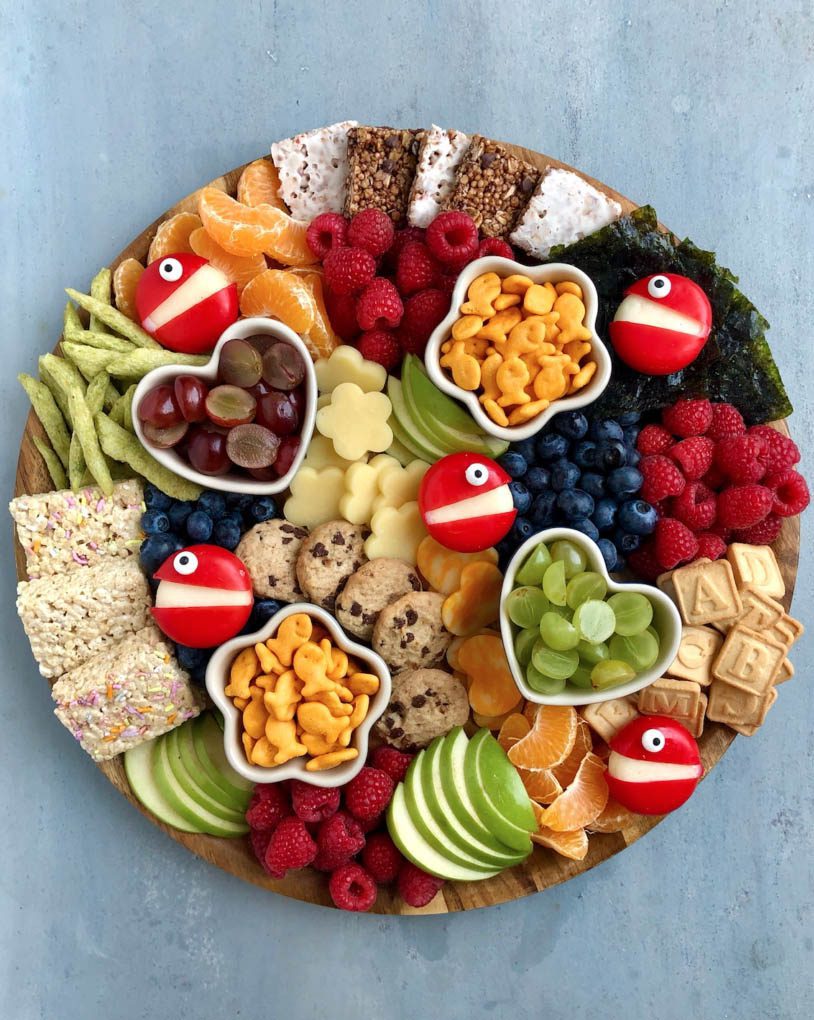 More Charcuterie Boards for Kids
Like this board and want to up your snack board game? In The Cheese Board Deck (order here!) I have a number of boards that would make great back to school snacks for kids. In fact, the version of this board in the deck includes mini sandwiches (SEE PIC BELOW), which might be my favorite way to serve up a fun meal to kiddos. You should consider them for your board too!
Just grab a heart cookie cutter and star cookie cutter to make these sweet, shaped PB&J sandwiches. (Pro tip: when serving to a group of kids where you are unsure of allergies, stay away from peanut butter and opt for a safer non-nut butter option like sunflower butter.) For these sammies, I used a mix of whole wheat and white bread, but you can use as many different types of bread as you like. You can also swap in your kid's favorite sandwich fillers–like turkey or ham with cheese. And feel free to switch up the shapes too–all you need are cookie cutters and a little bit of elbow grease!
BTW, did you know I have another deck coming? Check out The Wine & Cheese Board Deck! It's all about wine & cheese pairings so you won't find any kid-friendly snack boards, but you will find plenty of ways to enjoy your own snacks while the kiddos enjoy theirs.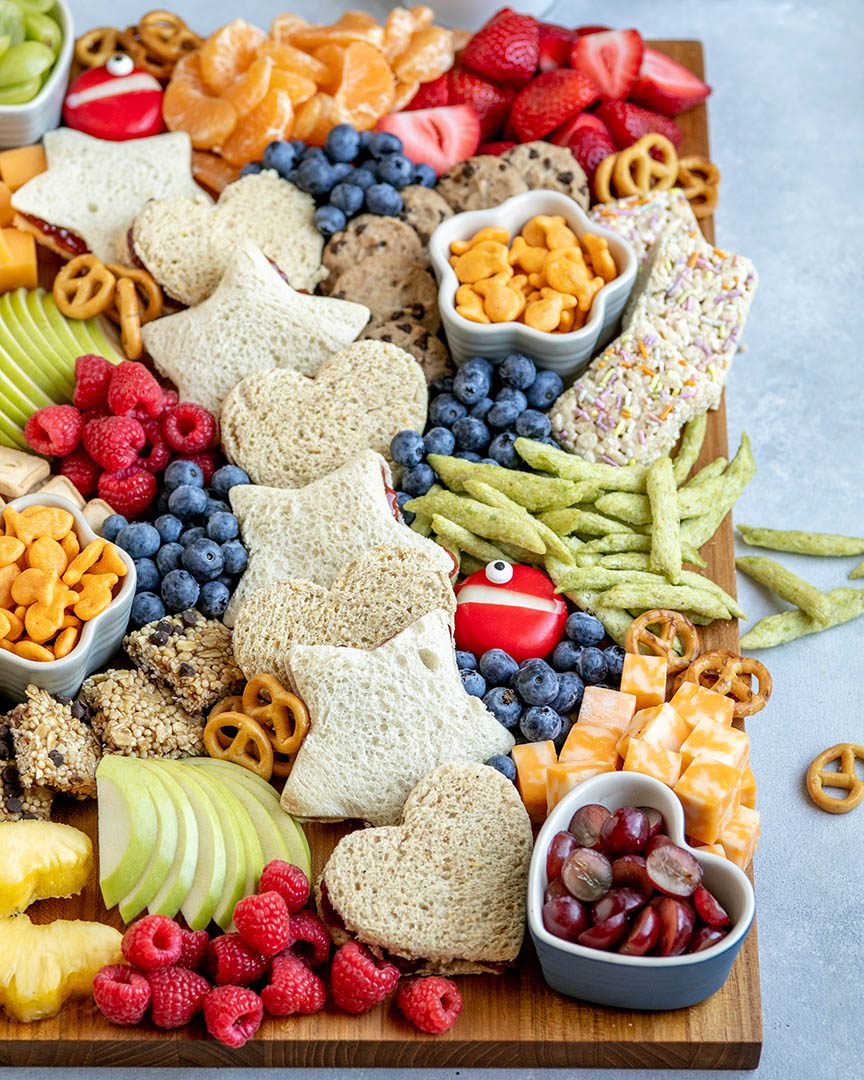 Show Me Your Boards
I hope this post inspires you to make this board. Nothing makes me happier than seeing the beautiful snacks and spreads you create from my tips. If you make something inspired by this post, please tag me at @ainttooproudtomeg so I can see and share!
And, If you & your kiddos liked this recipe, please rate and review.
Back to School Charcuterie for Kids
Description
This back to school snack board for kids is a fun and healthy treat for kids, complete with babybel cheese & crackers.
Ingredients
Cheese
Babybel Cheese

Mozzarella

sliced

Colby Jack Cheese

sliced
Carbs
Alphabet Cookies

Chocolate Chip Cookies

Rice Krispies Treats

Granola Bars

Veggie Sticks

Goldfish Crackers
Produce
Green Grapes

halved

Red Grapes

halved

Blueberries

Raspberries

Green Apples

sliced

Cuties

peeled and divided into sections
Accouterments
Seaweed Snacks

Edible Eyes
Instructions
Like always, I like to start with my small bowls to anchor the board, so place the bowls of grapes and goldfish evenly throughout the board.

Next, fan the cookies and crackers out around the bowls.

Use a cookie cutter to cut the cheese slices into shapes (I chose hearts and flowers) and add the cheese to the center of the board.

Use the berries and sliced fruits to fill in any holes being sure to break up similar colors, then add the veggie sticks, Rice Krispies Treats, and seaweed snacks around the edge of the board (be sure to keep the seaweed snacks and any other dry items away from the fresh produce so the moisture doesn't soften anything it shouldn't).

Finish off with Babybel cheeses and enjoy!
Tried this recipe?
Rate & Review!