This post contains collections of products that I personally recommend (it may contain affiliate links).
The Oscars is one of my favorite nights of the year. I love the movies, the fashion and most importantly, watching the show with friends. I used to host a yearly Oscar party, which has take a little bit of a backseat, but this Candy Board I made for Emily Schuman and the Cupcakes & Cashmere team would be a perfect centerpiece for an Academy Awards viewing party. You may have seen my previous version of the movie candy board.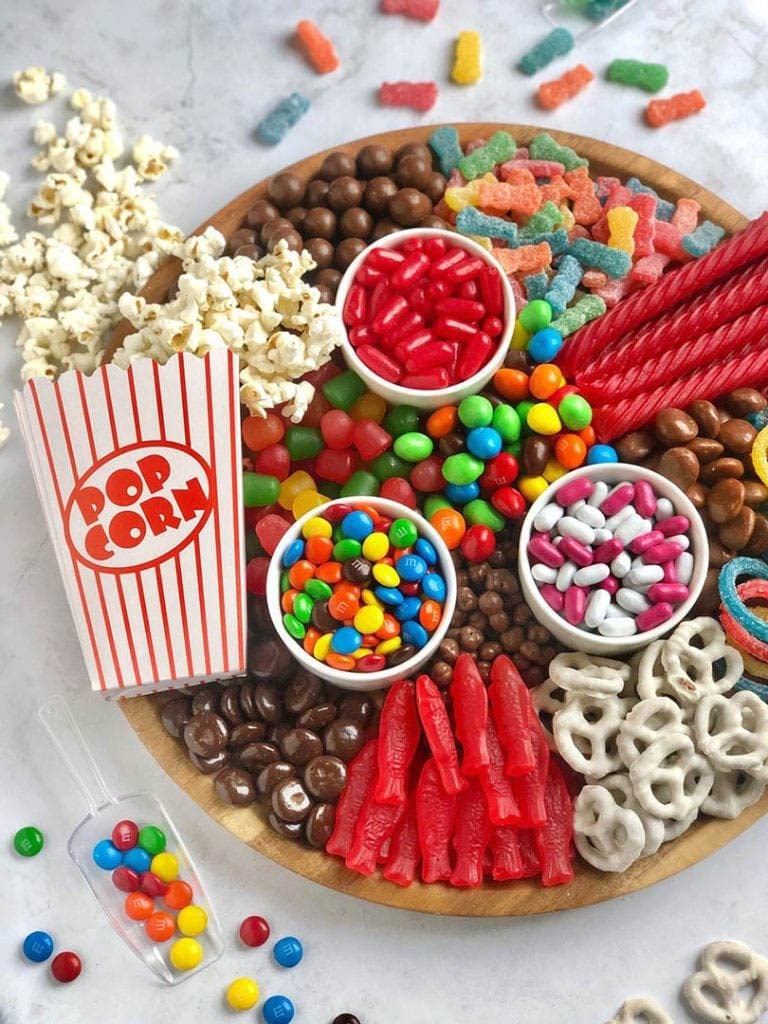 The 6 Steps to Make This Board
Here are my tips for recreating this festive board at home. As always, tag @AintTooProudToMeg in your creations on Instagram. I LOVE seeing them!
Gather all your favorite movie candies: Regular M&Ms, Peanut M&Ms, Junior Mints, Sour Patch Kids, Red Vines, Hot Tamales, Dots, Yogurt Covered Pretzels, Swedish Fish, Bunch CRUNCH, Good & Plenty, Sour Punch Straws, Popcorn are shown here.
Place ramekins with a few smaller scale candies to keep them all in one place. Here I used M&M's, Hot Tamales and Good & Plenty. TIP: arrange them evenly around the board to create symmetry.
Place larger scale items before placing smaller items around the board.

Put popcorn in one of these popcorn boxes with popcorn spilling out onto the board. Note that you can put out more popcorn in extra boxes because there's only so much popcorn on the board.
Red vines. Get the jumbo twists vs. the longer skinnier ones (because those are too long for the scale of the board).
Arrange in fun designs to create varying textures and visual interest:

Make the Sour Punch Straws into cute "ribbon-like" twists vs. plopping them down on the board.
Line up the Swedish fish like in a "school of fish" formation
Keep color placement in mind so board looks even and symmetrical:

spread out the red items (see placement Hot Tamales, Red Vines, Swedish fish)
place white popcorn on opposite side of the white yogurt pretzels
spread the various chocolate items out, so there isn't a bunch of brown all in one spot (see Milk Duds, Junior Mints, Whoppers, Buncha Crunch)
spread out sour items too (see how Sour Patch Kids & Sour Punch Straws have the Red Vines in between them.
Consider serving utensils. I generally entertain friends and we're not too precious about touching items (we just grab items directly from the plate). But if that's something you care about or if you are having a larger party, these little scoops are great for serving up small candies.
Video How-To
What Size Board Should I Use?
The board in these photos is 14.5in diameter and no longer available, however, this board is the most similar in size (made from melamine). Other options in the SHOP THIS POST below.
Show Me Your Candy Board
Nothing makes me happier than seeing you create beautiful boards from my tips. If you make a spread inspired by this post, please tag me at @ainttoooproudtomeg and #AintTooProudToCheese so I can see and share!
And, if you liked this board recipe, please rate and review.
Oscar Candy Board
Description
Ingredients
Candy
Peanut M&M's

M&M's

Junior Mints

Whoppers

Milk Duds

Buncha CRUNCH

Dots

Good & Plenty

Sour Punch Straws

Sour Patch Kids

Red Vines

or Twizzlers if you prefer

Hot Tamales

Swedish Fish
Snacks
Popcorn

put some popcorn in the box on the board, but also have additional popcorn + boxes on the side so there is enough popcorn to go around for everyone

Yogurt Covered Pretzels
Props
Popcorn Box

Star Cupcake Toppers

(optional)

Candy Scoops
Tried this recipe?
Rate & Review!