This post contains collections of products that I personally recommend (it may contain affiliate links).
Updated 2023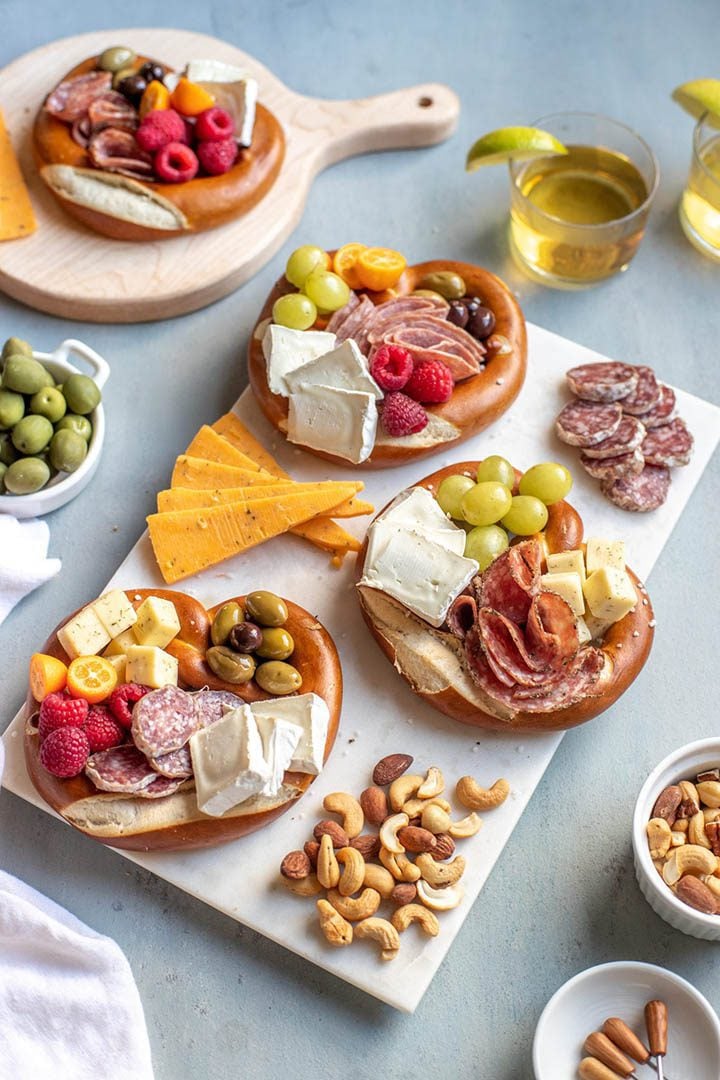 This pretzel board is basically a cheese board you can eat, and I'm obsessed! Make it as a delicious shared cheese board or prepare it for single serve snacking. The warm pretzels pair perfectly with salty cheese, and using seasonal fruit makes this board a go-to anytime of year!
Pair this pretzel board with my Bratwurst Board, Game Day Board, Pimento Dip, Buffalo Chicken Dip, Blue Cheese Dip, Beer Cheese Dip, and Summer Charcuterie Board.
A Pretzel as a Board?
How did I make this up, you ask? Well, it's not my original idea. Apparently there's a place called Topgolf, where people go to play all sorts of competitive golf games. More importantly their bar serves delicious meats, cheeses, and fruits nestled inside a warm, soft pretzel. Genius! It's a hearty snack, that is also clever, adorable, and could be a meal in itself.
Make it a Board for One or Two
The best part about this board is that each pretzel is meant for an individual. So if it's only you, then just heat up one pretzel. If it's you and a pal, make it for two. It's the perfect hearty snack or light meal. Having a party? Put out a bunch of mini versions as finger food! The pretzel takes the place of crackers or crostini. With the addition of some salty cheeses or sliced meats, every bite will be a different delicious experience. 
If you're interested in other small charcuterie boards, I have a blog section on handhelds (hello, Charcuterie Cones) and other cheese plates for one or two people.
How to Make Your Pretzel Board
A very important tip before you start! You want to serve the pretzel warm, but not hot. If you put cheese right next to it, straight out of the oven, your cheese will probably be compromised. I let mine cool until I could easily hold the pretzel in my hand before adding the other ingredients onto the board.
The Pretzel 
I bought heat-and-serve soft pretzels from Trader Joe's, they were a big hit! If you wanted to go full Martha Stewart you could probably find a recipe to make your own Bavarian soft pretzel. 
Stay away from hard pretzels. Nothing against them, but this plate is way better with a softie.
The Cheese 
Choose cheeses that can be made into smaller cubes or slices without falling apart. I used dill Havarti (cubed) and goat brie (sliced). Both stood up to these pretzels in flavor and consistency.
I used the same "rules" that helps focus a small cheese board. Full explanation of how to build a small cheese plate here. 
The Produce
Small in scale: Fruit that is small and easy to pick up is best for this board. Raspberries, blackberries, olives, or kumquats—these can all fit nicely in the crevices of the pretzel. 
Seasonal: Always use what's in season, it will mean the produce you use has the best flavor possible. 
Color: To make the board look its best, pick fruits of three different colors. It will add visual depth to your spread. 
Variations
This board is so versatile you can customize it for picky eaters very easily.
If you want to eliminate dairy all together, skip the cheese and double up on the meat.
To make it vegetarian, load up on cheese, fruits, and veggies.
For those who might need extra food to nosh on, put out additional ramekins of nuts and dry-aged salame secchi (as seen in the photos).
When to Serve Soft Pretzel Charcuterie?
This board is all about how you customize it. With different ingredients, it can easily go from a game day snack, to a beerfest highlight, you could even serve it for a fun kids' lunch.
German-style: If you are going the Oktoberfest route with this board, start with a sausage you love. Bratwurst is a classic. Don't forget the dipping cheese and a great German Ale to wash it down!
Diptastic: Who doesn't love pretzels and dip?! Mustard is a classic and there are so many kinds to choose from. Build a mustard bar to let your guests choose. Blue cheese dip? Hummus? Yes, yes! Garnish with cornichons, pickled onions, or your favorite small snacks. 
Game day: To make this board the biggest half-time hit, think about what your guests will really love. Would ranch dressing make them smile? Bacon and date jam? High-end charcuterie meats and fresh fruit? Cater to your crew and make it your own. 
Show Me Your Pretzel Boards
I hope this post inspires you to make this board. Nothing makes me happier than seeing the beautiful spreads you create from my tips. If you make something inspired by this post, please tag me at @ainttooproudtomeg so I can see and share! 
And, If you liked this recipe, please rate and review.
Pretzel & Cheese Board
Description
A pretzel charcuterie board is perfect for Oktoberfest or game day eats.
Ingredients
Cheese
Brie

sliced

Dil Havarti

cubed

Cotswald Cheese

sliced
Meat
Peppered Salami

sliced

Genoa Salami

folded

Salami Secchi

folded
Produce
Green Grapes

Raspberries

Kumquats

sliced
Instructions
Add pretzels to the board first. Fill each pretzel with a cheese, meat, and produce.

Add remaining cheese, meats, nuts, and produce to the board around the pretzels. Add olives to a bowl and serve on the board or on the side.
Tried this recipe?
Rate & Review!
Photos by Haley Hunt Davis.