This post contains collections of products that I personally recommend (it may contain affiliate links).
Serving a cheese brûlée is a sweet way to jazz up your cheesy appetizer game. It feels so fancy, but is so easy to make. This yummy appetizer is great for any occasion. To make mine look festive for the holidays, you'll see pumpkins styled for Fall below. You can also add rosemary sprigs and sugared cranberries around the cheese for occasions like Christmas. I'd also suggest sticking in a candle for a birthday treat!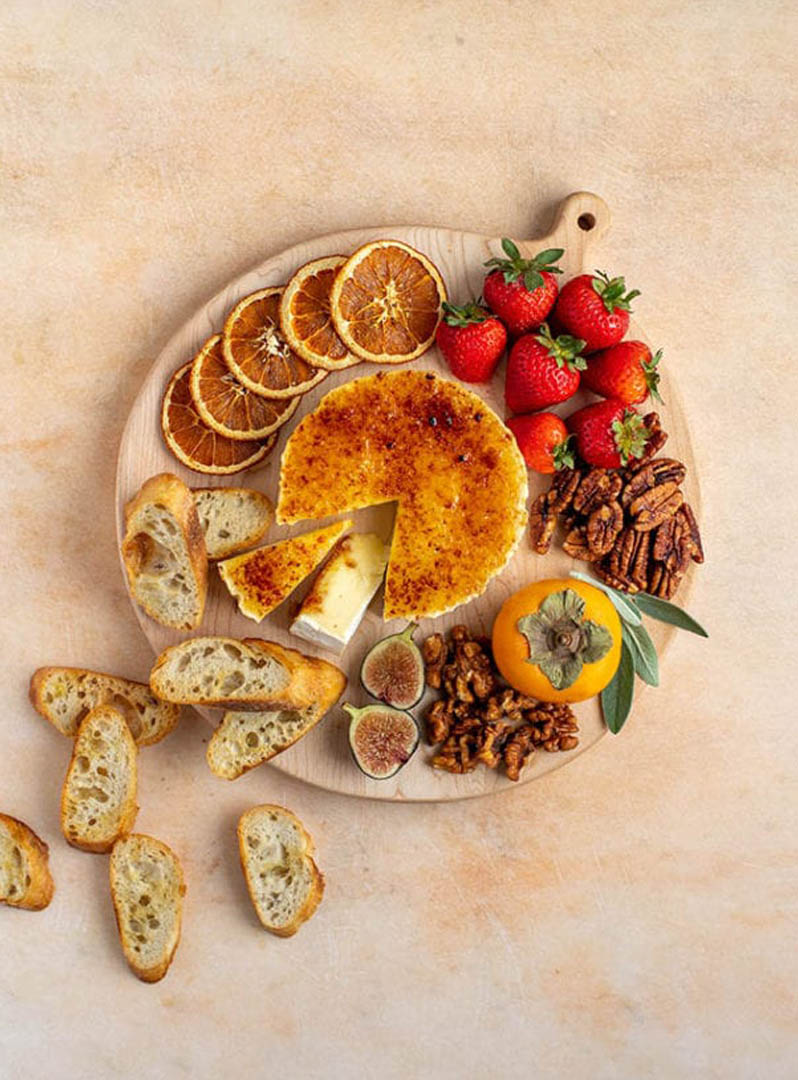 What is Brûlée?
Brûlée most often refers to the popular creamy, custard dessert, creme brûlée. It's distinguishing characteristic is a burnt sugar coated top that you have to crack into pieces to eat.
The word "brûlée" translates to "burnt" and can be used to describe any sugar topping that has been caramelized. You can brûlée just about anything (bananas, grapefruit, cheesecake, the list is long) as long as you have added a layer of sugar and heat until it's nice and golden brown.
What makes a brûlée really appetizing is the caramelization, it's a big key to great flavor in any cooking. Think about how delicious the outside layer of a grilled steak tastes, or the crust of a hearty sourdough loaf. That's caramelization working, it creates depth of flavor and takes an ingredient from one-noted to layered and delicious.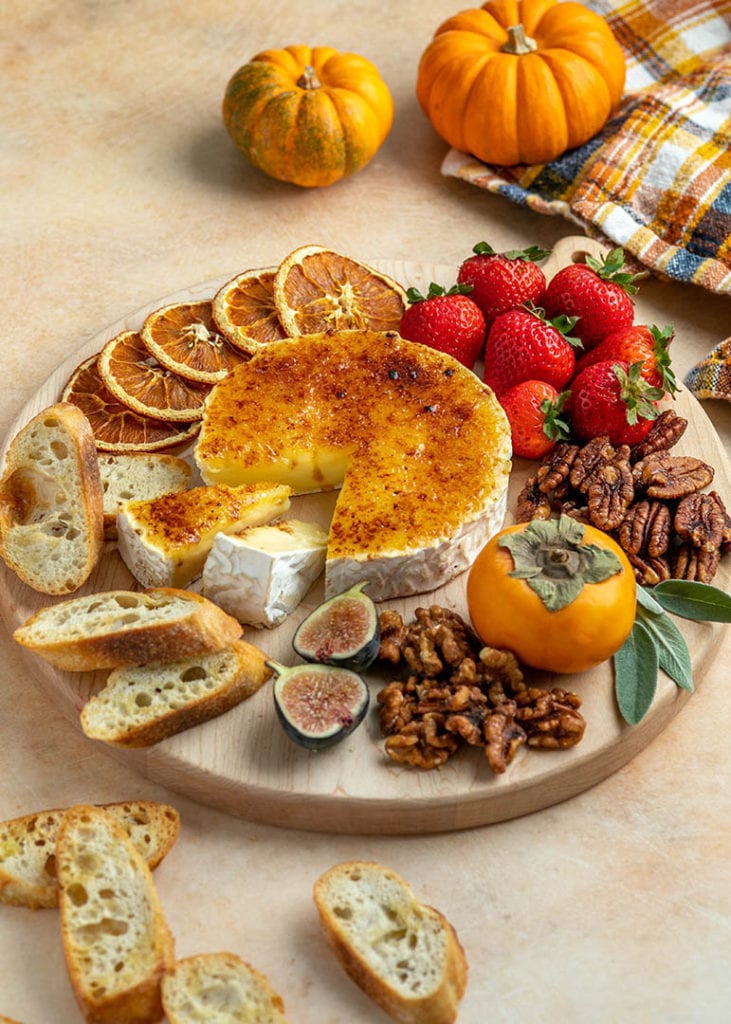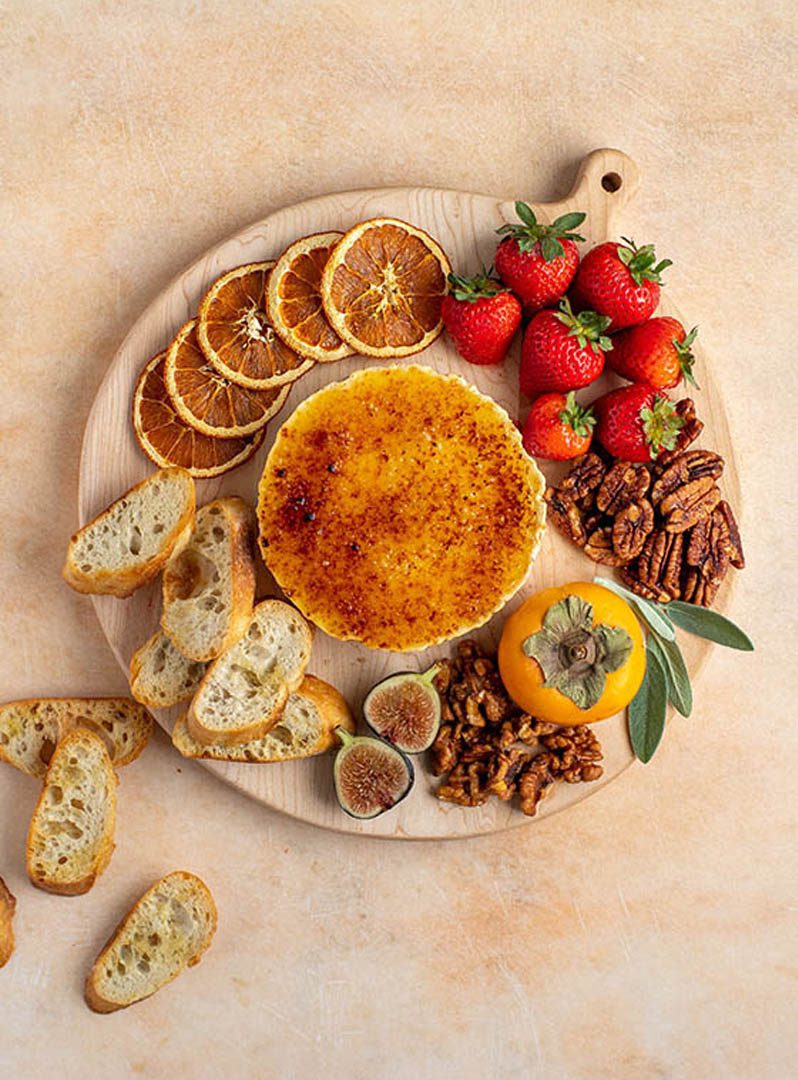 How to Make Brie Brûlée
Brûléed cheese tastes so lovely. You add a hint of sweetness to an already rich, creamy cheese. Here are the steps I take to make a Brie brûlée:
First cut off the rind from top of the cheese wheel.
Sprinkle a generous layer of sugar on top, it should stick nicely because you have the soft part of the Brie exposed.
Make sure your sugar layer is even, this will help it brown more evenly. For tips on which type of sugar to use I have a quick list in my Sugared Cranberries post. For the brûlée I used white sugar, but raw sugar works great too.
Take a blow torch to the sugar layer and wave it across until each section is nicely browned. (If you don't have a blow torch you can use a broiler, as described below.)
Repeat with another two to three layers of sugar.
You want to make sure you've truly caramelized the sugar. While you don't want the whole thing totally black, you can do with a few black spots if it means the rest is a deep golden brown. The darker the browning gets the more flavor it has. Just know that brown caramel can very quickly turn black (which you don't want), so watch it so closely.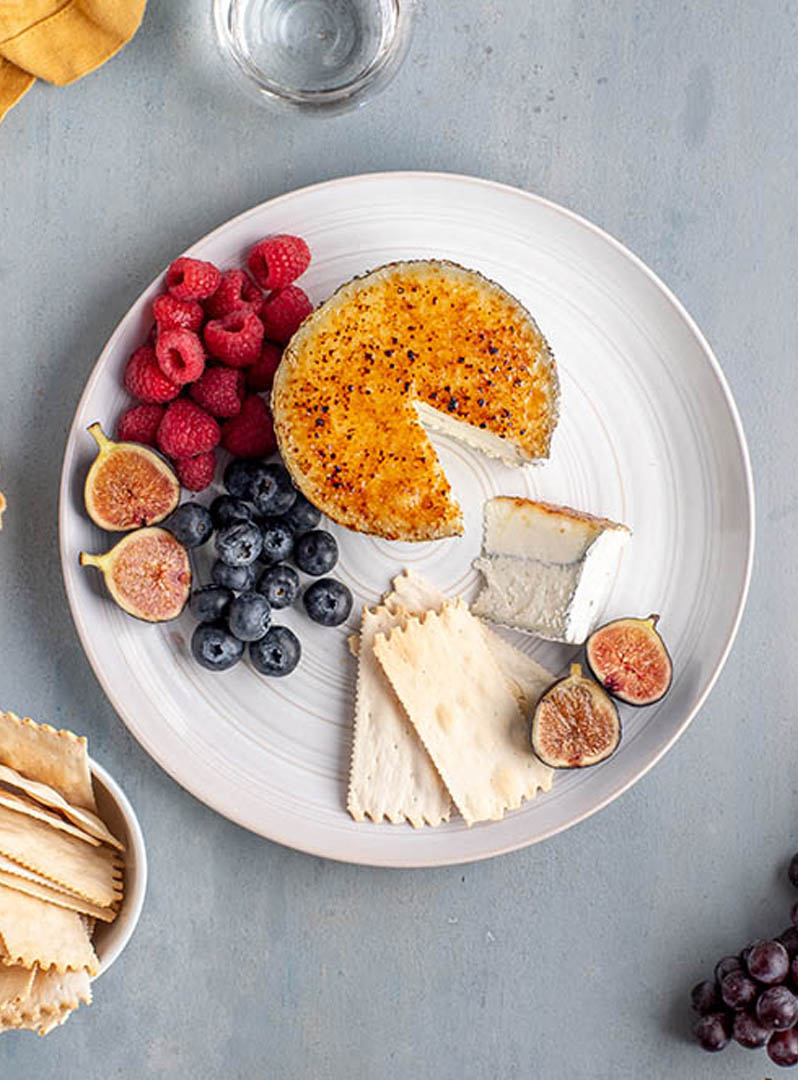 Blowtorch or Broiler?
While using a blowtorch may seem daunting, it's really not. You can buy one on Amazon for under $20 (here's a Professional Kitchen Cooking Torch for $15) . You definitely don't need to break the bank for something you may only use once in a while.
It can take a bit of practice to get used to working with a blow torch. If you move the flame too quickly it will take longer to get the sugar to set. On the other hand you don't want to hold the flame over the same spot for an eternity. Even heat is the way to get the best caramelization, a slow, steady hand is best here. I'd suggest doing a practice piece on your first attempt.
If you really are opposed to using a blow torch, you can put your cheese brûlée into the broiler. Just know this will create a very different effect than a blow torch, which is a much more direct way to heat just the surface area of something.
To broil your cheese, place your cheese on a sheet pan in the broiler, then turn the broiler on. This will help it heat only the top sugar layer, not the whole wheel. It should only take 5-10 minutes to brûlée. But check it often as carmel can very quickly turn to an icky burnt flavor.
A broiler, when used correctly, applies heat from just the top down. So in theory it will only heat the sugar layer on top, but inevitably the heat will affect the rest of the cheese wheel more than a blow torch will. You may have a more melty cheese on your hands if you use the broiler.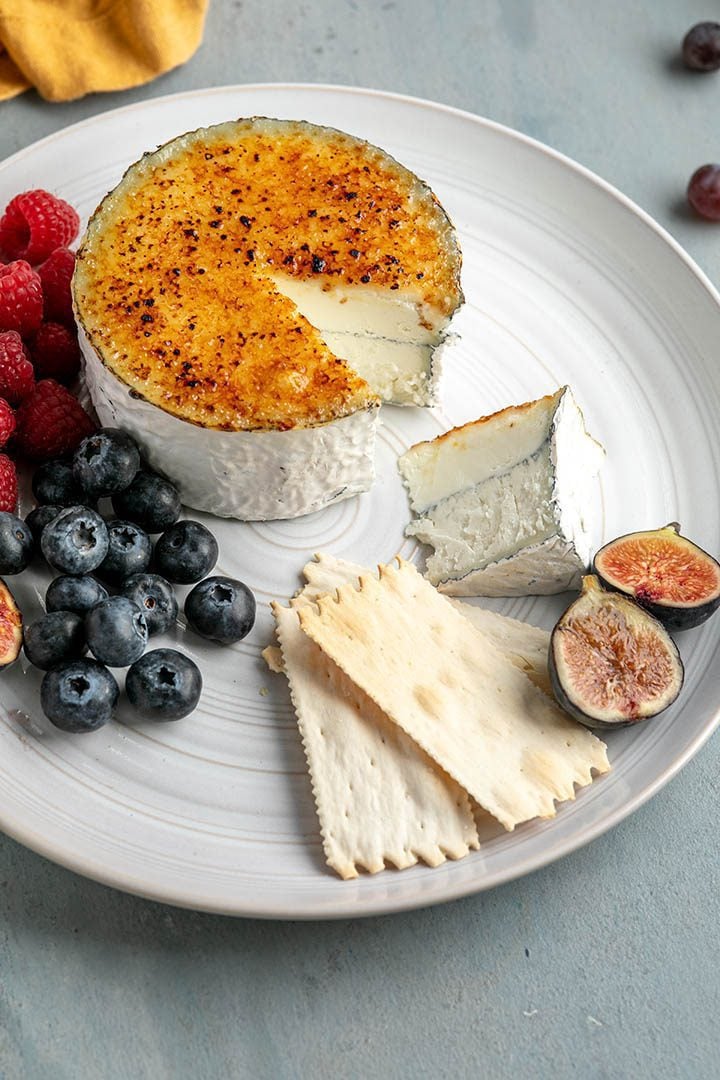 Other Cheeses You Can Brûlée
Now that you've got your kitchen blow torch in hand, I'm sure you'll want to try and brûlée everything you can. It's so fun, and so delicious.
There are many other cheeses that I love to brûlée. Note that all of these should be put into a ramekin or oven-safe dish first, then just brûlée the top.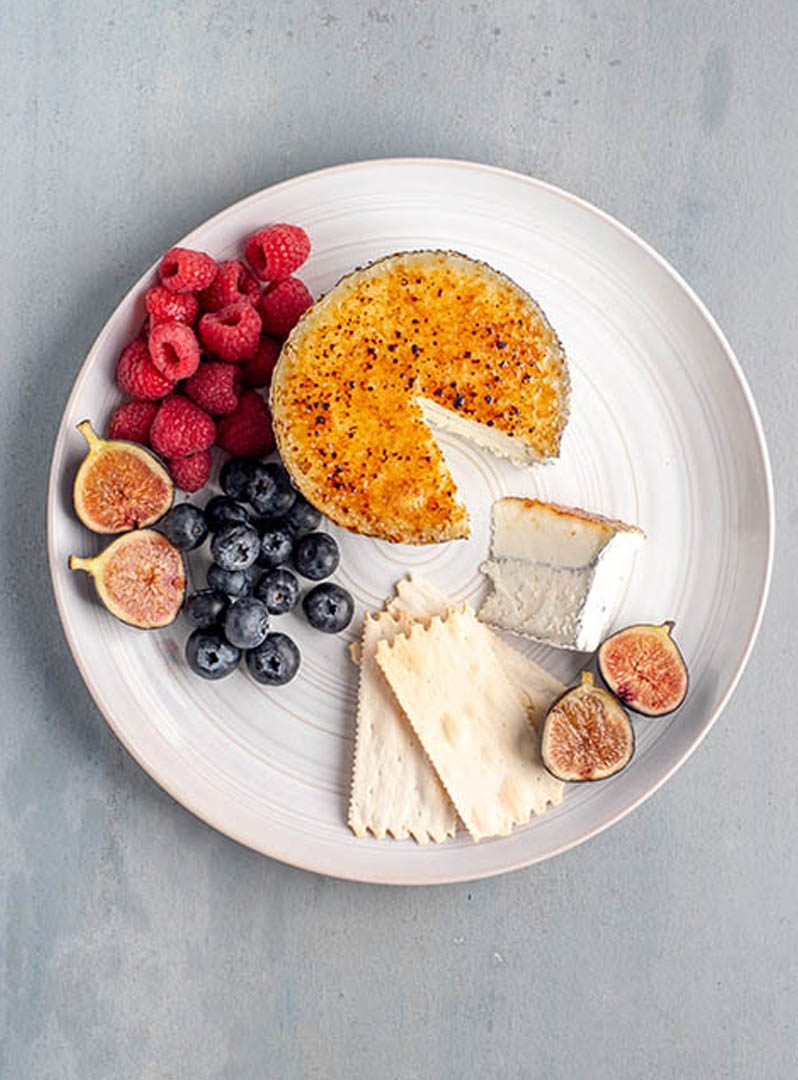 Show Me Your Cheese Brûlée
I hope this post inspires you to create delicious cheese appetizers. Nothing makes me happier than seeing the beautiful boards you create from my tips. If you make a cheese brûlée or board inspired by this post, please tag me at @ainttoooproudtomeg so I can see and share!
And, If you liked this recipe, please rate and review.
Photos by: Haley Hunt Davis
Brie Brûlée Appetizer
Description
A great sweet cheese brûlée recipe. Make a brie or goat cheese brûlée. Simply top with sugar and use a blow torch.
Ingredients
Produce
Raspberries

Figs

Persimmon

Blueberries

Strawberries
Accouterments
Pecans

Walnuts

Fresh Sage

Dried Citrus
Tried this recipe?
Rate & Review!