This post contains collections of products that I personally recommend (it may contain affiliate links).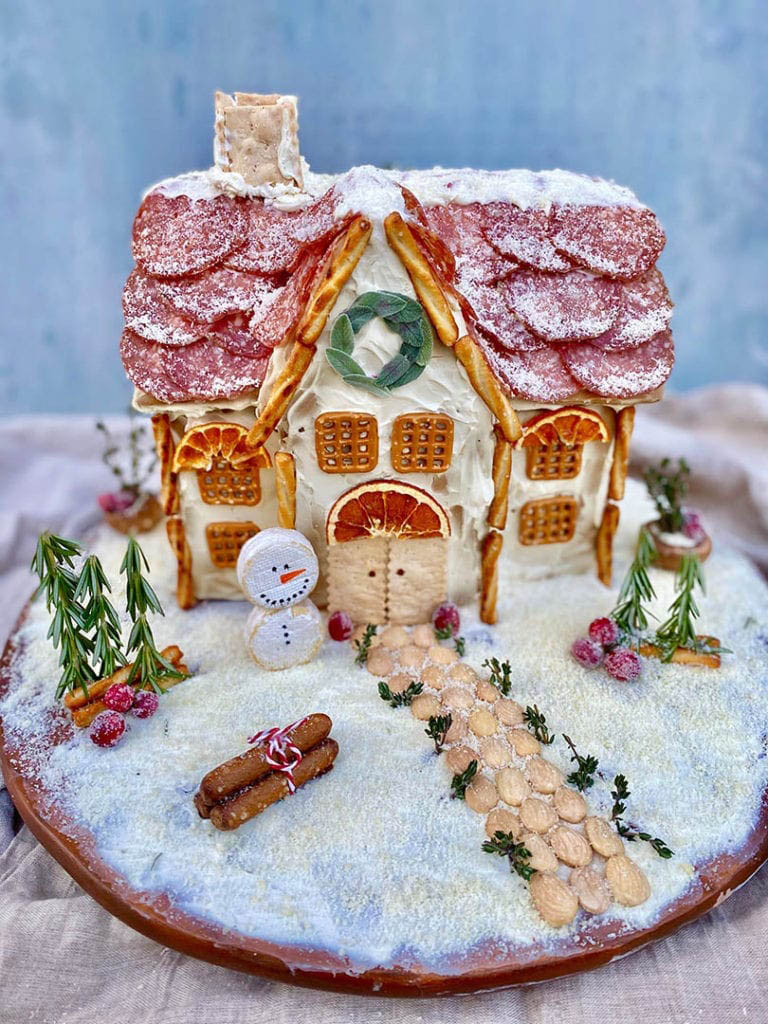 What is a Charcuterie Chalet?
Imagine the most adorably decorated gingerbread house, but with all savory ingredients. That's it! A charcuterie chalet is like a savory cheese board house, all dressed up for the winter holiday! Pretzel windows, salami-tiled roof top, and all of it dusted with parmesan cheese, it's so darn cute. Who wouldn't love this?!
Obviously I had to jump on this new fad. Here's my take on the trend with a few extra suggestions thrown in for good measure. And here's my IG REEL for a full 360-degree view of the Meat Mansion I created. For other Christmas ideas, check out the Christmas section of the blog, including my Charcuterie Tree and Charcuterie Wreath. You can also search all holiday board ideas by section on this site. And, for a non-holiday version of antipasti, make my Italian Antipasti Platter.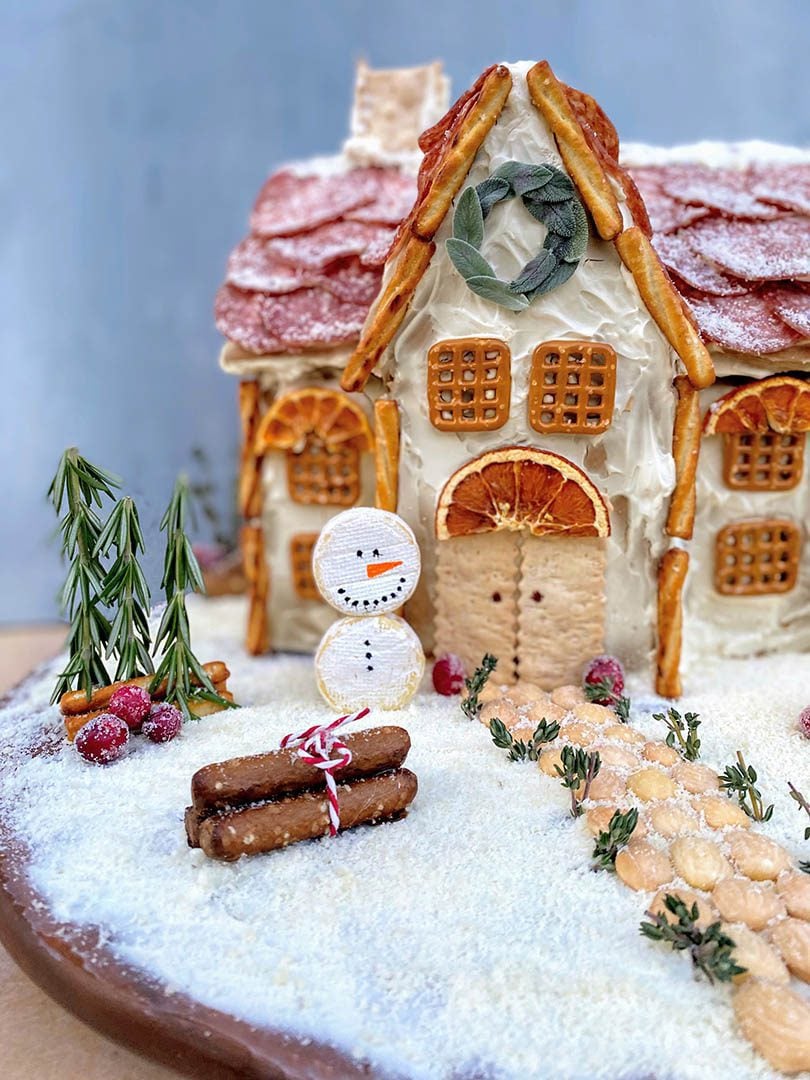 Building the Structure of Your Chalet
Make it easy on yourself! Find a gingerbread kit and build off that. Zero judgement here, because that's what I did. I used this Gingerbread Mansion, but Target also smaller options like this Gingerbread House kit and ready-built options like this Gingerbread House and these mini pre-built holiday homes
I've heard of people making the structure from flatbread, which is some varsity-level food art right there. I'm no architect, and I'd honestly rather be decorating than frustrated by building the base. But you do you! It's an option, and the important part is to make this fun and festive.
The Base
One of the most common questions I recieved on instagram after posting was, "what is the base?" So in addition to using a gingerbread kit to build the home, I placed everything on a Lazy Susan so that I could really get a good look at every side. I love being able to show off the full 360° view!
Once the main house elements were done, I covered the Lazy Susan in cream cheese and parmesan sprinkles (more on that below). This helped the landscaping elements stick.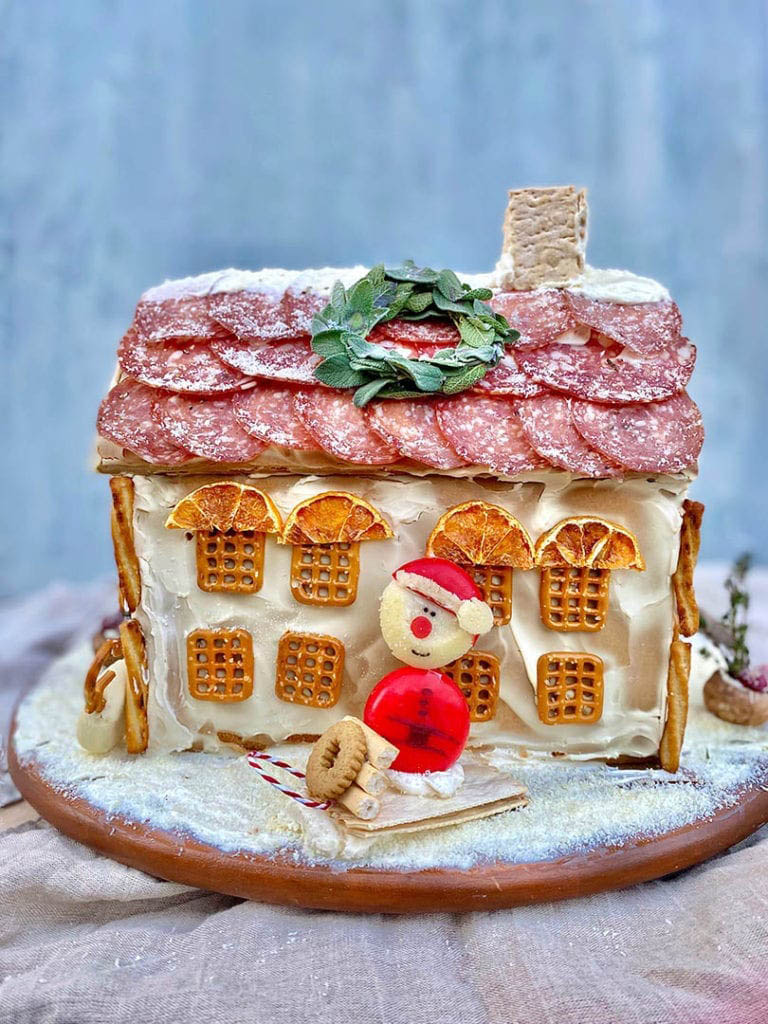 Ingredients to Make it a Winter Wonderland
I've made mine all savory. But you could do a mix—some savory items, with some sweet ones too. You know I love a dessert cheese board. It really comes down to the shapes and colors you want to add in.
Besides the gingerbread house, think about what elements you want to have on your chalet: windows, landscaping, roof, and trimmings and characters. These should start to inform the colors, shapes, textures you want to look for in your ingredients. Here are some ideas based on what I made and what I've seen others make….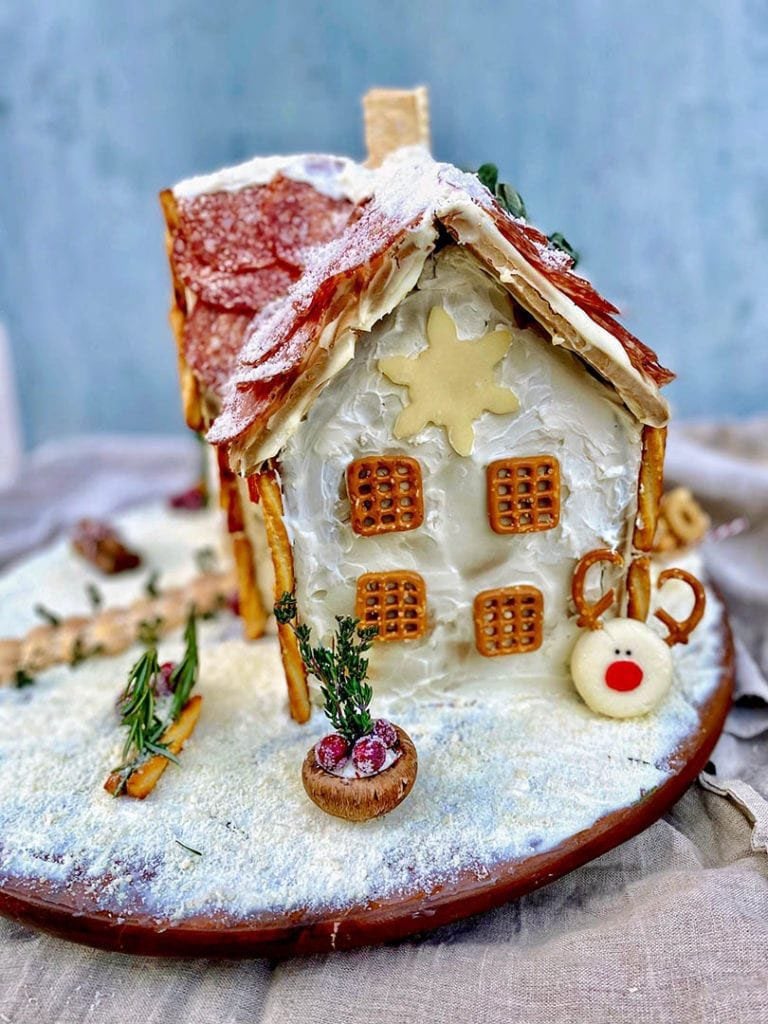 The House Details
Cream cheese is your best bet for charcuterie chalet glue. Use it to make a beautiful, smooth snowy drift (on the rooftop or elsewhere).
Salami and charcuterie are key. I placed salami rounds on the roof to make cute looking tiles. You could also make salami (or ham, or prosciutto!) rosettes for decoration around the chalet. Full tutorial here on making salami rosettes.
Pretzel snaps (grid squares) make the perfect windows. You could also try triscuits
Dried fruit is a good option for decor. I used half slices of dried oranges as window awnings/coverings.
Longer crackers like these rustic bakery flatbreads cut in half work as great doors. Just draw on doorknobs with these edible ink markers. I also used these to for the chimney on top, securing the four sides with cream cheese.
Pretzel sticks give off a great log-cabin vibe. I used a few sizes and shapes for different aspects of the decor: windows, roof eaves, and some for "logs" in front of the chalet. I used the same buttery pretzel twists in this Fall Cheese Ball Bites board.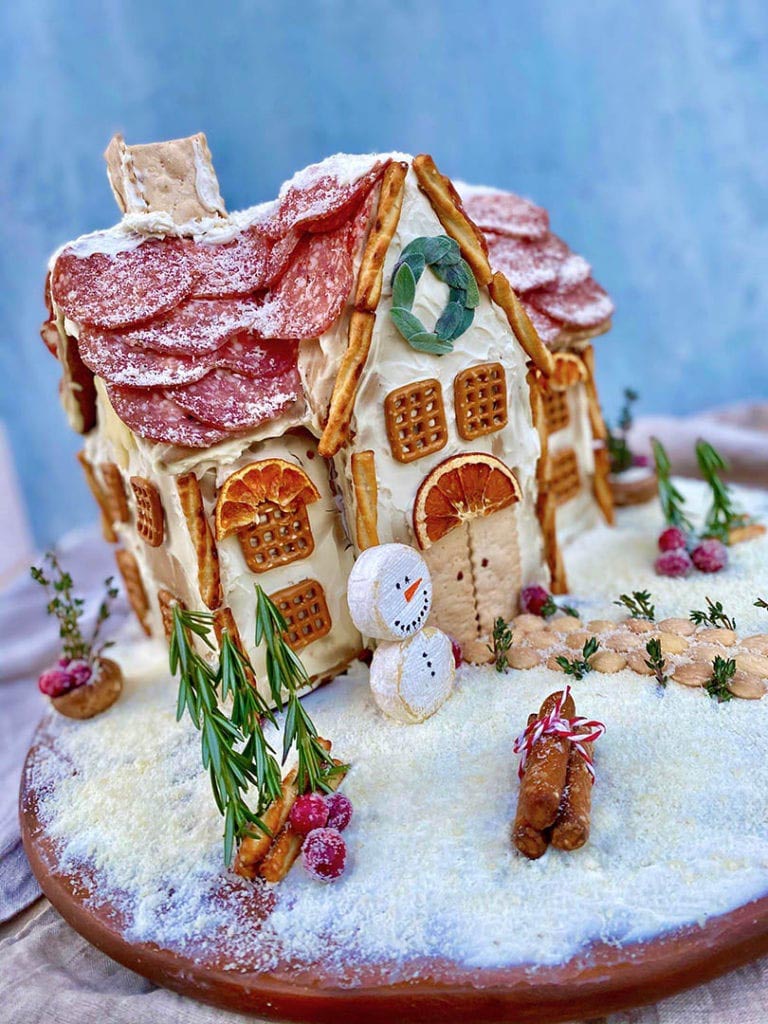 Landscaping
Rosemary makes for great trees and garden-like additions. Stand them up tall and affix them to a few more pretzel twists to help them stand. Or just lean them against the chalet.
Sage is such a beautiful herb, and fragrant too. I piled leaves of it into circles to make wreaths on the front and back of the house.
Marcona almonds (or regular almonds) make a great pathway up to the doorstep.
Cut up tiny thyme sprigs along the almond walkway to create a cute landscaping detail. I just stuck them into the cream cheese/parmesan base on the lazy susan.
Green olives could come in handy for garden landscaping too.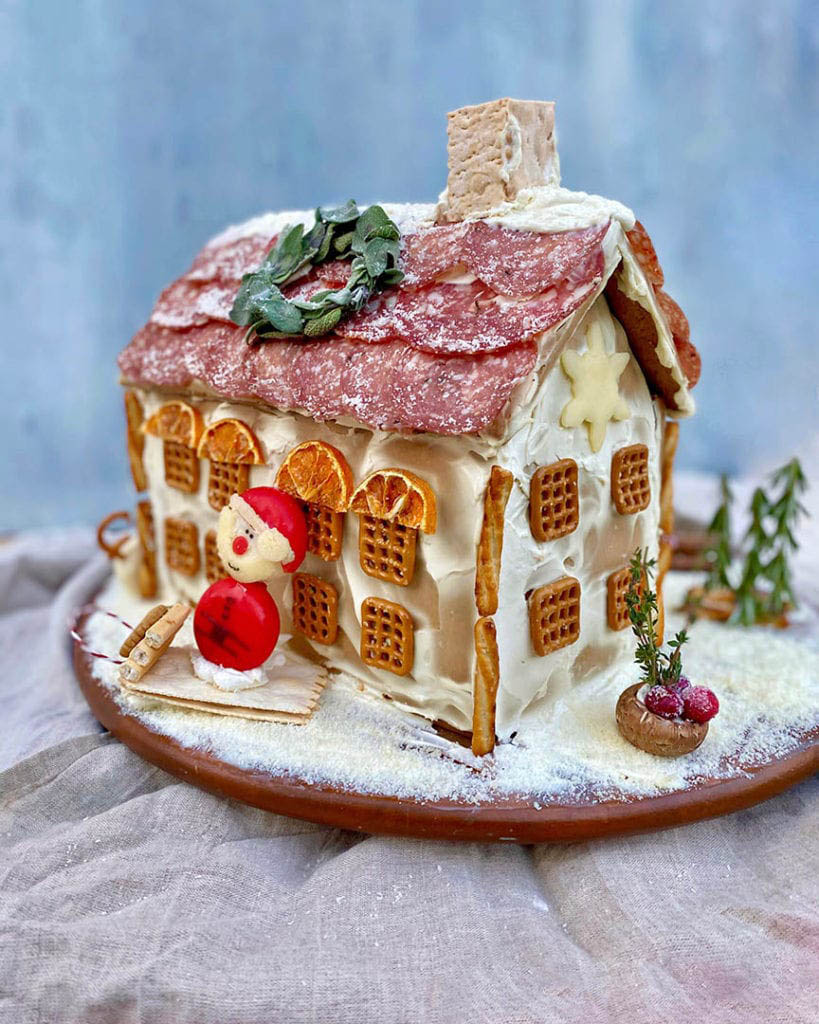 Characters
Brie bites are so adorable. All piled up they make a pretty great snowman. Mine are secured with a skewer. I drew on the eyes, mouth and carrot nose with the edible ink markers. I get my brie bites at Trader Joe's, but I also linked to some on amazon if you don't have access to TJ's.
Babybel cheese is a staple on my boards (like these PAC MAN with edible eyes). So it was a no-brainer to make a snowman and a Rudolf with them. Again, I used the edible ink markers for help with the faces and Santa suit. I used extra wax from the Babybels to create the red noses. For Santa, I added in a provolone beard and furry hat and stuck them on with cream cheese. See more details on my IG Reel How-To (coming soon).
Black olives put on skewers would make adorable looking penguins. I've seen these with mozzarella or cream cheese for the white belly.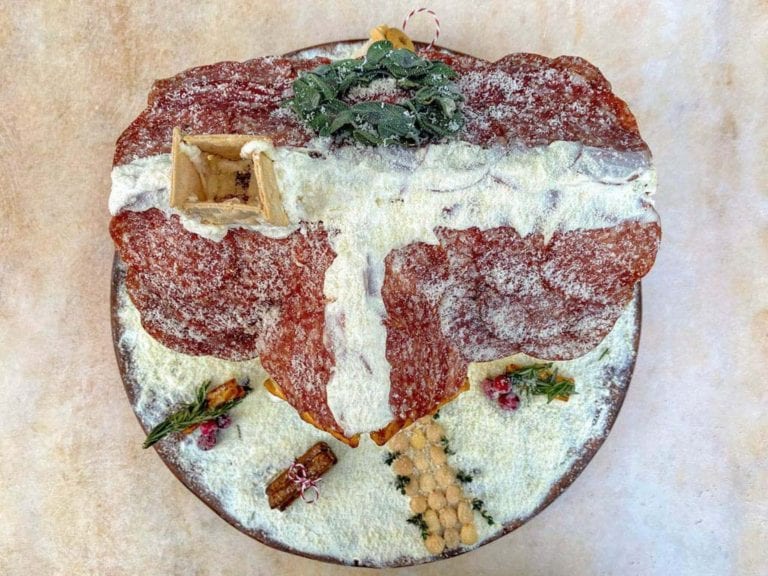 Extras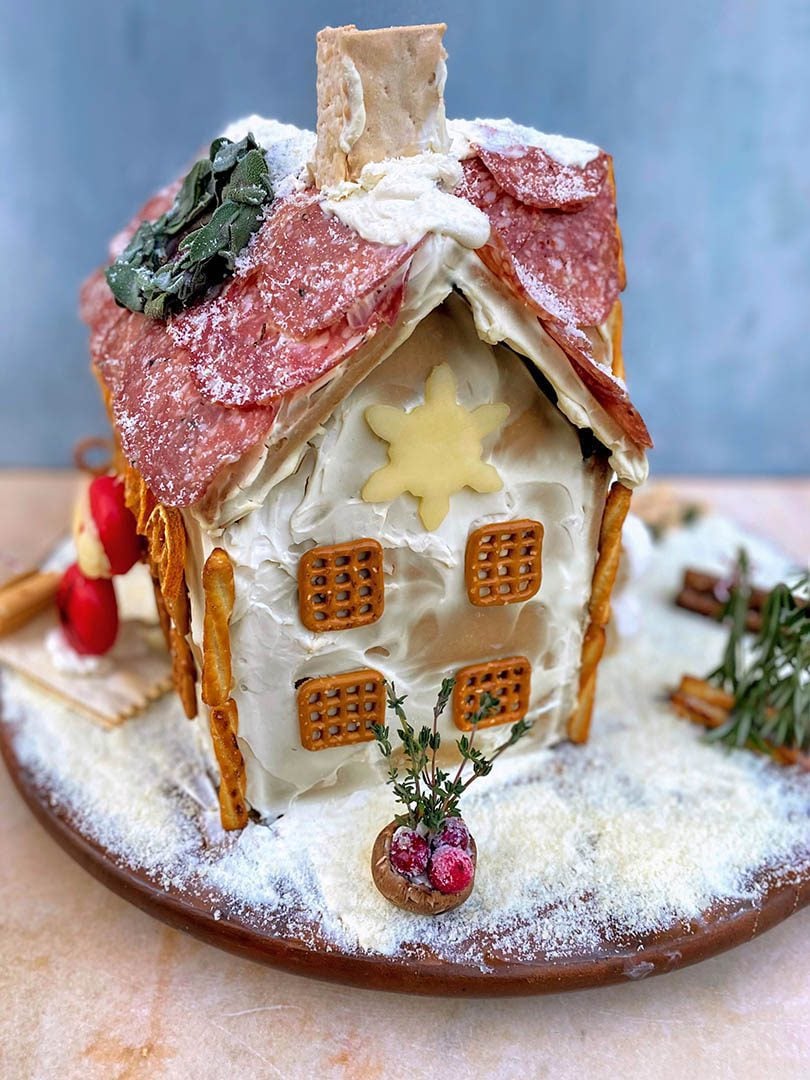 How to Make it Sparkle
This was the most fun part! Grate some parmesan into a bowl. Sprinkle it on top of your salami rooftop. Add it to any snowy sections you made with cream cheese. And give the rest of the yard a nice soft dusting of parmesan snow. This will really set it up to look so wintery (and yummy!).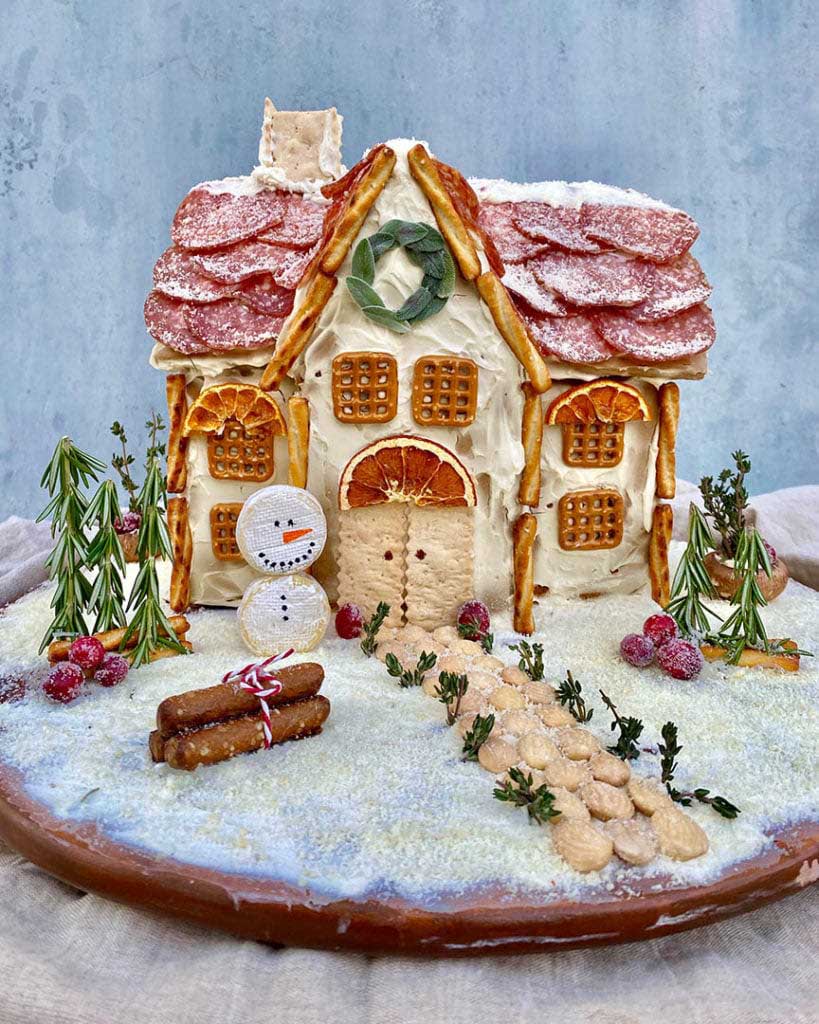 How to Cheat … Full Disclosure!
In all honesty, I knew this would only be posted on social and not eaten, so I brought the big guns. And by big guns, I mean my tiny glue gun. Yep, it just wasn't possible for me to hold up the house without it.
Obviously this makes the chalet inedible. Only use glue if you're not planning on eating it. If you do want to make these and eat them too (duh, why wouldn't you?!) you can use the royal icing that you would usually use on a gingerbread house. Or cream cheese—just make sure to keep it cold. If it gets too warm it won't hold much up.
A big THANK YOU to my friend, Alexandra Olin for helping build this meat mansion.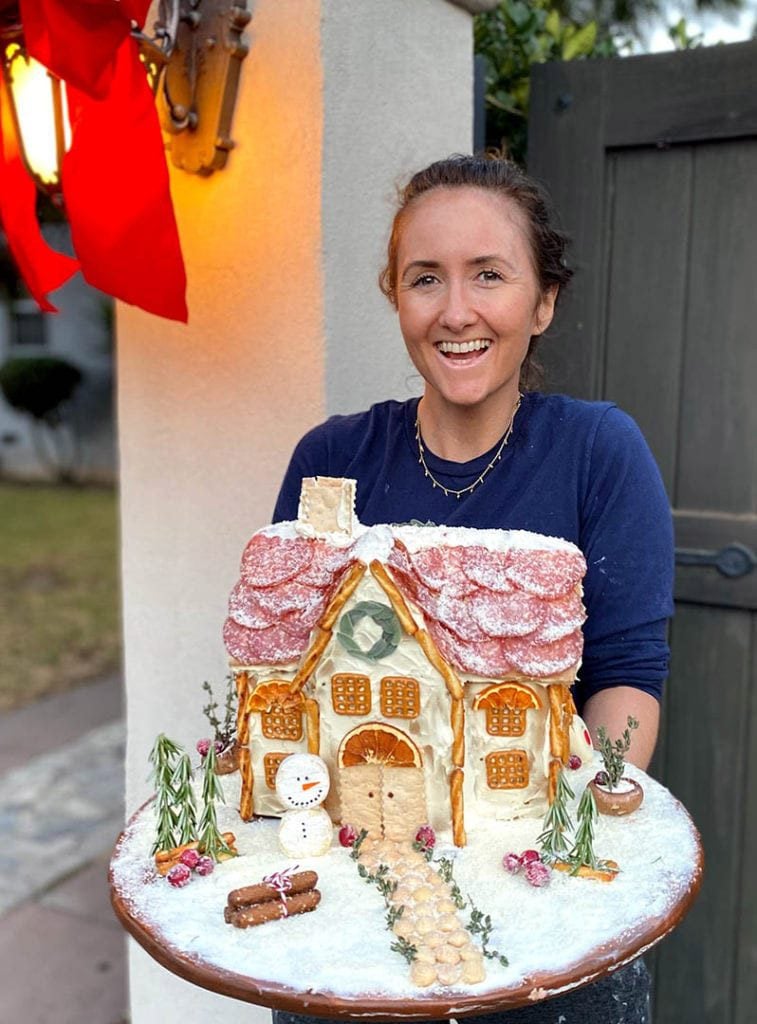 360 video of the Chalet
Here's a video of the full chalet.
Show Me Your Chalets
I hope this post inspires you to create the infamous #CharcuterieChalet. Nothing makes me happier than seeing the food art you create from my tips. If you make a "Meat House" (hehe) inspired by this post, please tag me at @ainttoooproudtomeg so I can see and share!
And, If you liked this recipe, please rate and review.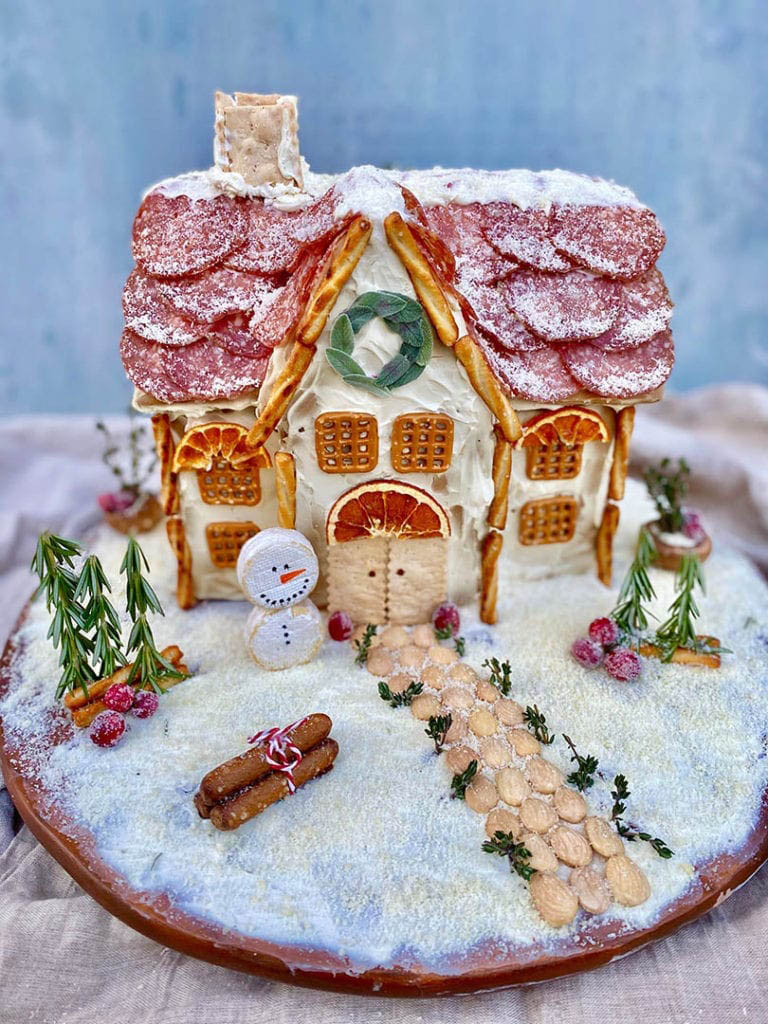 Other Resources
Check out these charcuterie chalet roundups from PopSugar and The Spruce for more inspo.
Charcuterie Chalet Recipe
Description
How to build a charcuterie chalet! These tips are your go-to charcuterie chalet instructions to get in on the charcuterie chalet meme!
Ingredients
Cheese
Cream Cheese

Babybel Cheese

Mozzarella

Cheddar

Provolone

Grated Parmesan
Carbs
Gingerbread House Base

Pretzel Snaps

Pretzel Sticks

Rustic Bakery Flatbreads
Accouterments
Dried Oranges

Edible Ink Markers

Rosemary

Thyme

Sage

Marcona Almonds

Green Olives

Black Olives
Tried this recipe?
Rate & Review!