This post contains collections of products that I personally recommend (it may contain affiliate links).
Updated 2023.
Take this cheese and sweets board to a Friendsgiving potluck or serve it at your family's Turkey Day celebration. I love this beautiful fall cheese and dessert board for so many occasions. The brie cut-out technique (described in full detail for this cheese board) is perfect for every Fall occasion. This Thanksgiving board has both sweet and savory, but if you're looking for a classic board without the sweets, my English Cheese Board makes a great holiday cheese course.
For other autumnal ideas, check out my Elevated Fall Cheese Board, Bacon-Wrapped Dates, Cranberry Cheese Ball, Pumpkin Cheese Board, Thanksgiving Meal Board, Fall Dessert Board, Pumpkin Baked Brie, Fall Harvest Salad, Fall Burrata Board, Caramel Apple Bar, and Thanksgiving Kids Snack Board.
And be sure to look through all my holiday boards to get inspired!
How to Get Fun Fall Colors and Tastes
Leaf shapes all around!
Leaf chips from Trader Joe's. These are only on shelves for a limited time. Make sure to grab a few bags as soon as they come in stock early October! They taste just like regular corn chips, colored with red beet, carrot, and pumpkin. They are stunning and so seasonally appropriate. If you can't find these from Trader Joe's, any other Fall colored veggie chips will do the trick!
Brie cutout. This is really the showstopper stopper. It elevates the board and really drives home the Fall theme. More on how to do this below.
So much orange!
Pumpkin chocolate-covered pretzels from World Market. I cannot guarantee these are still in the store, but any fun falled colored pretzels will work (I've seen blueberry-flavored purple ones at sprouts that would work just as well). I love these because they are the perfect mix of sweet and savory.
Rich orange cheese. I love using Mimolette on Fall boards, like my Elevated Thanksgiving Board. You can also check out Mimolette on my French Cheese Board. The dark, rich orange color is so pretty. The sharpness of the cheese flavor is great paired next to sweets and mild flavors. If you don't prefer Mimolette, aged gouda or cheddar work great (they'll both be a little lighter in orange color but still just as good).
A variety of produce!
Persimmon slices. I still don't know why many people don't eat persimmons like this. They are so sweet and soft—the perfect flavor addition to a cheese board. Just make sure you put out ripe persimmons. If these don't appeal to you, dried persimmons are a great swap.
Berries and berries, oh my! In California we are blessed with tasty berries all year 'round, so I continue popping them on my boards throughout the seasons. However, this might not be the case where you live (quite frankly they are expensive in most places in non-summer months, so feel free to omit). As always, favor the produce that's in season where you live. Apples, pears, carrots, sugared cranberries (not raw ones!), figs, and grapes, are great November fruit. You should pick your favorites to add!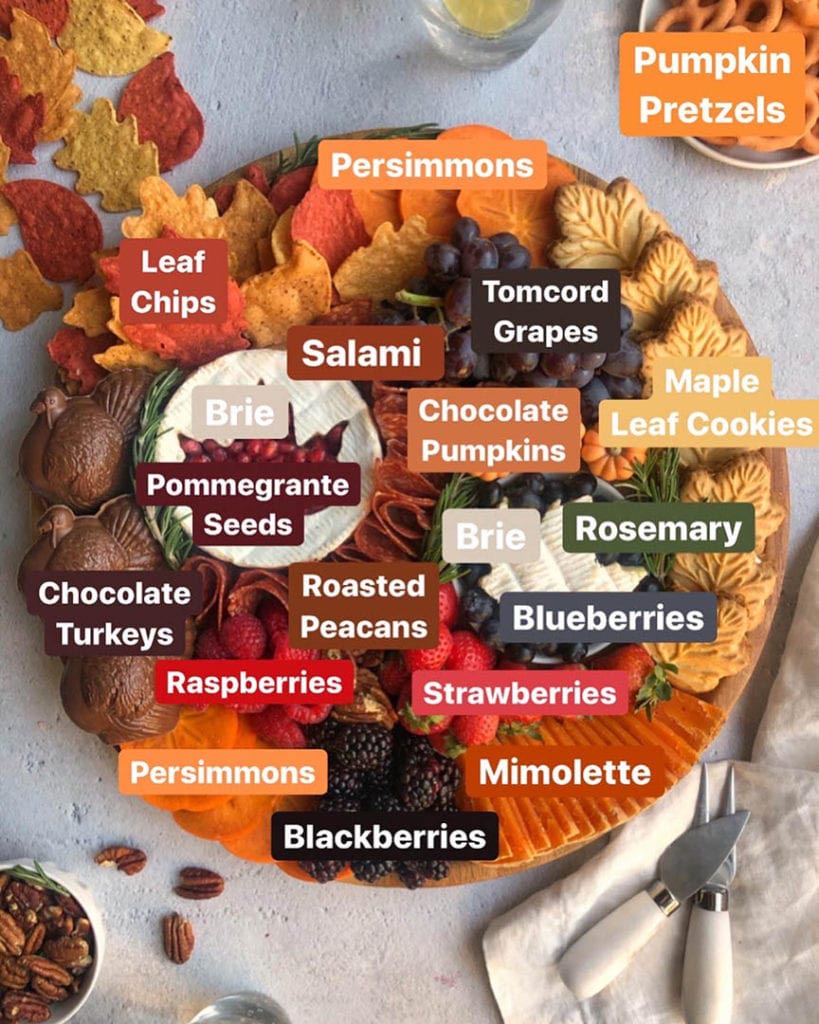 How do I Make the Brie Leaf Cut Out?
I love adding a brie cutout to a themed board. Whatever shape you choose will reinforce the theme of your board. Plus add a delicious treat when guests go to get a slice of brie and have an additional flavor pairing.
A full tutorial of how to do a brie cutout is in my 4th of July, Proud to Brie and American cheese board post. You'll find a link to a video tutorial with heart cookie cutters.
For this leaf-shaped cutout, I filled mine with pomegranate seeds, which honestly makes it look a bit like the red maple leaf on a Candaian flag—even more reason to serve this for Canadian Thanksgiving! Pomegranate seeds are so seasonal and festive. You just want to make sure whatever you put in the middle is small and goes well with brie cheese.
If you are doing this for another season, or don't want the fruit inside, you can always use your favorite jam flavor instead. The flavor pairing you choose will really make this special—ginger peach jam? raspberry preserves?—make it your own!
What size is this board?
The board in these photos is 14.5in diameter and no longer available, however, this round wood tray is the most similar in size.
Show Me Your Boards
I hope this post inspires you to create delicious appetizers and boards. Nothing makes me happier than seeing the beautiful spreads and snacks you create from my tips. If you make something inspired by this post, please tag me at @ainttooproudtomeg so I can see and share!
And, If you liked this recipe, please rate and review.
Thanksgiving Cheese & Dessert Board
Description
Make this Thanksgiving themed cheese and desserts board to impress your friends and fam this Turkey Day.
Ingredients
Cheese
Brie wheel with leaf cut-out

Mimolette

sliced
Produce
Persimmons

sliced

Thomcord Grapes

Raspberries

Blueberries

Strawberries

Blackberries
Carbs
Maple Leaf Cookies

Leaf Chips
Accoutrements
Chocolate Turkeys

Chocolate Pumpkins

Roasted Pecans
Garnish
Fresh rosemary sprigs

Pomegranate seeds
Instructions
Fill a small bowl with blueberries and place the Brie cut-out on top. Then place the bowl and the brie wheel in the center of the board to anchor it. Fill the cut-out part of the brie wheel with pomegranate seeds.

Fan the salami and leaf chips around the Brie wheel, then add the produce around the outside of the bowl being sure to separate similar colors.

Add the mimolette, persimmons, and leaf cookies around the outside edge of the board.

Fill in any empty spots with pecans, chocolate, and any remaining produce. Garnish with rosemary to serve.
Tried this recipe?
Rate & Review!