This post contains collections of products that I personally recommend (it may contain affiliate links).
Updated 2022.
You know how much I love burrata… and what's not to love? It's so creamy and rich. My Summer Burrata Board was such a hit, I decided to make a Fall version. Similar to the Summer board, this spread of ingredients can be made into crostini for a perfect fall appetizer, or a salad which is a great Thanksgiving app or autumnal snack. There are so many options to make this your own, the flavor pairings and alternatives are endless.
For more fall-themed ideas, Fall Harvest Board, Elevated Fall Cheese Board, Fall Dessert Board, Trader Joe's Halloween Board, Pumpkin Cheese Ball, and all my other Boards with Gourds posts. 
What's On This Board
Burrata—the star of the show. I add olive oil, balsamic vinegar, salt and pepper here. Curious what makes Burrata special? I wrote all about how to serve it for this Burrata Crostini.
Roasted delicata squash—the heart of the board, when cooked until soft and seasoned well it's such a Fall treat. (Directions for how to roast below.)
Pears—a wonderful mild sweet fruit to add to this board. Chop them up into cubes for easy serving and eating.
Pomegranate seeds—these add the perfect pop of tartness to the dish. They will stain the other foods next to them once you put it on so be sure to know exactly where you are placing them and gently add them in with a spoon.
Prosciutto—salty and fatty, it's an integral part and pairs so well with the sweet squash and creamy cheese.
Figs—so seasonal and so sweet, I love the roundness of the fig flavor with burrata. Cut in half and show off their beauty.
Candied pecans—the crunch of nuts in a salad is the best. These in particular really evoke the taste of fall.
Persimmon slices—one of my favorite Fall fruits, the orange color and easy sweetness of these is great in the salad version. Slice them up into pieces thin enough to work on a crostini.
Rosemary— for garnish, it adds a nice touch.
When Do I Serve This Board?
This board can be served a few different ways: a salad course, an appetizer spread, or a crostini.
If you're serving it as a salad, put the board out as it's pictured above. Accompany the board with small serving bowls and a larger bowl with lettuce (I recommend arugula just like I did for the original Burrata Board). Guests can build their own salads with whichever ingredients they choose. Add a simple vinaigrette on the side.
If you serve it as an appetizer spread, put it out as pictured above with tongs and serving spoons. Add plenty of crackers or baguette slices off to the side and let folks build whatever kind of bites they desire.
If you want a more composed crostini, follow this Summer Burrata Crostini recipe but with the Fall ingredients. I'm thinking a baguette slice, with Burrata, prosciutto, squash and pomegranate seeds would taste divine!
How to Roast Delicata Squash
Cut the squash lengthwise and scoop out all the seeds.
Flip it over so that the flesh is down on the cutting board, so that it's not wobbling when you're trying to slice it.
Slice each section into half-moons, approximately half inch thick.
Toss the squash pieces in olive oil and season with salt and pepper.
Roast until soft, approximately 25 minutes in a 400 degree oven. Flip halfway through to get more consistent texture.
Make it Your Own
There are tons of variations you can add to this board. I love how the mildly sweet squash pairs with Burrata and prosciutto. But I'm sure the salad would be equally as delicious with a different seasonal vegetable, like Brussels sprouts, roasted carrots, or a different variety of squash. Other winter squash you could choose from include Kabocha, Butternut, or Acorn. 
By picking what's in season you're bound to have better flavor. I always try to put seasonal items together, there's a greater chance they'll pair well. If they come up in the garden together, there's a good chance they'll taste better together.
To Make a Smaller Version…
I limited it to one row of burrata (2 balls)
Made it vegetarian by omitting the prosciutto
Took out the pear and focused on the other toppings
Drizzled balsamic reduction on the burrata
Served with the salad elements on the side. Just have everyone add the lettuce to their bowl and top with items on the burrata board.
Show Me Your Boards
I hope this post inspires you to make this spread. Nothing makes me happier than seeing the beautiful snacks and apps you create from my tips. If you make something inspired by this post, please tag me at @ainttooproudtomeg so I can see and share! 
And, If you liked this recipe, please rate and review.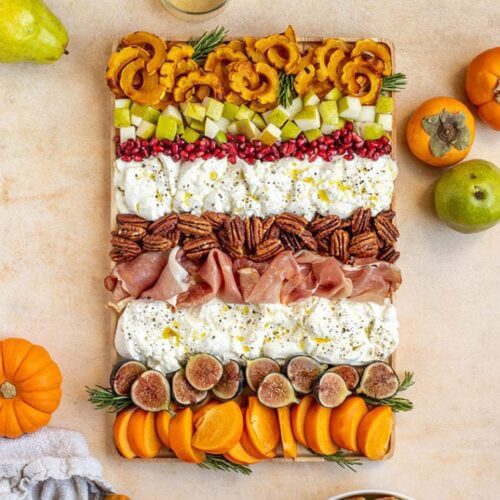 Fall Burrata Board
Description
Make this delicious Fall appetizer for Thanksgiving with roasted squash, burrata, prosciutto and figs.
Ingredients
Cheese
Burrata

(4 balls for the large board, 2 balls for the small board)
Produce
Delicata Squash

roasted

Pears

diced

Pomegranate seeds

drained

Figs

halved

Persimmon

sliced
Accouterments
Rosemary

Candied Pecans

Olive oil

salt & pepper
Optional
Balsamic glaze or reduction

Crostini

Arugula
Instructions
Cut the burrata into quarters and spread out into 2 rows (2 quarters per row), one row towards the top and one towards the bottom. Drizzle with olive oil and balsamic glaze if using. Season salt & pepper.

From the top of the board to the first row of burrata, add rows of squash, pears, and pomegranate seeds.

Between the two rows of burrata, add rows of pecans and prosciutto.

After the second row of burrata, add a rows of figs and persimmons.

Garnish with rosemary and serve with crostini on the side if using.
NOTE: If you're serving as a salad, serve lightly dressed arugula (olive oil, salt, pepper and vinegar) in a big bowl on the side.
Tried this recipe?
Rate & Review!
Photos by Haley Hunt Davis