This post contains collections of products that I personally recommend (it may contain affiliate links).
Updated 2023.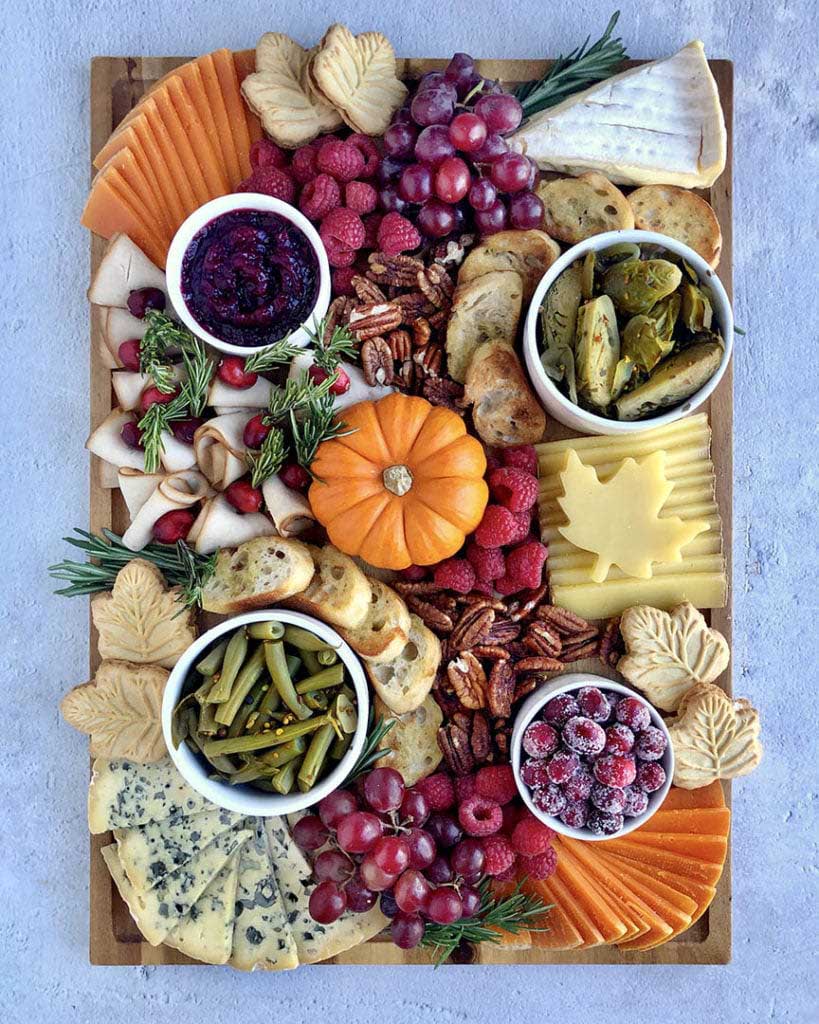 Whether you're spending Thanksgiving with family or celebrating Turkey Day on your own, this board is the easiest way to enjoy all the flavors of a full feast without all the cooking, hassle, or clean up. For bigger groups, it serve more as a grazing board or appetizer. People love grazing for meals because they can customize their plate, come back for all the different flavor pairings, and it prolongs the duration of the meal.
For more festive fall boards, check out my Thanksgiving Turkey Board, Turkey Shaped Cheese Ball, Thanksgiving Cheese and Dessert Board, Thanksgiving Kids Snack Board, Fall Dessert Board, Fall Harvest Board, Elevated Fall Cheese Board, Fall Burrata Board, Pumpkin Cheese Ball, and Caramel Apple Board.
What's On My Thanksgiving Charcuterie Board?
To be honest this board is very cheese-centric. What else did you expect from me!? I've officially started calling the holiday Cheesegiving! Jokes aside, I made sure this board is full of the flavors and ingredients you'd find on a traditional Thanksgiving spread, just with a cheese board twist on them. Let's take it section by section below.
Start with the Cheese
As you know from my Cheese Board 101, it's best to choose a mix of hard and soft cheeses. I leave the soft cheeses in tact and pre-cut the hard cheese to make it easier for guests to grab a slice.
Mimolette is the bright orange cheese that really pops on the board, giving it an especially autumnal feel. It's an aged hard cheese with a sharp bold flavor and hints of butterscotch. This is one of my favorite french cheeses, as seen on my French Cheese Board. I tend to use it on many Fall boards because of the pretty color, including my Thanksgiving Cheese & Dessert Board.
Brie is easily the most popular French Cheese. It's universally loved and commonly referred to as "The King of Cheeses." It's a very soft cheese, spreadable on almost any vessel. It's creamy texture and mellow flavor will go well paired with almost anything else on the board. If you wanted to do a cut-out with a mini brie wheel (also here), the sky's the limit!
Comte is another hard cheese that is mild but bold in flavor. It has sweet, nutty notes. I added a leaf shape cut-out (with a cookie cutter, same as I have on some kids boards) of the Comte for an extra boost of Fall flair!
Bleu d'Auvergne is a pungent blue that goes really well with fresh fruit and sweet flavors.
PRO TIP: I use the Cheeses of Europe app to figure out which delicious french cheese will go best with the rest of my ingredients. It helps you focus on 4 different types of cheeses: Mild, Medium, Bold & Blue. Plus has beverage pairings for each and a pronunciation guide so I can feel legit when I talk about cheese. In fact, it set me straight on Comte (properly pronounced kon-TAY, whereas I was saying kom-TEE).
Evoking the Thanksgiving Tastes
The Turkey
I love these deli turkey skewers as a replacement for cooking a whole bird. Doing turkey this way creates loads of opportunity for adding your own additives and alternatives.
To build these pretty turkey kebobs, peel off the bottom leaves from a rosemary sprig. Then use the twig-like stem to pop on a cranberry for the beginnings of our cute little meat sticks 😉 From there you want to grab a piece of turkey, fold it in half, then slowly roll in into a pretty cone.
You could substitute turkey meatballs instead of deli turkey. Add prosciutto, or salami to your spread (or both!). Or find a plant-based meat alternative to put out for the veggie-friendly folks.
The Carbs
I added a few baguette slices to the board. While crackers are usually my jam, I figured that toasted french bread would more easily evoke the feelings of the holiday. It's NO Stuffing, but makes the rest of the meal feel complete. I always have more in a bowl off to the side. Substitute, or add crackers or pretzels to the mix if you prefer.
Maple leaf cookies are a fantastic way to make this board feel like a special Fall treat. Plus they are super yummy and pair well with the fruit and cheese.
The Produce
Add fruit that's in season—in November grapes, pears, apples, persimmons, pomegranates, cranberries. They will taste better and be more affordable. Fruit is a great way to add more colors to your board.
I love adding dark purple grapes to Fall boards. They are a great seasonal fruit and the rich dark color is a perfect addition to the spread.
In lieu of my typical olives, i made it a mission to find The pickled veggies on this board really kick it up a notch. I have both pickled green beans and pickled brussel sprouts. The pickle flavor adds a tart acidity which breaks up the rich flavors of the meat, cheese, and bread.
Where I would usually put honey, I substituted cranberry jam (so Thanksgiving!) and these adorable sugared cranberries to the board. Alternatives to these include dried cranberries, the classic cranberry jelly from a can, or make a very simple cranberry relish.
The Accoutrements
Place mini pumpkins and gourds on the board or interspersed with your table spread. I love #BoardsWithGourds because they add the perfect Autumnal touch. Make sure to place these on the board first with larger scale items first (like anything in a ramekin and large blocks of cheese).
Nuts! I've included candied pecans here. Other nuts that would be great include walnuts, almonds, hazelnuts, or chestnuts.
As always, add a garnish to your board. I chose fresh rosemary sprigs pinned into whole raw cranberries. You could also add pomegranate seeds, or thyme sprigs.
Make This Thanksgiving Platter Extra Festive
You really can't go wrong with how you build this meal board. All of the ingredients should pair fairly well together in an updated version of a traditional Thanksgiving meal.
Choose your items within the Fall color palette: orange, yellow, red, and purple are my favorite this time of year.
Above all make sure you've included the items you really love. Thanksgiving is all about celebrating with the ones you love, whether you're in the same room or eating cheese boards over a Zoom call.
If you have young kids to feed too, make them their own kids snack board!
Show Me Your Thanksgiving Boards
Every family has special traditions for Thanksgiving, I want to see how you interpret this meal board idea. If you make a Thanksgiving Meal Board please tag me at @ainttoooproudtomeg so I can see and share!
And, If you liked this board recipe, please rate & review.
Cheesegiving: The Thanksgiving Meal Board
Description
Get all the flavors you love on this Thanksgiving cheese platter. It's easy entertaining!
Ingredients
Cheese
Brie

Mimolette

sliced

Comte

sliced with one cut into a maple leaf

Bleu d'Auvergne

sliced
Meat
Turkey deli meat "kebabs"
Produce
Mini orange pumpkin

Grapes

Raspberries
Accouterment
Cranberry jam

Candied pecans

(Or roasted chestnuts)

Pickled Green beans

Pickled Brussels sprouts
Garnish
Rosemary sprigs

Sugared cranberries

Cranberries
Instructions
Add the cranberry jam, sugared cranberries, pickled green beans, and pickled Brussels sprouts to separate small bowls. Place the bowls, brie wedge, and mini pumpkin on the board first to anchor it.

Fan the Mimolette and baguette around two of the bowls and fan the Bleu d'Auvergne around another bowl. Add the Comte to the board.

Peel off the bottom leaves from rosemary sprigs, then use the twig-like stem to kebab a cranberry. Roll or fold the turkey slices and add one to each rosemary kebab. Add to the board.

Fill in the board with pecans, grapes, and raspberries. Add maple cookies and garnish with rosemary.
Tried this recipe?
Rate & Review!