This post contains collections of products that I personally recommend (it may contain affiliate links).
Updated 2023.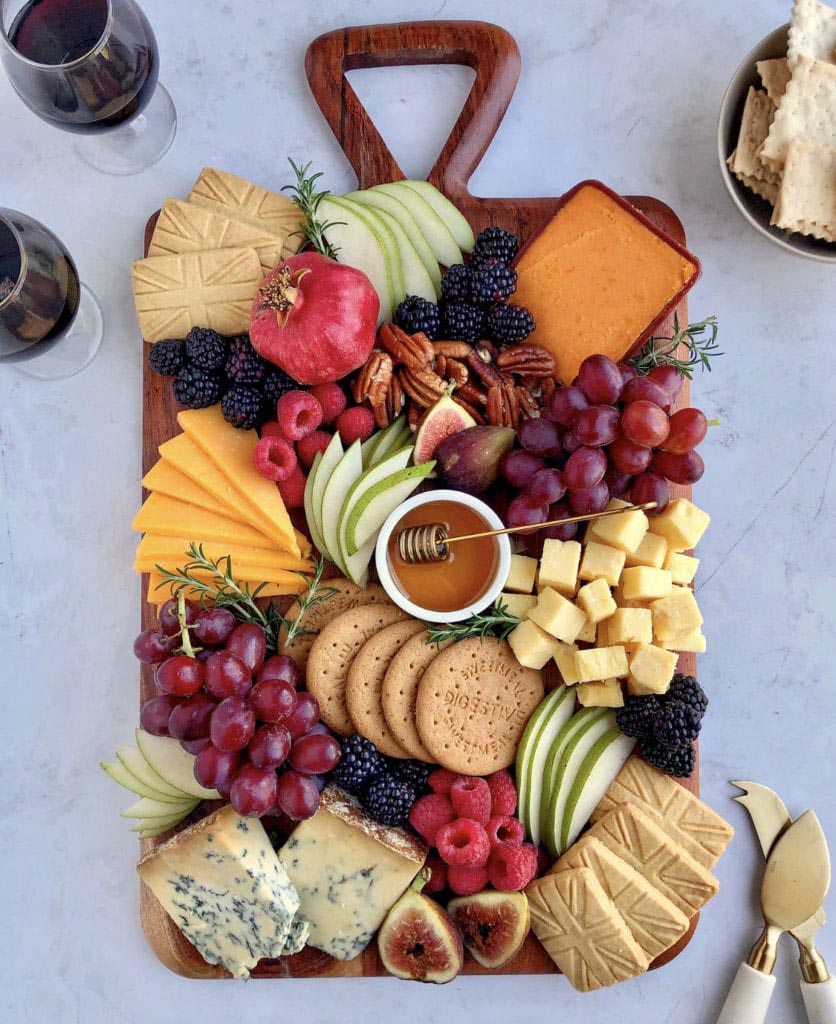 It's fun to customize a board around a particular place in the world. I've created a French Cheese Board, an Italian Antipasti, a Caprese Skewer Board, a Mexican Grazing Board, and a Mediterenean Mezze Board. So in honor of the coronation of His Majesty King Charles III, I figured a taste of Britain (inspired by my Scottish roots) was in order!
The English Cheese Course
I love this board as an after-dinner plate. Yep! Cheese for dessert. While here in America, cheese boards are most often thought of as pre-meal appetizers, in other parts of the world (like Europe), a cheese course often served after a meal.
It's particularly popular in France and England. In fact, in France they traditionally serve it after dinner and before dessert, whereas in England, they serve it as a final course after dessert.
This cheese course doesn't have to be anything fancy. It can be as simple as few decadent cheeses coupled with an after dinner drink (more on that below). Less is more here, especially because you've conceivably already had a meal. So instead of adding salami and salty nuts like I normally would to a first course cheese board, I focused on cheese, fruit and a few sweet treats.
My Very English Cheese Board
My mom is British and I have fond memories of beautiful rich cheese plates when we visited family in England. In my memory, we sat catching up with relatives for hours after dinner, enjoying the cheese. Perhaps it's because I was a kiddo at the time and they knew my taste for stinky cheeses was yet to be revealed, but it was always paired with fresh fruit slices, shortbread, or digestives.
Here are the 4 English Cheeses I used on this board:
Stilton—This is England's blue cheese. It's tangy, creamy and strong. You must try the classic pairing of Stilton and Port. Pure decadent elegance!
English Farmhouse Cheddar—This is one of the sharper ones of the bunch. It's an aged cheddar, sweet and crumbly. I cubed it on the board.
Red Leicester—This is mellow and mild, similar to a mild cheddar, but more moist. It is my favorite of the bunch!
Double Gloucester—Also sharp, this cheese is sweet and creamy. I cut it into triangles to differentiate it from the Red Leicester.
If you're looking for more English cheeses or other cheeses from around the world, here's a great online resource for imported cheese.
Where to Find British Cheeses
Note that the Stilton and English Cheddar are the easiest to find. I spotted them at various grocery stores (Ralph's, Whole Foods, Gelsons). The Red Leicester and Double Goucester were more challenging. I found them at one of my local Gelsons and I suggest calling in advance.
Easier to find are some more savory cheeses, like Red Dragon (made with whole grain mustard and ale) and a Cotswald Cheese (a version of the Double Gloucester blended with onion and chives). I found them at Ralph's and Whole Foods. I purposely left them off here because this board is a dessert course cheese plate, but they would be great additions to your other boards.
Also take note of crowd pleaser, Huntsman Cheese, a combo of Double Goucester and Blue Stilton, found easily at Trader Joe's and a few other groceries.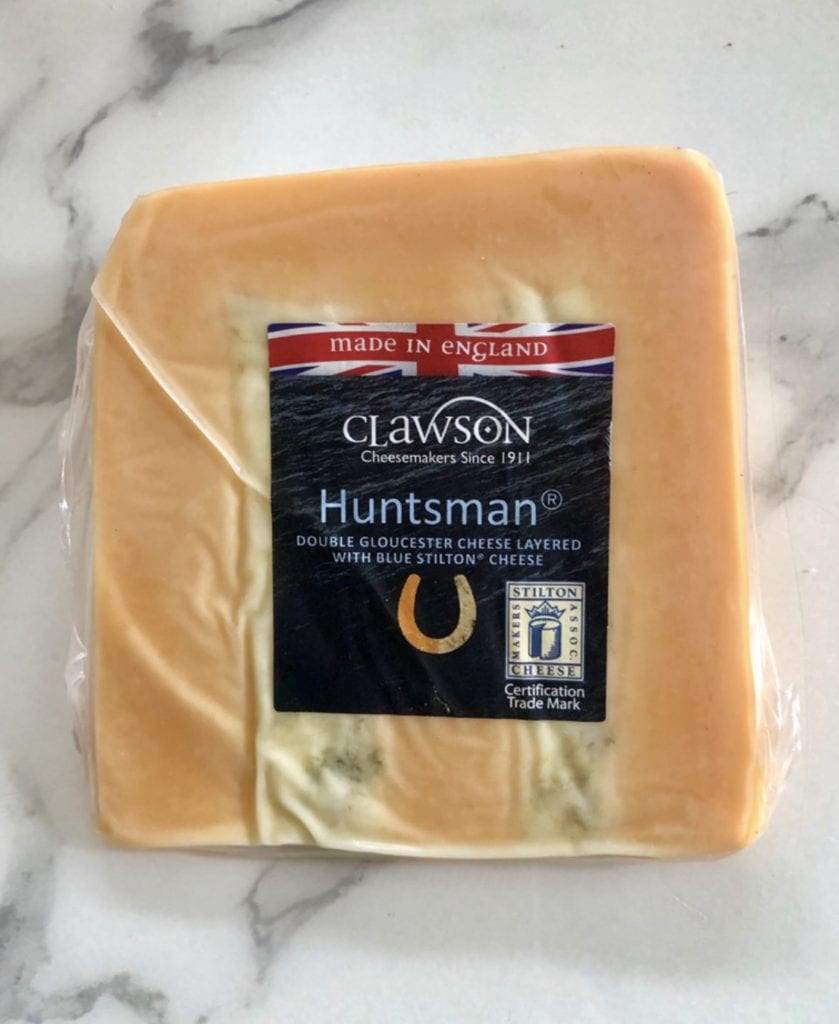 British Specialty Items
There are some specific additions to this board that will make it delicious but also very British. I found most of the specialty items at World Market. It's basically my go-to for any international board.
Port Wine– a very European wine (from Portugal), most often served after dinner as a dessert wine. It's typically sweet (perfect for dessert), but there are dry versions that aren't as cloying. If you serve port with this board, it will pair deliciously with the rich cheeses. If you haven't tried the infamous pairing or Port and Stilton, make it your mission… the Brits will be proud. Note, this is different than Port Wine Cheese, a much less sophisticated American invention, that's pretty damn amazing as a cheese ball. Look…I'm here for the classy and the trashy. No cheese discrimination here.
When To Serve This British Cheese Board
Make this special treat for holiday get-togethers with the family—whether for a casual meal or a fancy celebratory feast. A simple and refined English cheese board is a great way to end a warm meal.
King Charles III's Coronation—on May 6, 2023, Buckingham Palace will welcome its first new monarch in 70 years. The ceremony will take place at Westminster Abbey in London.
Boxing Day—the day after Christmas, is almost more of a holiday in Britain than Christmas Eve. Everything stays closed, and Boxing Day is to be spent with family. It's called Boxing Day because it's the day you "box" all of your leftovers up. 
Sunday Roast—if you want to go the extra-British mile, cook a big roast for Sunday supper. Then serve this cheese board as dessert. Cheers!
Where to Get this Board & Accessories
As always, I add a SHOP THIS POST at the bottom of every post to link the items used. If an item isn't available, I will link to a similar item. This is the case for the wood board used here…
The 2.5 oz ramekin used here is smaller than the size I normally use as well. I usually favor the 4 oz ramekins for my boards, but used a small one that was perfect for the anticipated amount of honey used.
Show Me Your English Cheeses
I hope this post inspires you to make this proper English cheese platter. Nothing makes me happier than seeing the beautiful snacks and spreads you create from my tips. If you make something inspired by this post, please tag me at @ainttooproudtomeg so I can see and share! 
And, If you liked this recipe, please rate and review.
An English Cheese Board
Description
A fine English cheese plate is perfect for King Charles' coronation, Boxing Day, and beyond, featuring: stilton cheese, red leicester cheese, and port wine.
Ingredients
Cheese
Stilton

English Farmhouse Cheddar

cubed

Red Leicester

Double Gloucester

sliced
Sweets
Shortbread Cookies

Digestives

Honey
Produce
Raspberries

Pear

sliced

Blackberries

Grapes

Figs

halved
Garnish
Small pomegranate

Rosemary sprigs
Instructions
Fill a small bowl with honey and place in the center of the board. Place the Stilton, English cheddar, Double Gloucester, and Red Leicester in separate corners of the board.

Add the grapes in separate bunches around the edge of the board.

Fan the pear slices, digestives, and shortbread cookies around the honey and cheeses. Fill in any holes on the board with raspberries, blackberries, figs, and pecans, being careful to separate similar colors.

Garnish the board with the pomegranate and rosemary.
Tried this recipe?
Rate & Review!