This post contains collections of products that I personally recommend (it may contain affiliate links).
Updated 2023
That's right, a Build-Your-Own Hot Dog Board! AND, might I mention, the cutest little pickle buns you ever did see! Plus, all you have to do is set out the toppings, grill the hot dogs, and let your guests choose their own adventure.
Family gatherings can be hectic and cooking a big meal can take hours. If you didn't guess, my favorite hack for entertaining a crowd is putting my guests to work by offering easy, customizable meal boards like my Build Your Own Bloody Mary Board, Build Your Own Grilled Cheese Board, Build Your Own Brunch Board, Build Your Own Antipasto Skewer, and Taco Bar Party.
P.S. It's a great game day idea and perfect for celebrating Memorial Day. Check out my themed boards to make your Memorial Day extra patriotic: Red White and Burrata Appetizer Board, Proud to Brie an American Board, and American Flag Candy Board.
This Board Meets Everyone's Needs
Making a meal board is great for people with various dietary restrictions. Or if you have both adventurous and picky eaters in the mix. With a variety of toppings available, everyone can personalize their own meal, which means they will be happy and satisfied.
For keto or gluten free folks, you can add a lettuce cup or make pickle buns instead of the traditional bread bun. I think the pickle bun is just the cutest thing ever. I'm sure it will be a conversion starter as much as a delicious way to put down a hot dog.
For non-meat eaters, there are plenty of great vegetarian sausage options. Or you could make a platter of grilled veggies to be the "meat" of the dog instead!
For non-pork eaters, include some chicken or turkey sausages. There are lots of flavors to choose from that will really create a delicious platter.
The Best Flavor Combos
The flavor options are endless, but here are some of my favorite combinations below:
Brioche bun, ketchup, pickled red onions & relish
Lettuce cup with mustard.
Brioche bun, guacamole, salsa & jalapeños.
Pickle bun & ketchup
Enjoy all the different combos!
Hot Dog Styles
If you want to create a regional theme to your board, you can include toppings that are popular in various parts of the US.
Chicago: Arguably the most famous style of hot dog is probably from Chicago. They often add onion, relish, peppers, pickle, tomato, mustard, and celery salt.
Michigan Coney Island: A hearty style that usually has chili, cheese, mustard, and onions.
Atlanta and the South: You'll find coleslaw and onions as the main toppings.
California: Street vendors always have a bacon-wrapped option. Toppings often include grilled onions and peppers. And you can't serve food to a Californian without an avocado option!
Japan: Believe it or not hot dogs are big in Japan. While there are many regional differences in toppings, kewpie mayo, pickled daikon, and nori seaweed strips are some of the most famous ones.
Pro tip: Make your own theme, like Tex-Mex, and load your dog with guac, salsa, pico de gallo, cilantro, and jalapeños.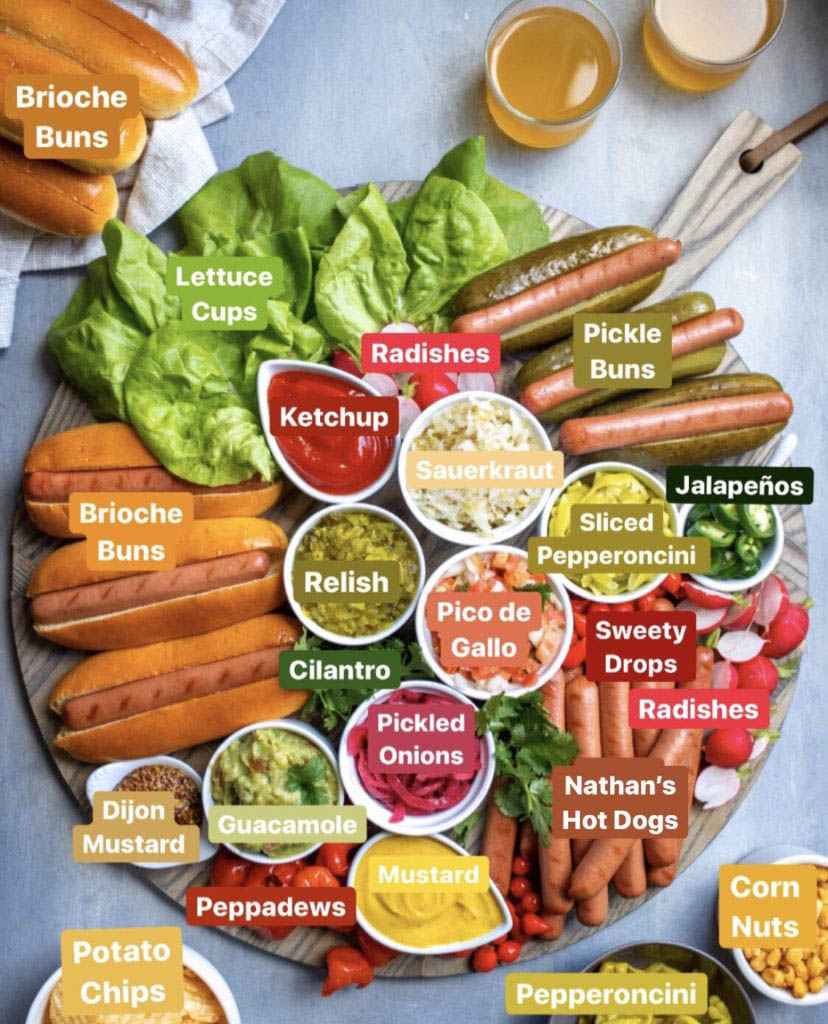 Quick Hot Dot Facts
Hot dogs are synonymous with summer grilling, sporting events, and the easy feeling of summer.
Mustard is the most popular topping for hot dogs, followed by ketchup as a close second.
On the 4th of July, it's estimated that Americans consume 150 million hot dogs.
The origin of where hot dogs started is a complete mystery—but it's likely tied to their cousin the sausage.
It's considered improper to eat a hot dog with utensils. Hands only!
New Yorkers eat more hot dogs than any other city in the US.
Show Me Your Dogs
I hope this post inspires you to make this board. Nothing makes me happier than seeing the beautiful spreads you create from my tips. If you make something inspired by this post, please tag me at @ainttooproudtomeg so I can see and share! (Bonus points for a hot dog eating contest!)
And, If you liked this recipe, please rate and review.
How To Make a Hot Dog Charcuterie Board
Description
With this elevated hot dog board, you'll be the star of any backyard barbecue or picnic.
Ingredients
Meat
Beef Franks (I like Nathan's Famous Bun-Length Skinless)

grilled
"Buns"
Brioche Buns

Lettuce Cups

Large dill pickles (I like Ralph's)

sliced lengthwise
Toppings
Jalapeños

sliced

Pepperoncini

sliced

Relish

Sauerkraut

Pico de Gallo

Guacamole

Pickled Red Onions

Whole grain Dijon mustard

Yellow mustard

Ketchup
Accoutrements
Radishes

halved

Peppadews

Sweety Drops Mini Peppers
Instructions
Start by adding the toppings to ramekins and place them in the center of the board.

Add 3 to 4 hot dogs to the sliced pickles and 3 to 4 to the buns and place on the outside of the board. Next add the lettuce cups and remaining hot dogs.

Fill in the board with the radishes, Peppadews, and Sweety Drops.

Garnish with cilantro to serve.
Tried this recipe?
Rate & Review!
Photos by Haley Hunt Davis of Salt Worth Creative.