This post contains collections of products that I personally recommend (it may contain affiliate links).
Updated 2022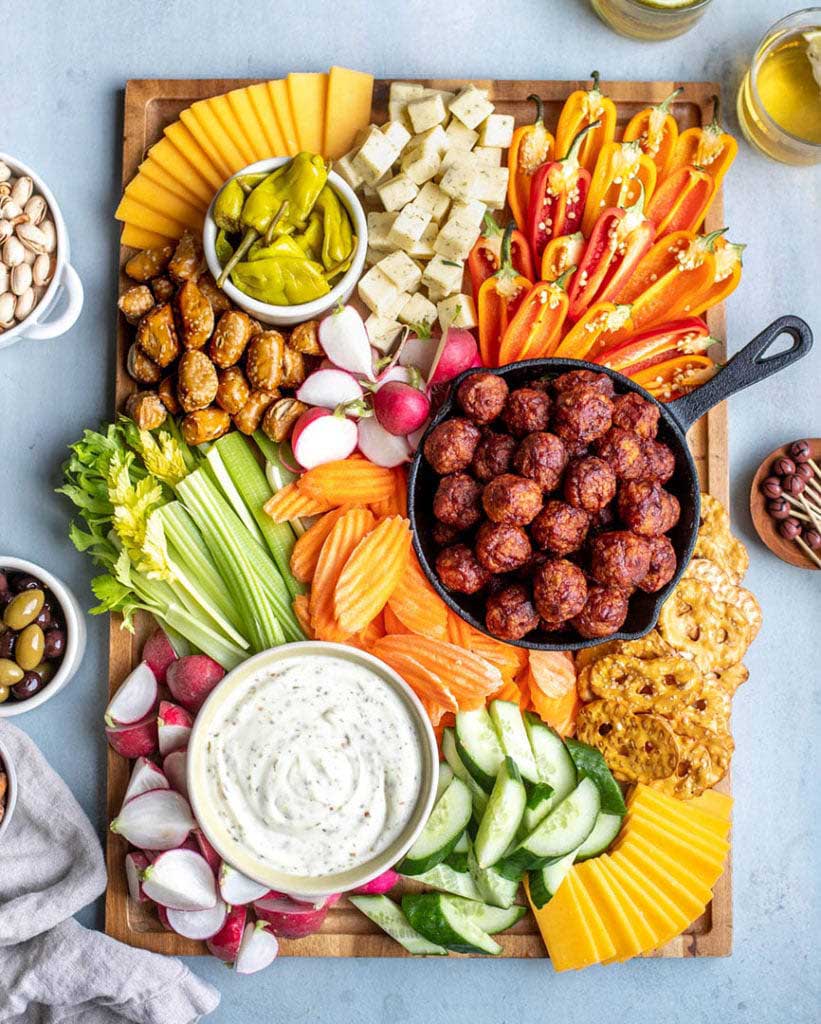 Whether you're having friends over for the Big Game, or in need of a hearty, post-practice snack for hungry teens, this board will score big points! The focus on yummy protein makes this a great board for hungry guests who will graze for a few hours (like, you know, a football game). It's also great for a fast weeknight dinner. Delicious meatballs, paired with two bold cheeses and a variety of veggies that can easily take the ranch dip for a spin, this spread definitely won't make it to OT.
For other football charcuterie ideas, check out my Build Your Own Hot Dog Bar, Chicken Wings Board, Soft Pretzel Charcuterie Board, Build Your Own Grilled Cheese Board, and Quesadilla Board.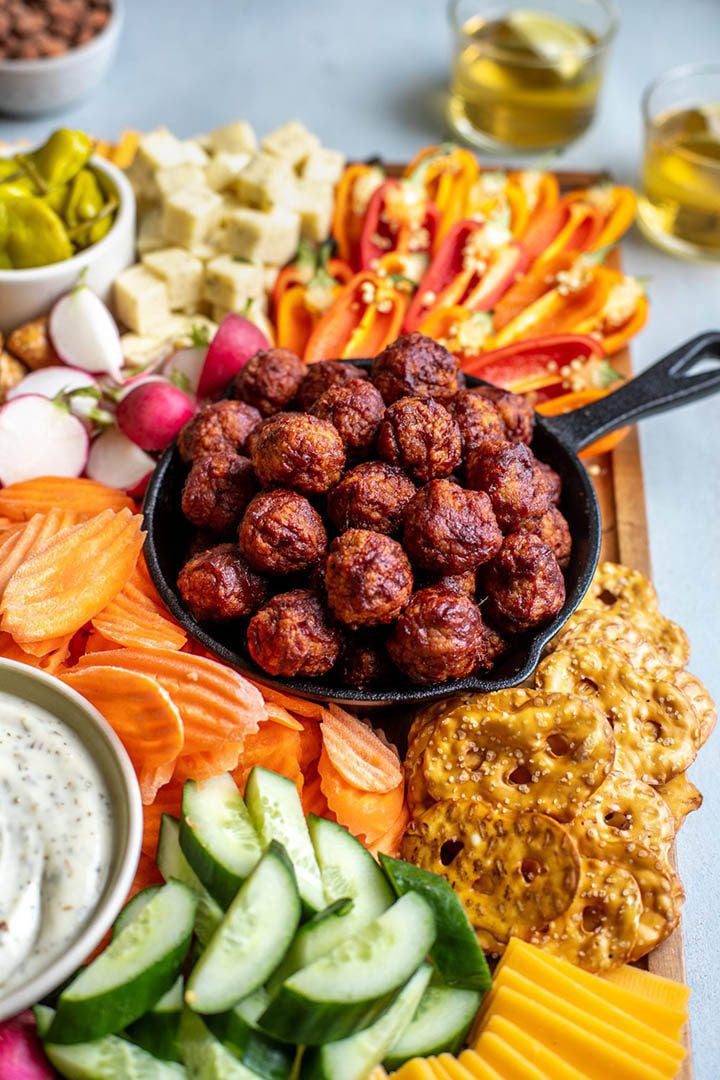 Easy Meatball Prep
I used frozen meatballs. But if you want to make your own, go for it! This board will turn out great either way.
My no-cook meatball recipe:
Warm the meatballs in the oven according to the package instructions.
Toss them in your favorite BBQ sauce.
To serve, you can transfer them to a cast iron skillet for fun presentation. More on this below.
Not a meat eater? It's easy to swap meatless meatballs for any vegetarian guests. If you put out both kids just make sure to keep them separate and label them!
Building the Board
I used dill havarti and sharp cheddar cheeses. Both are great for snacking, easy to cube up or serve in hearty slices.
The pretzel thins and pretzel bites add something special, different than regular crackers and they are great in the dip! 
Adding festive toothpicks or fun themed party picks will help your guests help themselves easily. It can add a fun element to your spread. I found adorable toothpicks with basketballs on the end and some basketball cupcake picks too, which are perfect for Final Four celebrations, but you can always use football ones for an occasion like the Super Bowl. And here's a set of toothpicks with four different types of sports balls.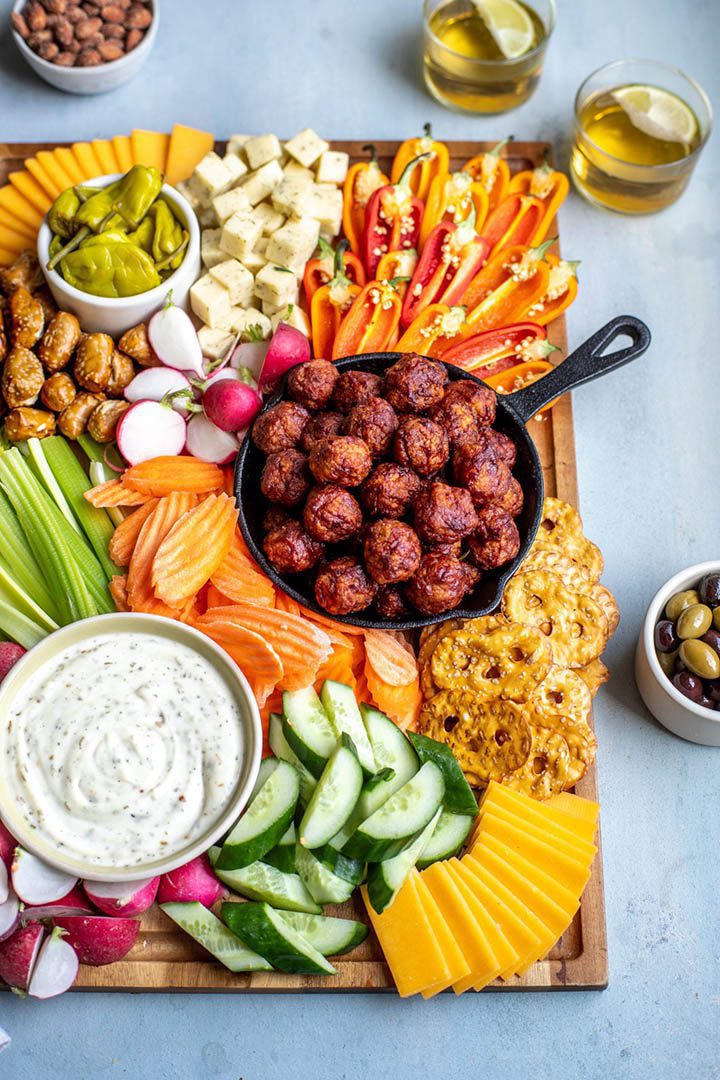 Board Parings and Extras
If you're serving this on a game day, beers or hard cider will pair the best. For kids or if you're doing dry January pair it with a nice mocktail or fruit flavored sodas.
Other creamy dips would be great as side additions to this board. I'm thinking onion, artichoke, sour cream, or melty cheddar cheese dip. Add some warm garlic bread too. Put out the things you love!
You could even add demi french rolls on the side to allow hungrier guests to make mini meatball subs for themselves (don't forget extra bbq sauce and some mozzarella too!). You might need to put out extra meatballs for this, but it would certainly be a hit. Consider serving this board alongside my pretzel board. Both are hearty and filling for your crew.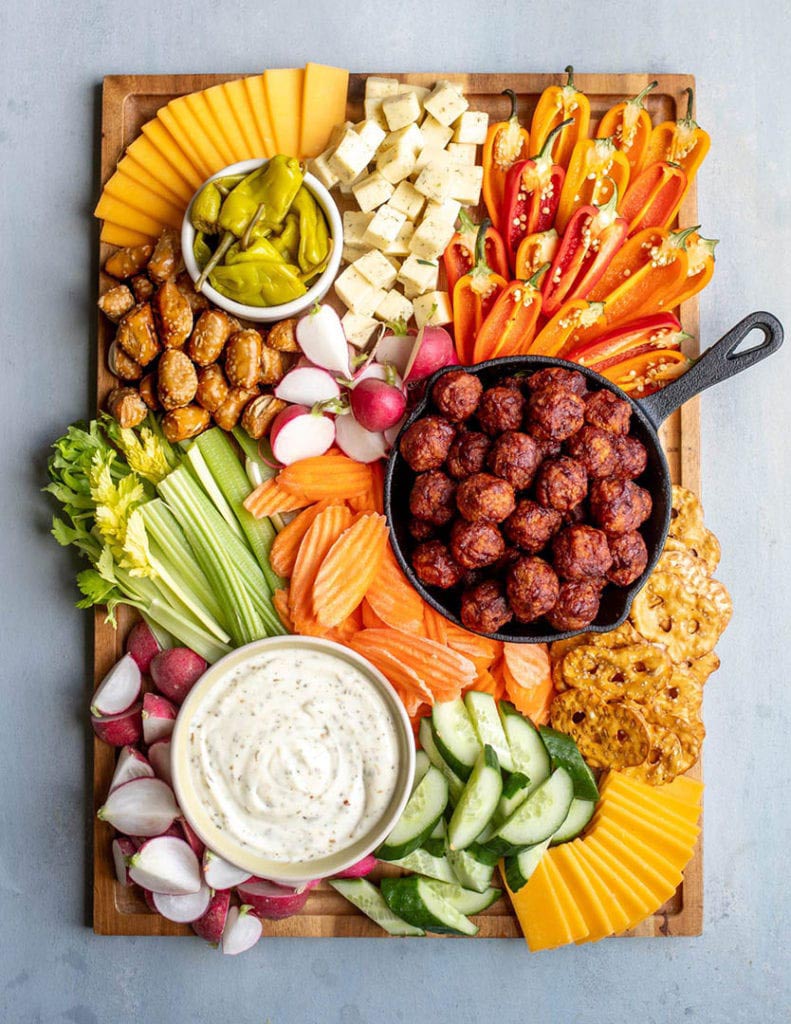 The Cutest Cast Iron Serving Pans
I love using small cast iron pans as serving bowls on a board like this. The biggest reason is that they keep the meatballs warm for longer than if you put them in a ceramic serving dish. Plus they give a hearty look to the board.
Things to keep in mind when you use cast iron:
The purpose is to keep the meatballs warm, so use the cast iron to heat the meatballs up.
Be VERY careful not to serve a hot pan. Let it cool enough that it can be touched before putting it out.
Do not put the cast iron next to anything that will melt, like cheese. Best not to put it next to a dairy dip either just to be on the safe side.
I've used cast irons on other boards. It holds nacho cheese dip on this Cinco de Mayo board. It's also an ideal vessel for a baked brie.
This is my preferred mini cast iron (the 5in. option). It's the perfect size, but you can also go slightly bigger with this cast iron or smaller with this tiny cast iron.
Show Me Your Game Day Eats
I hope this post inspires you to create delicious tailgating treats. Nothing makes me happier than seeing the beautiful spreads you create from my tips. If you make something inspired by this post, please tag me at @ainttooproudtomeg so I can see and share!
And, if you liked this board recipe, please rate and review.
Photos by Haley Hunt Davis.
Game Day Meatball Board
Description
Make this football charcuterie board with cast iron skillet meatballs for the super bowl or your next tailgate!
Ingredients
Cheese
Dill Havarti

cubed

Sharp Cheddar

sliced
Carbs
Pretzel Thins

Pretzel Bites
Produce
Cucumber

halved & slices

Crinkle Cut Carrots

Celery

(reserve tops for garnish)

Mini Bell Peppers

halved

Radish

quartered
Instructions
Warm the meatballs according to package instructions. Toss them in BBQ sauce. Add them to a small cast-iron skillet and place on the board.

Add the pepperoncini and ranch dip to small bowls and place on the board.

Fan the sliced cheese and large produce around the small bowls and skillet. Add the smaller produce, cubed cheese, and pretzels to the empty spaces being careful to separate similar colors.

Garnish with celery tops and enjoy!
Tried this recipe?
Rate & Review!