This post contains collections of products that I personally recommend (it may contain affiliate links).
Updated 2021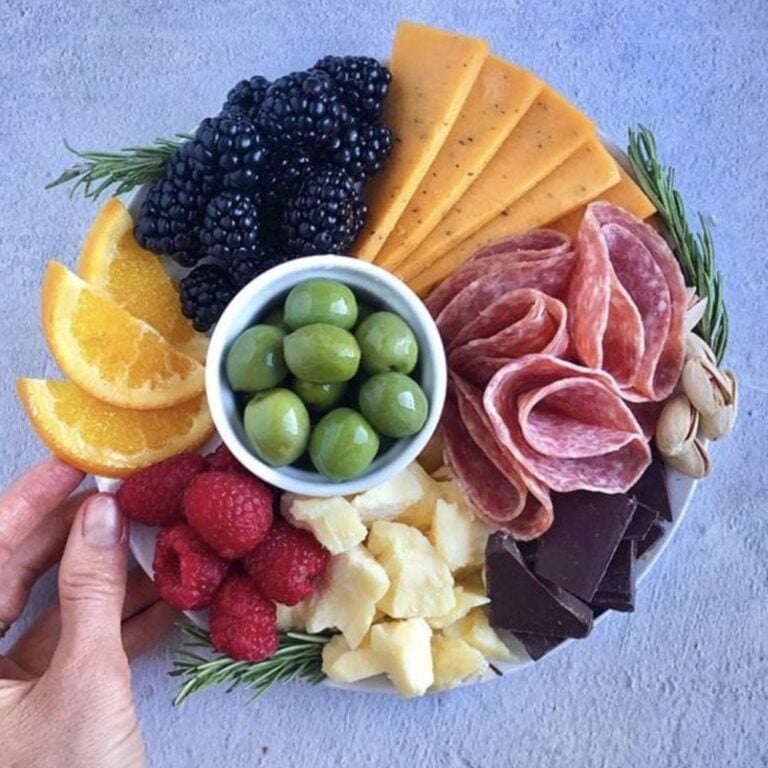 Sometimes making dinner is hard, but that's why we have charcuterie! No matter if you're entertaining just yourself or sharing your cheese with another (lucky them!), this board is simple and small and just what you need. Between COVID and moving, I've made a lot of small cheese boards over the past few months, so I hope you take what I learned and use it as inspiration for a classy yet easy night in.
Feel free to simplify (or small-ify) some of my other favorite boards, like my Elevated Fall Cheese Board, Trader Joe's Cheese Board on a Budget, and Whole Foods Cheese Board for any meal. Plus, if you're ever in need of personal cheese boards for a gathering, check out my Jarcuterie and Corona Cones!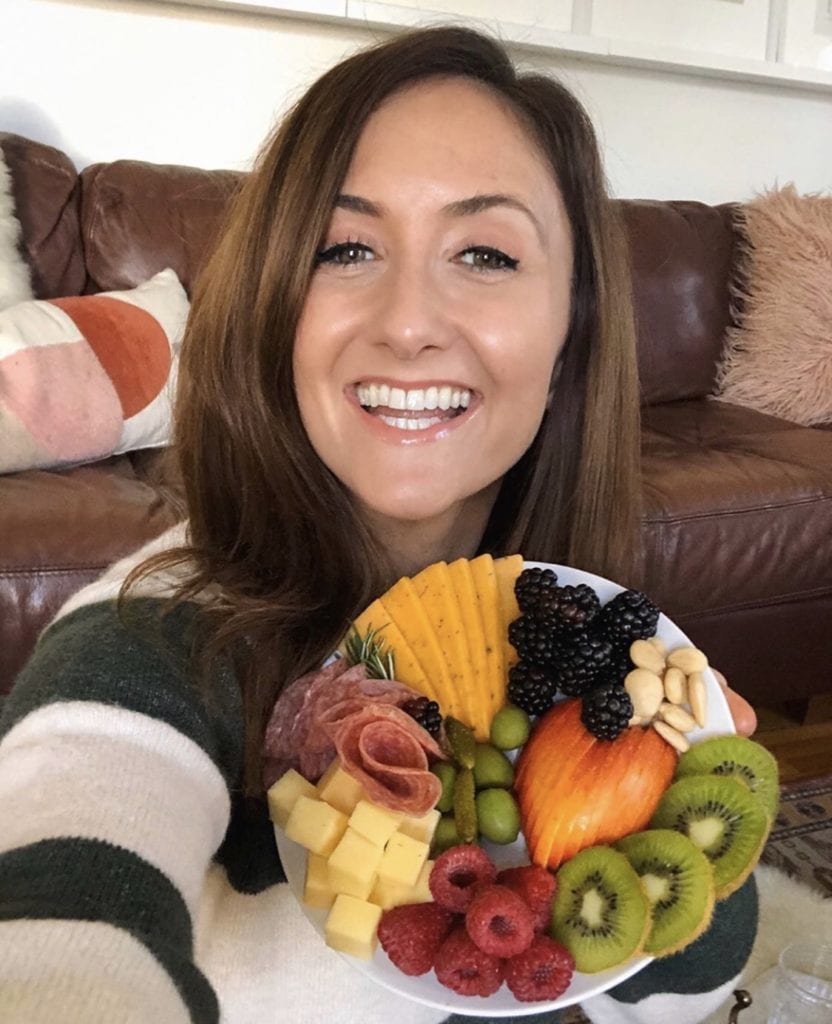 Tips for Building a Cheese Board for One (or two!)
Here's what I keep in mind when making smaller spreads…Most importantly, keep it simple. Focus on two items from each category.
Cheese
Choose two of your favorite cheeses. You can throw out the typical "rules" here, but if you want a variety it's nice to have one hard and one soft. Another way I think about it is, one fresh cheese and one aged cheese.
You can cut your cheese pieces smaller than you might otherwise, depending on your appetite. Sprouts and Whole Foods both have sections with small pieces of speciality cheeses, which are great for trying new cheeses without spending an arm and a leg on something you're not sure you'll like.
Meat
Pick one to two kinds of meat. I like using a spicy salami (Calabrese) and a more mild option like salame secchi or prosciutto.
Fruit
Add in fresh fruit to compliment the cheeses. Use whatever you have on hand or what looks good at the market. Would three strawberries be ideal for two people? Probably not, but if that's all you got, that's all you got!
Extras
Add in a couple "fancy" items to make it feel just as special as a larger board. Accoutrement like honeycomb, truffle Marcona almonds, castelvetrano olives or even the infamous heart apple all hit the spot. If you're curious "Should I add a garnish if it's just for me?" My answer is, YES. You're worth it!
Also
I always have plenty of crackers on hand. I don't always put them on my board (or plate), so they don't make it into my photos. But believe me they are within arms reach. You can use this informal cheese time to eat directly out of the box if you want… I won't tell!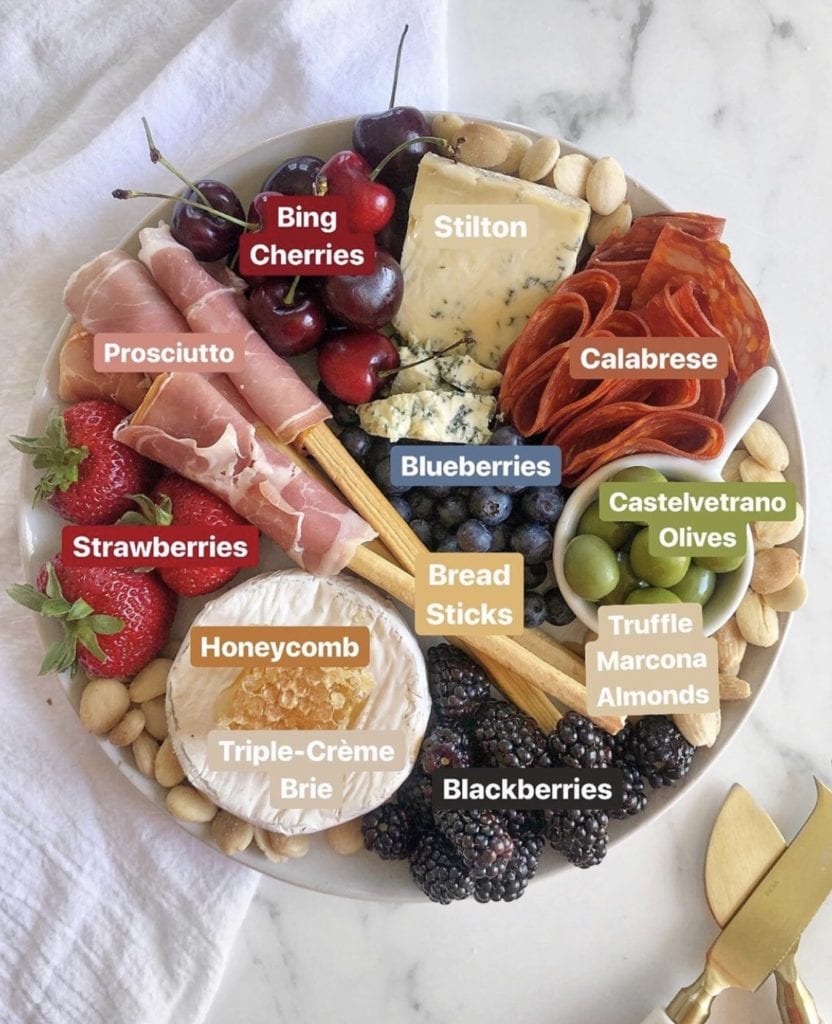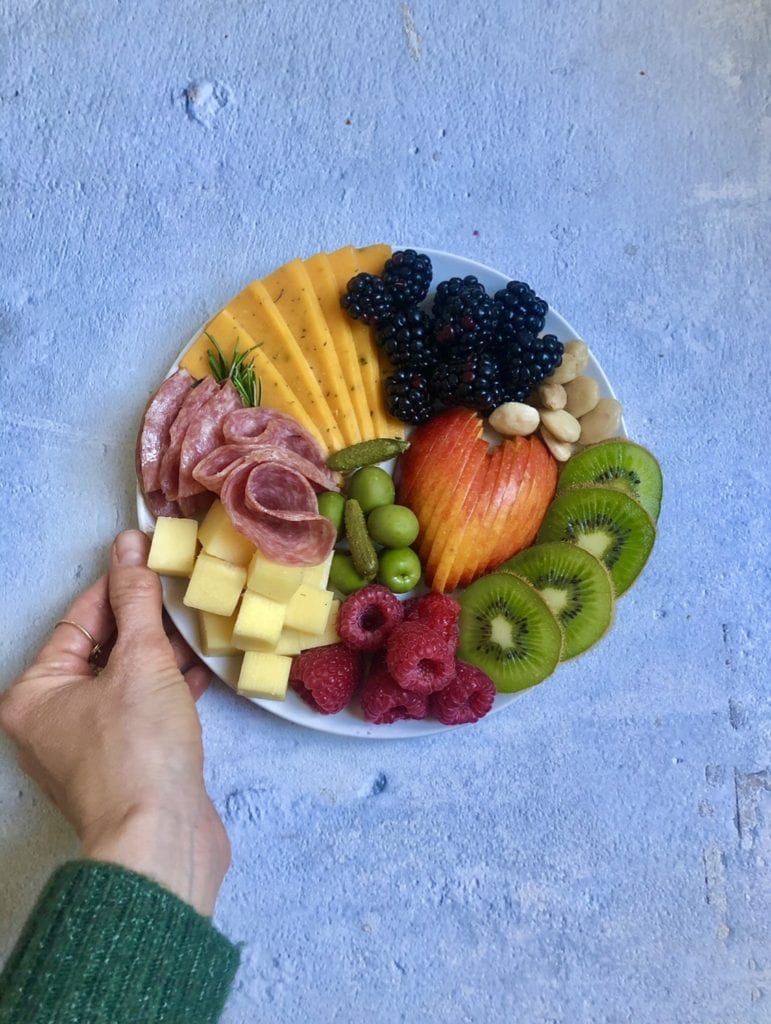 How to Plate? Keep it Casual
If this is just for yourself and your quarantine-mate, feel free to use your regular dinner plate for two, or a salad plate for one. I mean, don't let me hold you back if you want a dinner plate serving all to yourself!
You can see the differences between the smaller or larger versions of this cheese plate below. There are slight variations, but they have similar ingredients.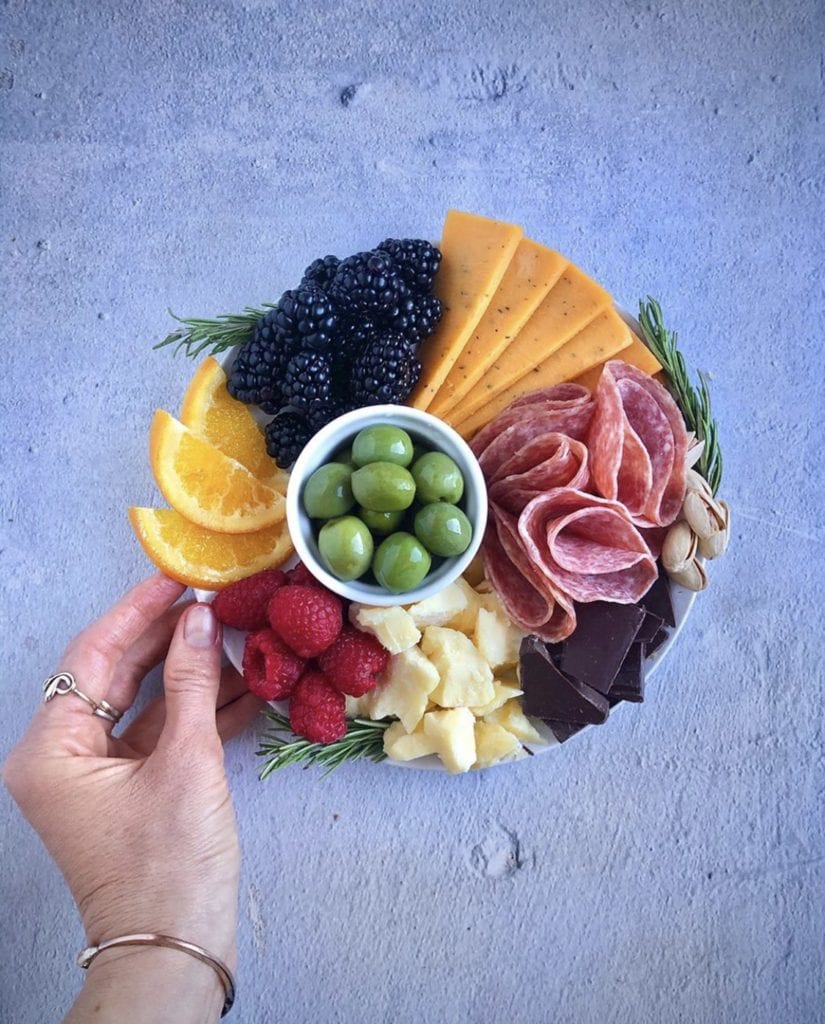 Make it Your Own
While my posts have the snack foods that I really love, feel free to deviate from my picks and use what you like best. After all, if you're making this for yourself, you get to make up the rules!
Based on the "rules" above, I started this one with one single cheese that I love (an herbed brie). One meat: salame secchi. I only had a few pieces produce on hand: kiwi and grapes. Leftover crackers plus rosemary as garnish.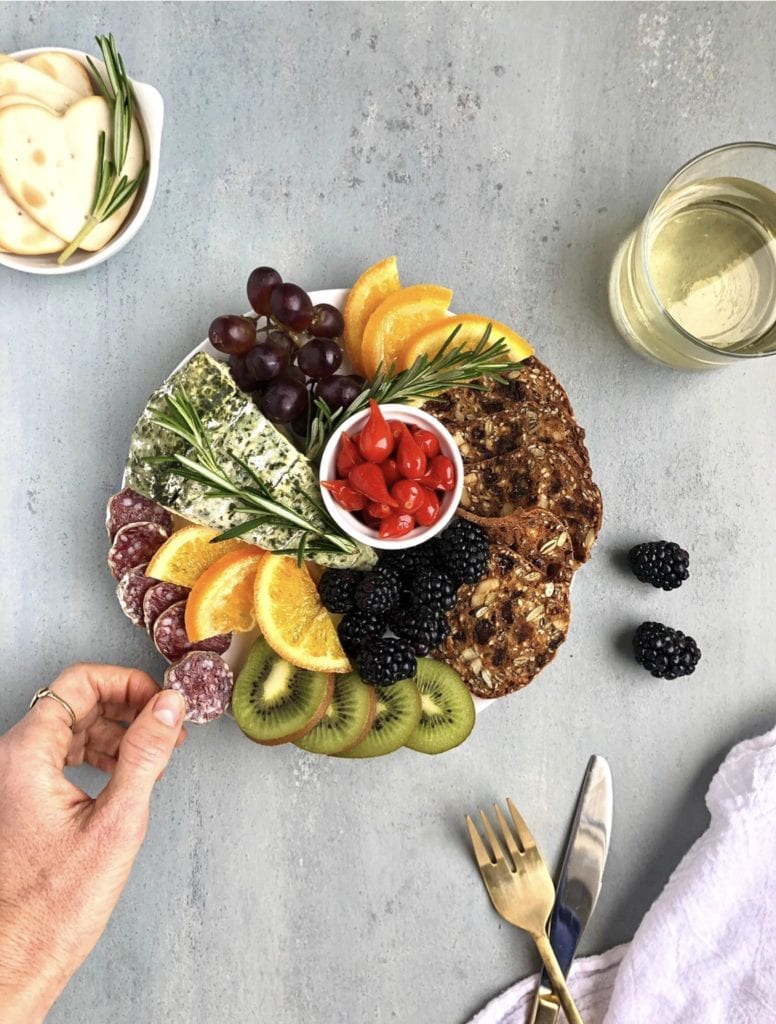 And here's one I made for Easter (below). Using the same rules, I chose 2 of my favorite cheeses: Boursin and Manchego. One meat: genoa. 2 types of different colored produce: carrots and blackberries. Accoutrement: castelvetrano olives and dried oranges. And finally some sweets: chocolate bunnies and yogurt pretzels.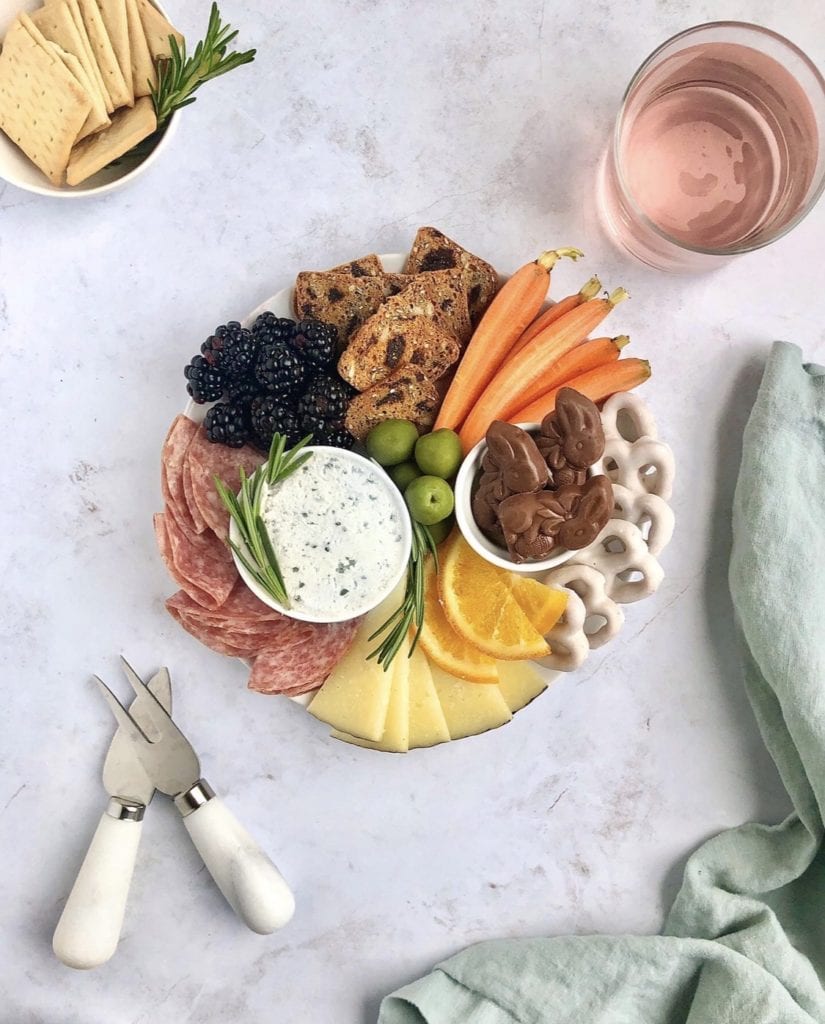 An Alternative Individual Boards
If you're wanting something a little different than a cheese plate, I've loved making single-serving charcuterie boards in a handheld style. It all started with the Coronoa Cones (aka Charcuterie Cones- check out the full blog post how-to) which was my way to make a weird time more fun and delicious.
Since making these in cones, I've also made a Rosé Bouquet, a soft pretzel board (you can eat the board!), and so many more. Get inspired to make a beautiful handheld for yourself!
SHOW ME YOUR BOARDS!
I hope this post inspires you to create delicious cheese pairings boards. Nothing makes me happier than seeing the beautiful spreads and snacks you create from my tips. If you make something inspired by this post, please tag me at @ainttooproudtomeg so I can see and share!
And, If you liked this recipe, please rate and review.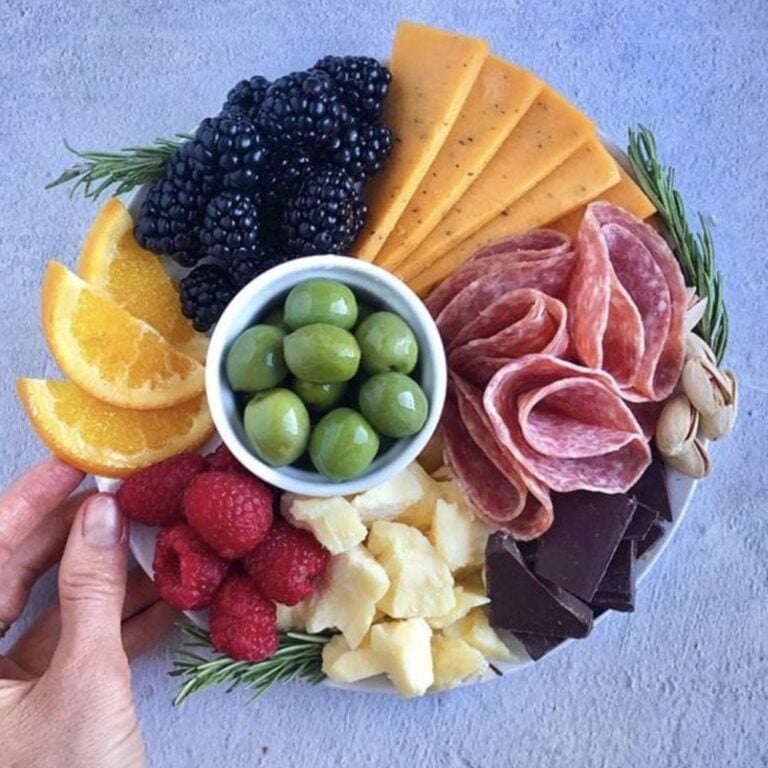 Small Cheese Board for One or Two
Description
This mini cheese board is the perfect appetizer for a small group (or just for yourself!). Make this delicious, single-serving (our double!) snack.
Ingredients
Cheese
White Cheddar

broken into chunks

Sharp Cheddar

sliced
Produce
Blackberries

Raspberries

Oranges slices

halved
Accoutrements
Pistachios

Green Olives

Dark Chocolate

broken into pieces

Rosemary

to garnish
Instructions
Like always, I like to start with my small bowl to anchor the plate, so place the bowl of olives in the center of the board to help set up your design.

Next, fan the sliced cheese around one side of the bowl, and add the cheese chunks on the opposite side of the bowl.

Add the berries, raspberries, and orange slices around the bowl, being sure to break up similar colors.

Next, fold salami and tuck into one side of the plate.

Add the pistachios and chocolate to the empty spots around the edge of the plate.

Finish the platter by garnishing with rosemary.

For smaller cheese plates like this, serve the crackers on the side. Enjoy!
Tried this recipe?
Rate & Review!