This post contains collections of products that I personally recommend (it may contain affiliate links).
Updated 2022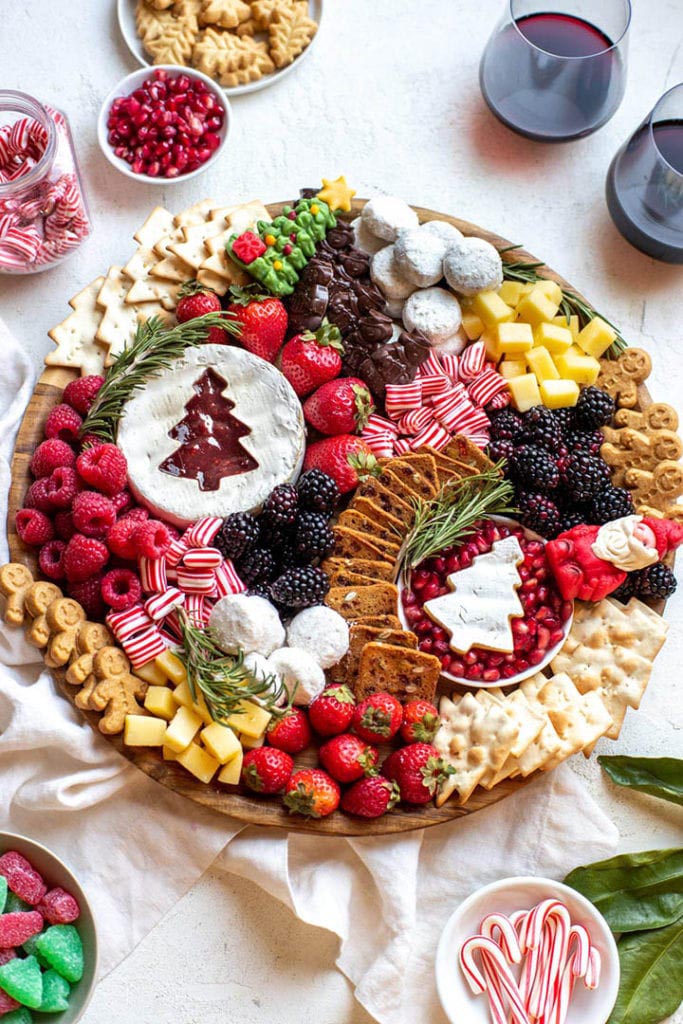 Whatever you do, don't sleep on cheese boards for dessert! While cheese plates are often thought of as an appetizer, they also make a delicious post-dinner treat. It's a great way to end a holiday meal, just ask the Europeans (see my English Cheese Board for more on that). Brie is a great dessert cheese because it pairs well with berries and chocolate, so I highly recommend you give this festive holiday board a try this year.
Looking for other recipes to get you in the holiday spirit? Check out my Hot Chocolate Board, Charcuterie Chalet, Christmas Dessert Board, Pine Cone Cheese Ball, Holiday Charcuterie Board, and Christmas CharcuterTREE. For other brie recipes, try my Pumpkin-Shaped Baked Brie, Olive and Brie Crostini, Smashed Blackberry and Brie Crostini, Baked Brie and Strawberry Salad, and Brie Brûlée.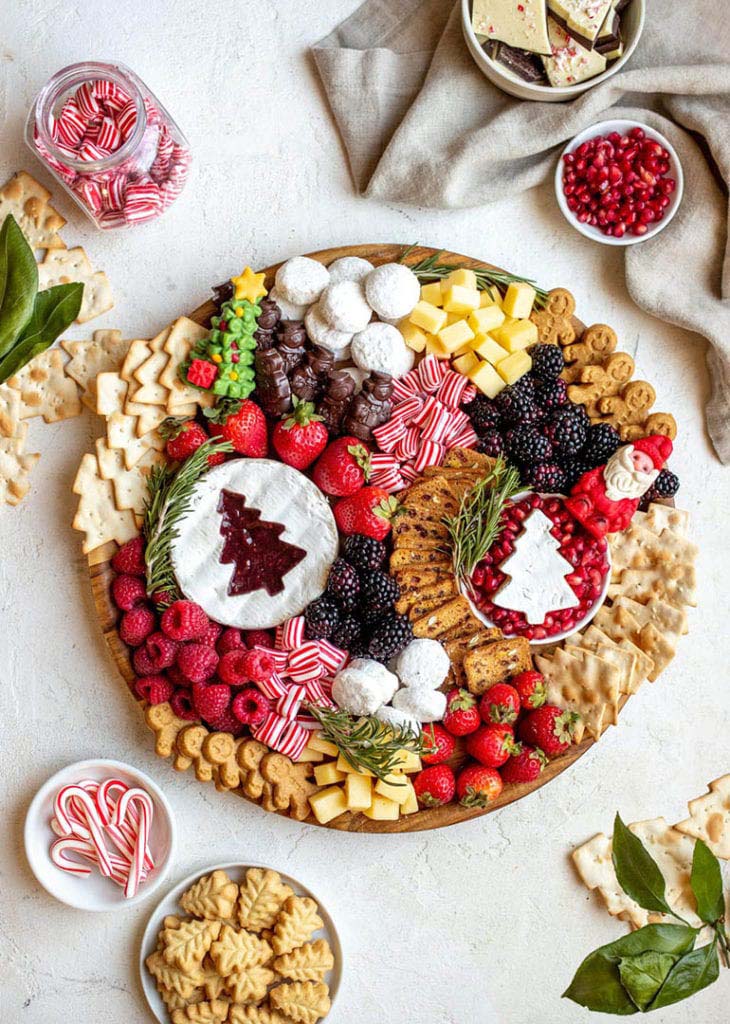 How to Build This Christmas Brie Board
I love, love, love this board. It's heavy on the cheese and fruit, but also has a few sweets and crackers in there for good measure.
The Cheese
Brie with tree cut-out (I place the cut-out tree into a ramekin and sprinkled pomegranate seeds around it)
The Produce
The Carbs
Cranberry pistachio crackers
The Spreads
Raspberry preserves or Nutella
The Sweets
Gingerbread shortbread cookies
Chocolate caramel snowman
The Garnish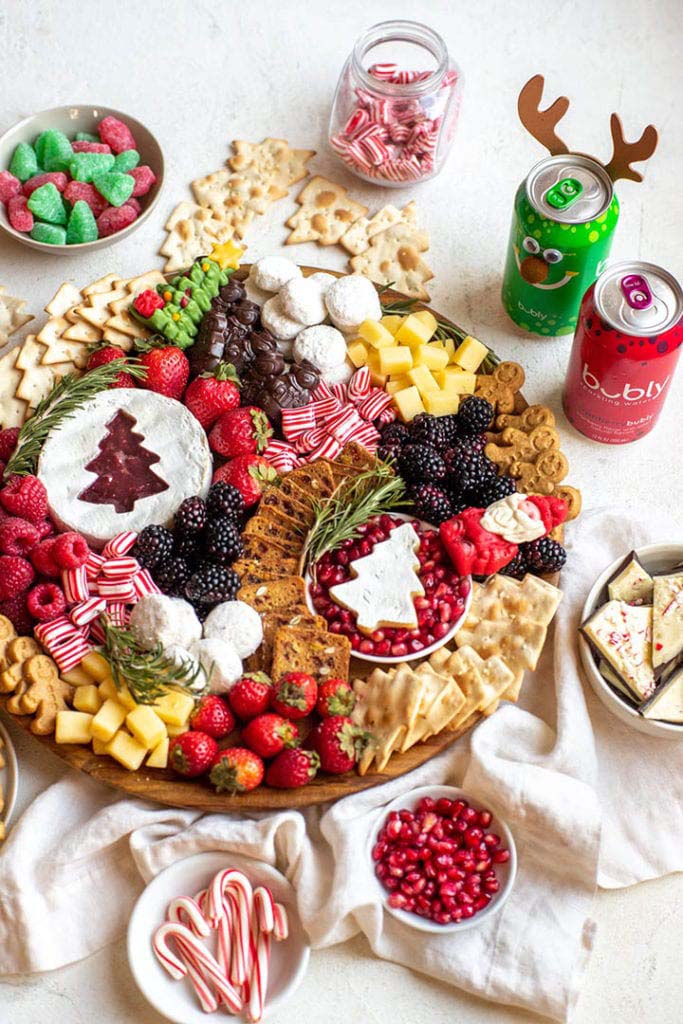 How to do a Brie Cut-Out?
For festive gatherings, I like to do my Brie cookie cutter trick. What you want to do is harden the Brie in the freezer for a bit. Then take a cookie cutter to it and push it all the way through. You'll have a round with a cut-out and the cut-out shape as well—these balance each other nicely on the board. Full tutorial in my Proud to Brie an American post.
Use this cut-out method for any holiday: Thanksgiving leaves, a heart for Valentine's Day (video tutorial), a shamrock for St. Paddy's Day (video tutorial), or even a spooky Halloween bat.
If you want to cut the Brie in a more traditional way, that's totally great too. You can slice the wheel in half then cut smaller, even triangles from each side. Do this if you want to make it easy for guests to just grab a slice or two without having to cut their own.
However you slice it, make sure your Brie is room temperature when you serve it. The flavor will come out so much more!
Ingredients Labeled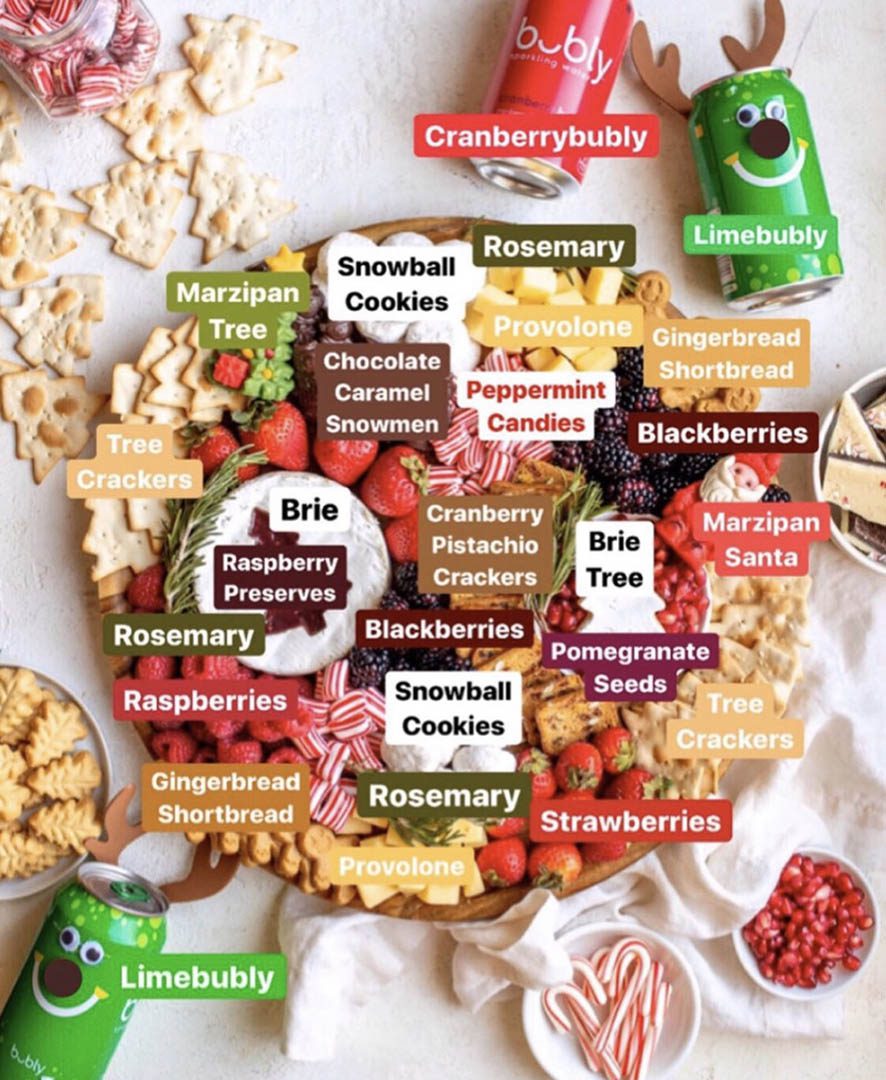 Where Do You Get Christmas Tree Crackers?
They're from a brand called Valley Lahvosh and you can order from their site or find local retailers that carry them. I personally found them at BevMo, and have heard that many folks see them at Sprouts. The brand also makes star crackers and hearts. The stars are also great for Christmas, 4th of July and Oscar Party Boards.
What Size is This Board?
The board in these photos is 14.5in diameter and no longer available, however, this round wood tray is the most similar in size.
Show Me Your Board
I hope this post inspires you to create delicious ho-ho-holiday treats. Nothing makes me happier than seeing the beautiful spreads you create from my tips. If you make something inspired by this post, please tag me at @ainttooproudtomeg so I can see and share!
And, if you liked this board recipe, please rate and review.
Photos by Haley Hunt Davis
Oh Christmas Brie Cheese Platter
Description
This Christmas-themed brie platter makes a festive way holiday appetizer or dessert.
Ingredients
Cheese
Brie with tree cut-out

Provolone

cubed
Produce
Strawberries

Raspberries

Pomegranate seeds

Blackberries
Carbs
Gingerbread shortbread

Snowball cookies

Tree trackers
Sweets
Marzipan tree

Marzipan Santa

Peppermint candies

Chocolate caramel snowmen
Instructions
Start by filling the tree-shaped hole in the brie with the preserves, then place it on the board. Add the pomegranate to a small bowl and top with the tree cut-out, then place on the other side of the board.

Fan the crackers around the bowl of pomegranate seeds, then surround the brie wheel with strawberries, raspberries, ,and blackberries.

Add the cheese and remaining produce to the board, being sure to separate similar colors.

Fill the holes with the snowball cookies, chocolates, and peppermints, and add the gingerbread cookies around the edge.

Garnish with rosemary to serve.
Tried this recipe?
Rate & Review!