This post contains collections of products that I personally recommend (it may contain affiliate links).
Whenever I mention a favorite cheese, your most common response is, "but, what should I serve with it?" The good news is that in the world of cheese pairings, the options are endless! Since taste buds are so unique, I always recommend that you experiment yourself and find out what combos you like best. Because after all, that's half the fun of cheese tasting!
All that said, I LOVE to share expert advice on optimum cheese pairings, so today we're going to take a deep dive into Tillamook's NEW Specialty Cheeses, their Maker's Reserve line.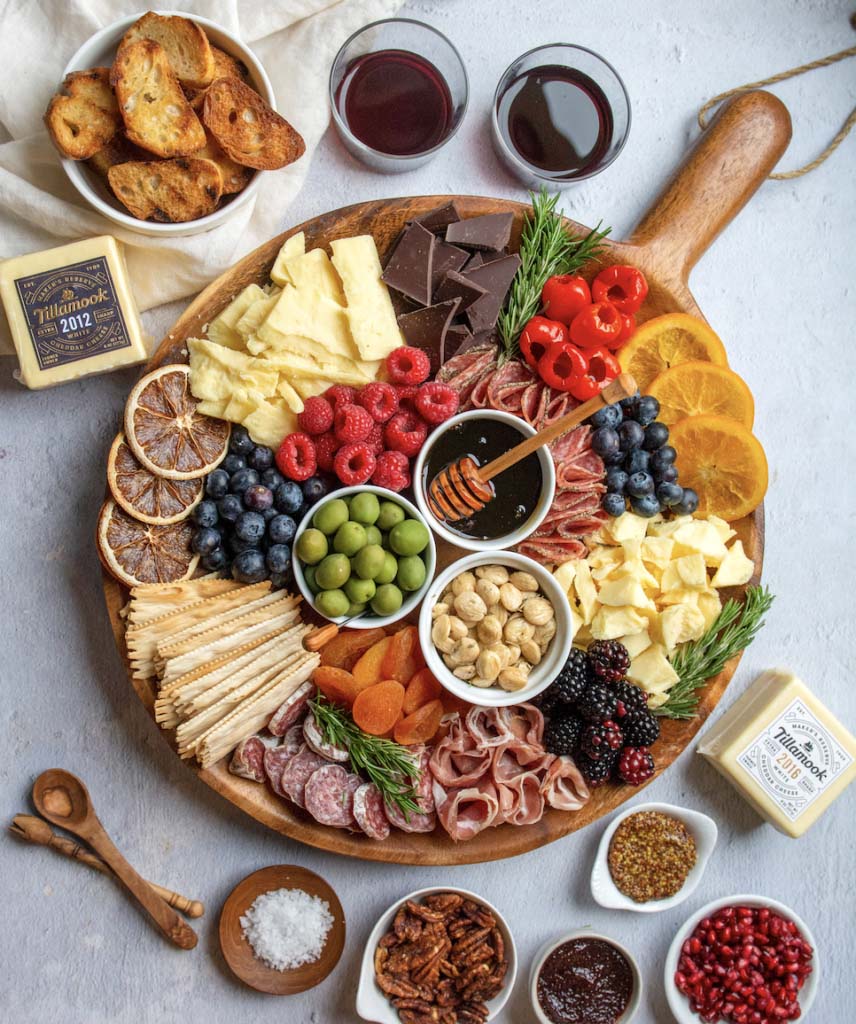 As you know, I am a HUGE aged cheddar fan, so I was super excited to try Tillamook's new line of limited edition and high-quality cheeses. Similar to a fine wine, they've been aged to perfection over the years. In fact, they have 5 new products (aged from 2012-2016). The Tillamook Maker's Reserve wrapped in a black label has been aged for over 5 years, while those in the white are aged 3-4 years. That said, because these are specialty aged, gourmet cheeses from only the best cheddars, they are available in limited quantities. See bottom of post for where you can find them.
I got my hands on the 2012 (black label) and 2016 Maker's Reserve (white label), both of which were absolutely delicious with subtle differences in taste notes. And most importantly, both can be made into my favorite cheese crumbles for an elevated display on a board. Though, in order to help tell the difference between the two on this board, I did full-on crumbles to the 2016 Maker's Reserve on the right side of the board and crumbly slices to the 2012 Maker's Reserve on the left side of the board. You can learn more about the Maker's Reserve story below.
First, let's talk about the 2012 Maker's Reserve. It's grassy, velvety and nutty with a white peppery finish. Seen on the left side of the cheese board below, surrounded by items that compliment it best. Some suggested pairings:
Dark chocolate with sea salt
Raw local honey
Green Olives
Blood Oranges
Marcona Almonds
Wines: cabernets, vin zins, chardonnay
IPAs: one cheesemonger suggested Denali IPA or El Dorado IPA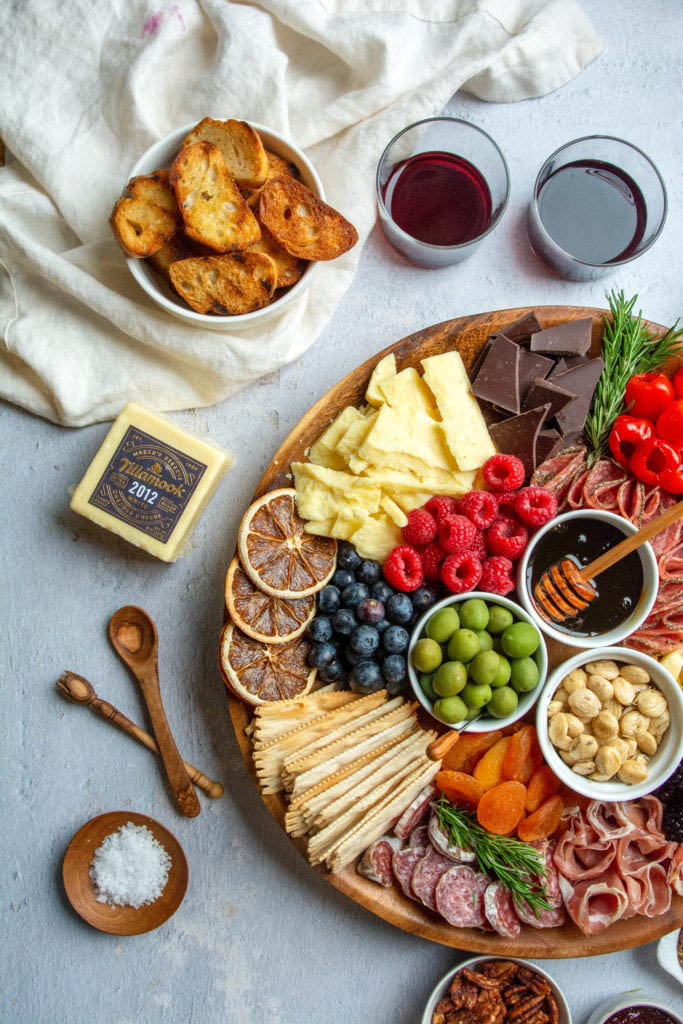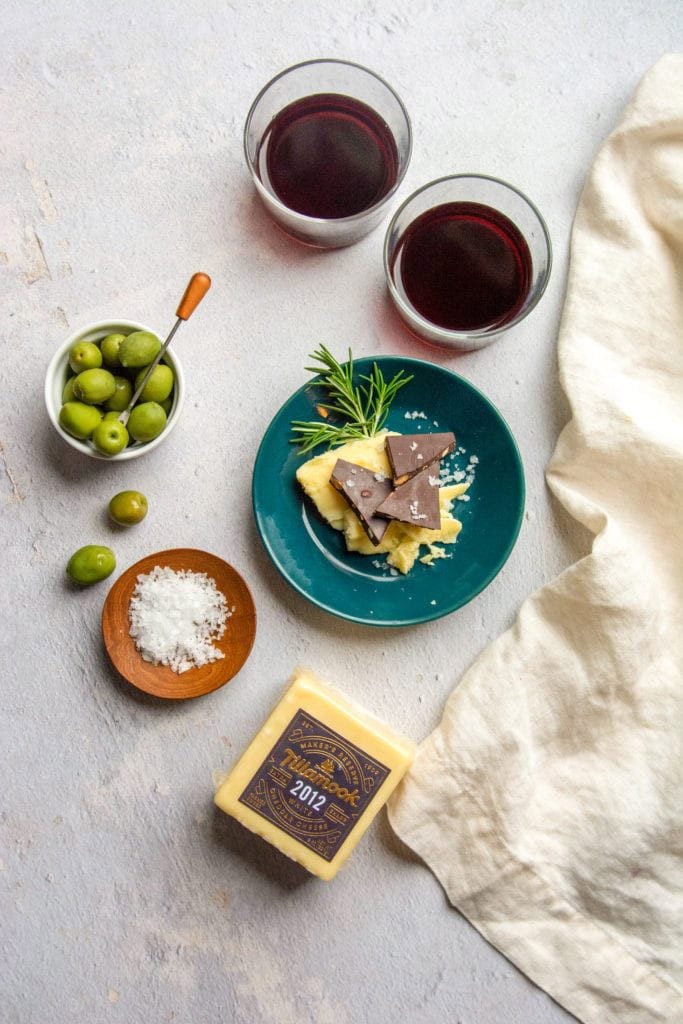 And now for the 2016 Maker's Reserve. Seen on the right side of the cheese board below, surrounded by items that compliment it best. It's a classic cheddar flavor with savory and fruity notes. Some suggested pairings:
Quince paste
Charcuterie: in particular peppered salami
Dried Apricots
Pimentos
Rustic bread
Wines: oaky whites like chardonnay or white burgundy
Spirits: Whiskey (one cheesemonger recommended Basil Hayden's or Whiskey Rye)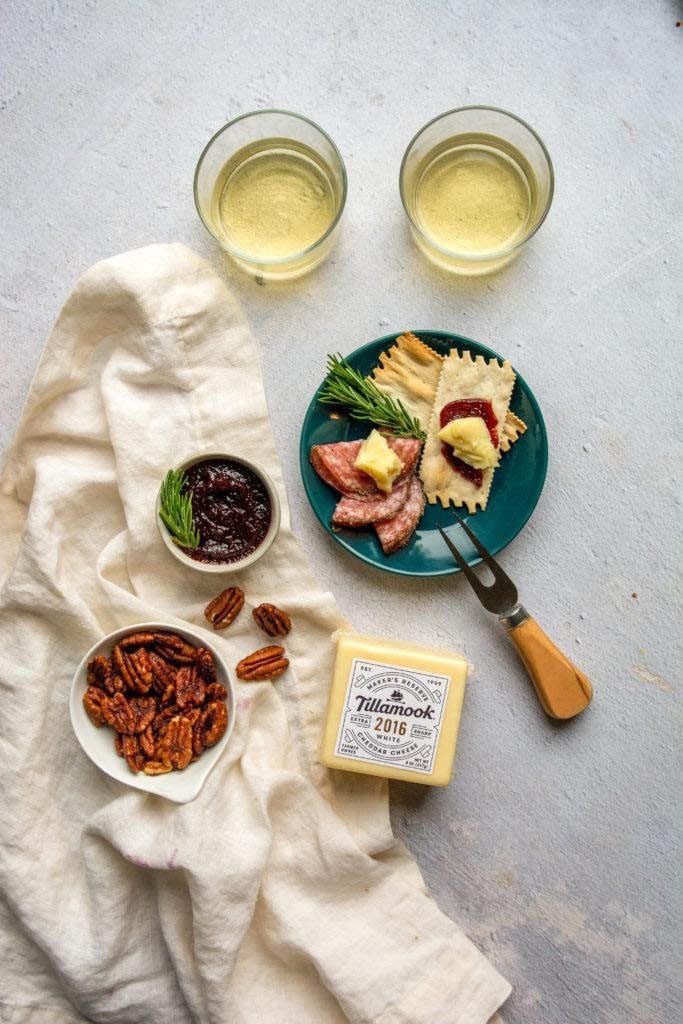 Because I can't deny my love of cheese + chocolate (always + sea salt because I'm not messing around), my favorite combo from the entire board was the 2012 Maker's Reserve with chocolate sea salt. I could eat this for dessert every night of the week! And after trying the 2016 Maker's Reserve with quince paste, I'm dying to try a quince paste grilled cheese on a baguette!
So… what do you think your favorite combo would be? Or better yet, try out the new Tillamook Maker's Reserve line and let me know. It makes a great addition to your holiday parties or include it in a gift basket for your foodie friends along-side items from my Cheese Boarding STARTER KIT.
As I mentioned above… given that this is a specialty gourmet cheese from Tillamook, it has limited availability. Here's the best way to find it:
Look in the "deli case" of the grocery store, where a cheesemonger is present. This will be where you find more premium, cheeseboard-type cheeses (like brie, blue cheese, etc) instead of where you find cheese slices.
As always, Happy Cheese Tasting!
Photos by Aliza J. Sokolow