This post contains collections of products that I personally recommend (it may contain affiliate links).
Who else is excited for the Tokyo Olympics!? In honor of the delayed games, I wanted to pull together some of my favorite party and snack ideas to help you celebrate the opening ceremony or throw a watch party for your favorite event–gymnastics, anyone? You can't go wrong with torches and gold medals, but my favorite theme to play with are the Olympic rings–they are the quintessential symbol of the Olympic games, so why not make food inspired by them! In case you were wondering, the colors represent the flags of all the competing countries and the rings symbolize the coming together of 5 continents (learn more about it here).
If you're more focused on cheering on Team USA, you can also make my America-themed boards, like my Red, White, & Burrata Board, Proud to Brie an American Board, or American Flag Candy Board.
Olympic Rings: LifeSaver Champagne Cocktail
I can't take full credit for this adorable cocktail; I saw it on Pinterest and had to recreate it!
I had to use 2 different packs of gummy lifesavers and still get creative to make the 5 colors of the Olympic rings: the black is made using edible spray paint and the blue from mushing 2 half-blue rings together. If that's too much effort, just use 5 different colored rings and people probably won't notice.
Place the 5 rings in color order in the bottom of a coupe glass, then pour over your favorite Cava, Processor, or Champagne, and enjoy! Not a bubbly fan? Feel free to make it a vodka soda or gin and tonic instead.
Not into alcohol? Make a mocktail or non-alcoholic version with sparkling water, sparkling cider or sprite.
Olympic Rings: Fruit Platter
Create rings out of your favorite fruits, here are some olympic color suggestions…
Black: blackberries, black cherries
Red: Raspberries, strawberries, watermelon, pomegranate seeds
Yellow: Mango, pineapple, banana, cantaloupe
Green: kiwis, green apple, green grapes
PC: thekitchn.com
Olympic Rings Sheet Cake, Brownies, or Rice Krispies
Re-create the Olympic rings with M&Ms or Skittles on top of a white frosted background.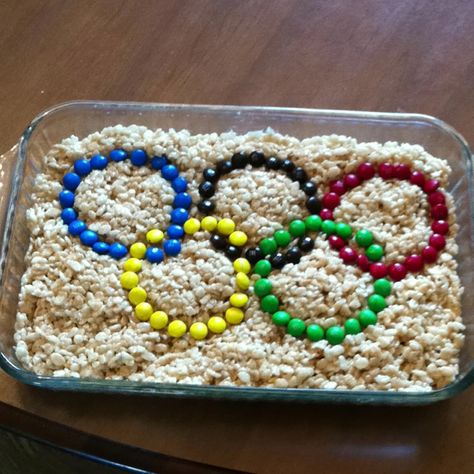 PC: smartschoolhouse.com, tasteofhome.com
Olympic Gold Medal: Cheese Plate
If you want to get creative, make a gold medal out of Brie, candy, and Letter Cookies! It may seem like a weird combo, but I have always loved Brie for its ability to pair with sweet and savory. Below you will see a couple creative options. These function more as food art than a whole charcuterie board, but make for an awesome addition to your Olympics party spread.
OPTION 1: Trader Joe's School House Letter Cookies, Sour Tape, Gummy Lifesavers and Brie. Now if you want to make this a completely sweet version, trade out the brie for a large sugar cookie instead.
OPTION 2: Here I swapped out the lifesaver Olympic Rings for more savory items. I used bell peppers for the red, green and yellow rings. Eggplant for the black ring and cheddar cheese with food dye spray for the blue ring. I used two sizes of round cookie cutters to make the rings. If you prefer to make this more savorty, you can always swap out the cookie letters for provolone letters using slices of provolone and letter cookie cutters to create words.
NOTE: after making this, I was informed that it's actually TOKYO 2020 (not 2021) because they keep the original year in the title, so make sure to revised my mistake.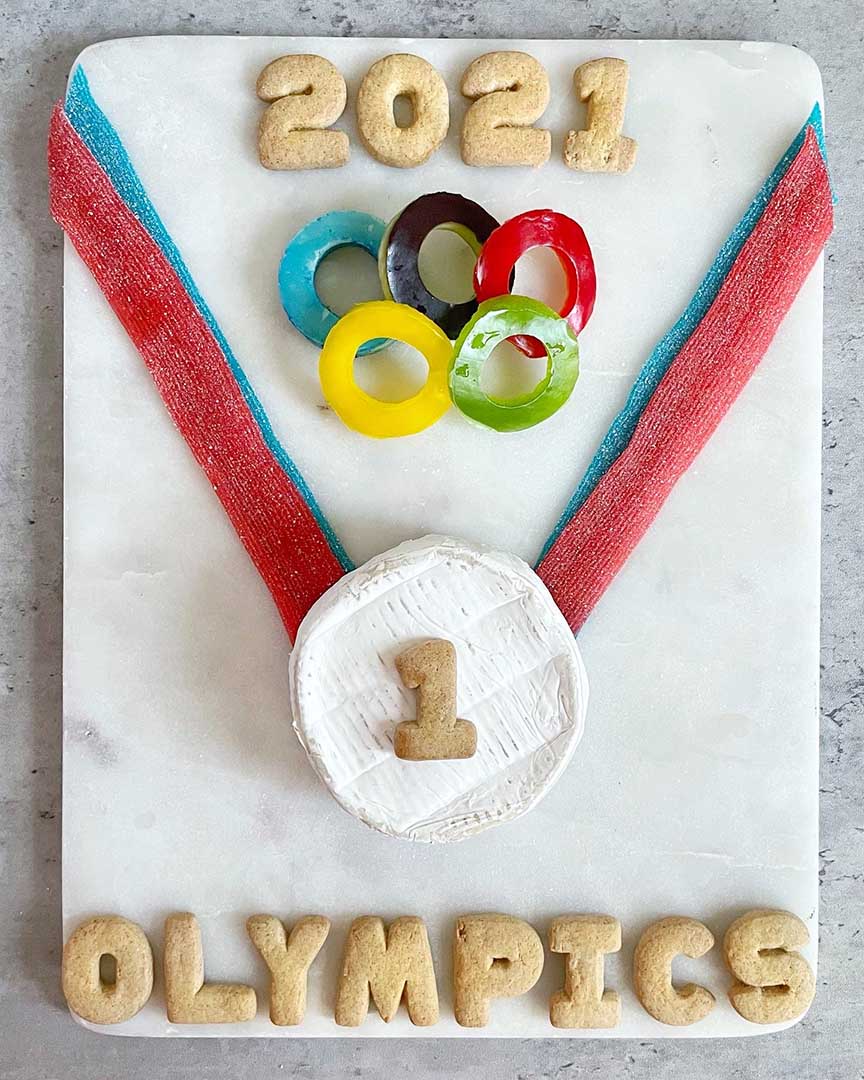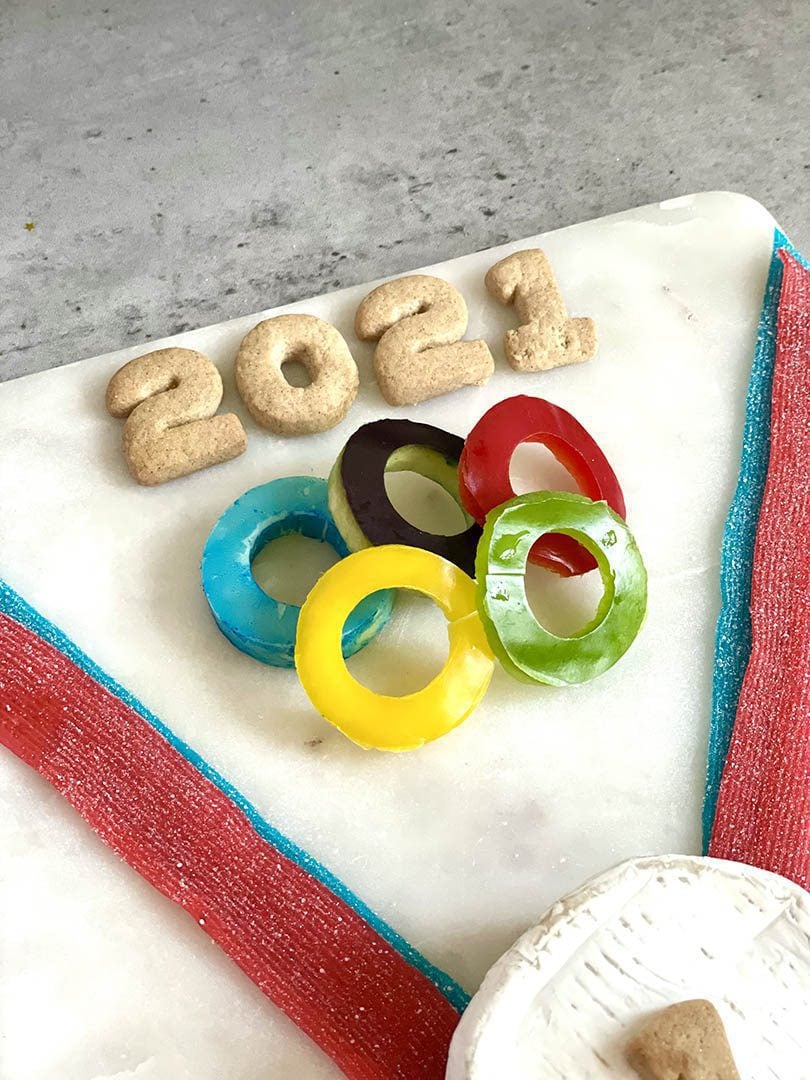 Olympic Rings: Cupcakes
Top with M&Ms, Skittles, Fruit Loops, or small pieces of fruit in each color to represent the rings.
PC: littlefamilyfun.com, sweetandsimpleliving.com
Olympic Rings: Chips and Dips
I'm continually impressed by my friend The Baker Mama's creativity (@thebakermama! The use of beans, salsas, queso, and guac is an ingenious, savory way to celebrate the games.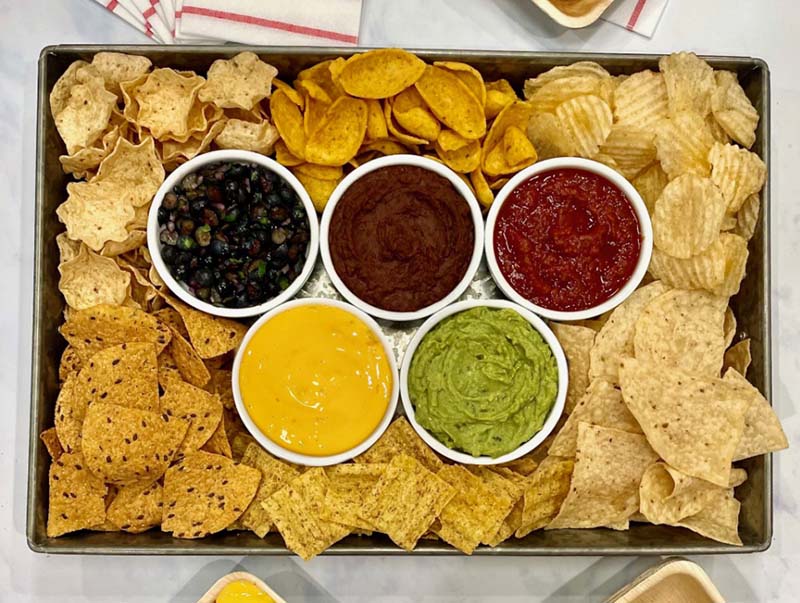 Olympic Rings: Breakfast Board
Also inspired by @thebakermama, use round breakfast foods like bagels, doughnuts, mini waffles, and/or silver dollar pancakes to emulate the rings and include bowls of fruit, doughnut frosting, or food-dyed cream cheese in the center to create and image of the rings.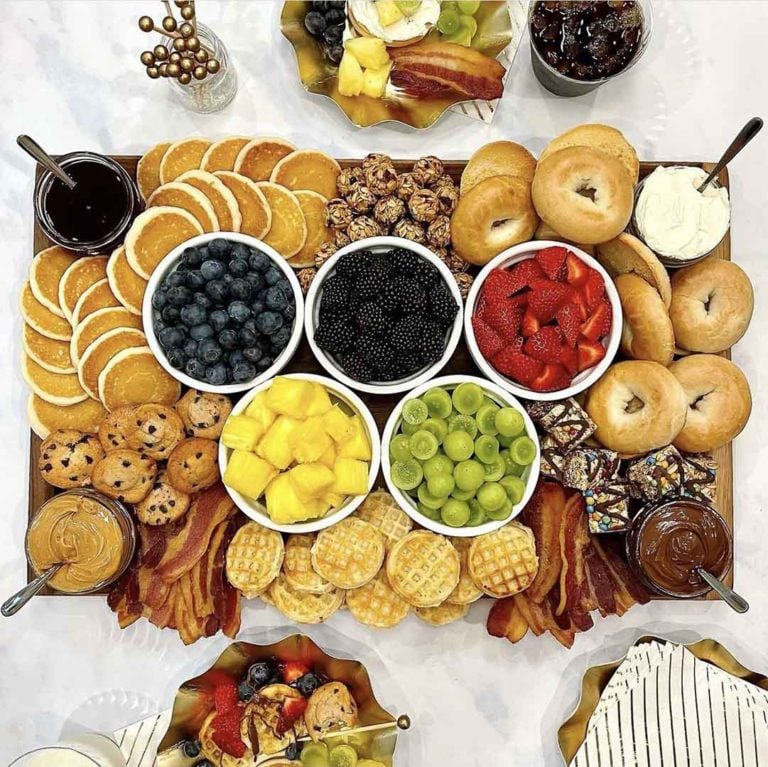 Olympic Gold Medal: Cookies
PC: Real Simple
Olympic Torch: Candy Board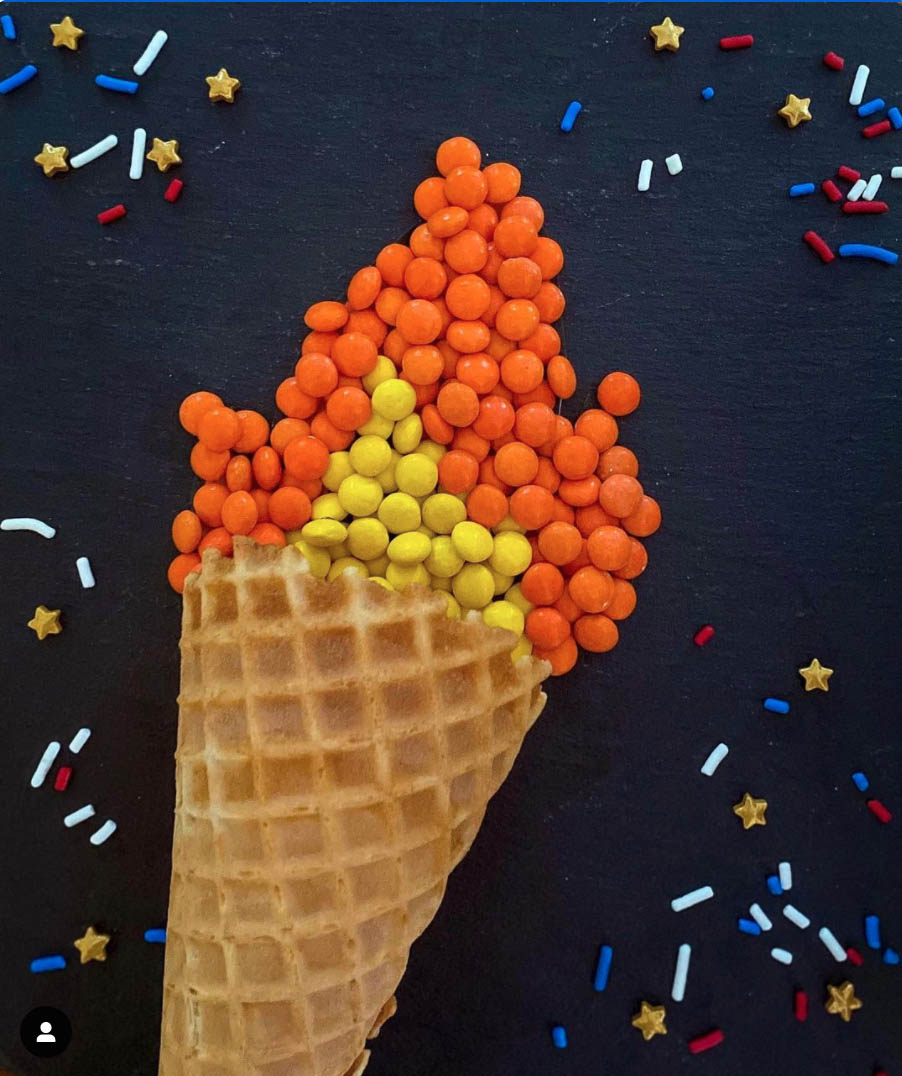 PC: @dreamboardsco
Olympic Torch: Cupcakes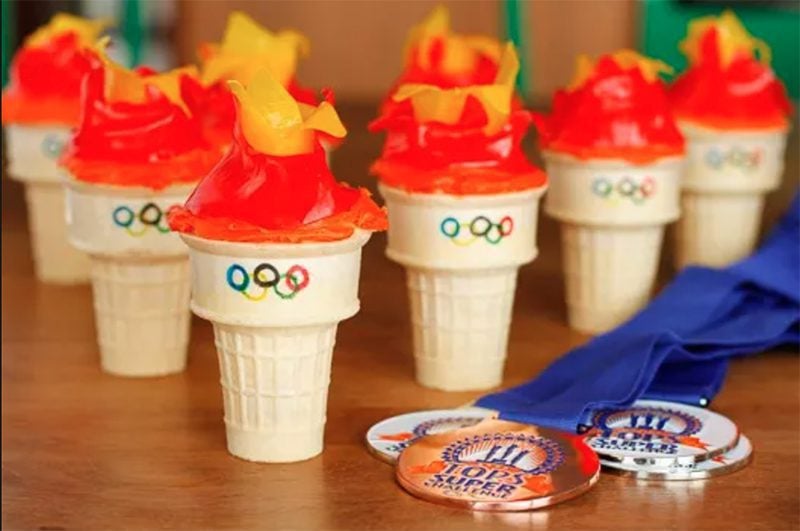 Olympic Torch: Cheetos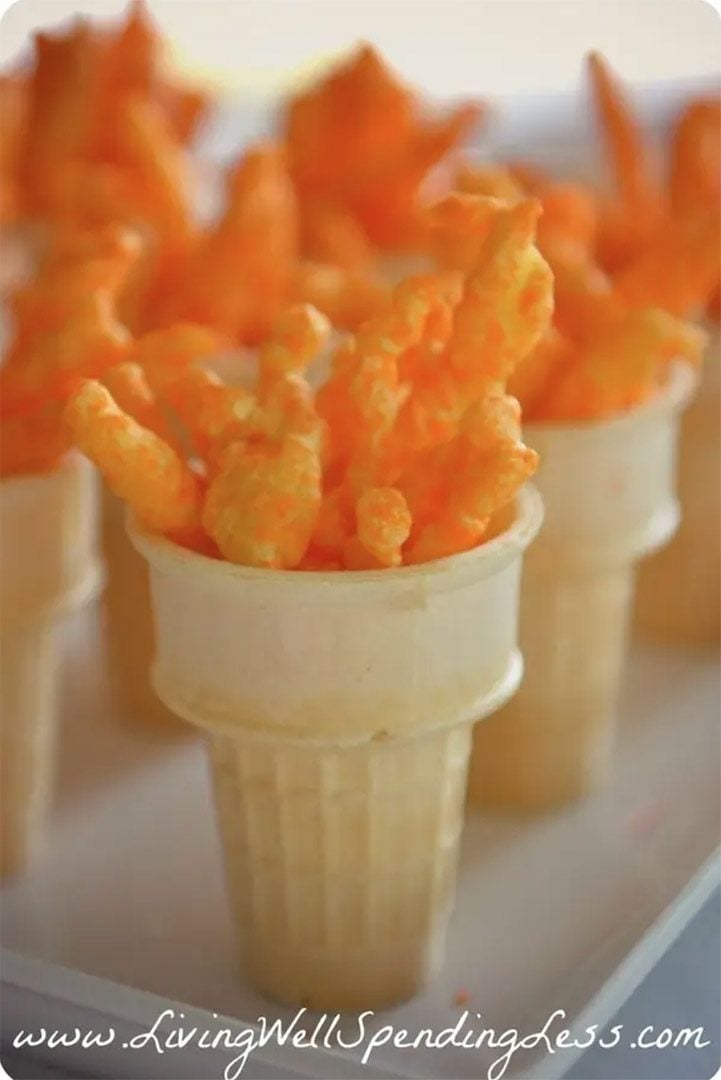 PC: livingwellspendingless.com
Go Red, White, and Blue!
If you're feeling more patriotic, give one of my aforementioned USA-themed boards a shot! Links here again for easy reference: Red, White, & Burrata Board, Proud to Brie an American Board, or American Flag Candy Board.
Show Me Your Winning Creations!
I hope this post inspires you to create gold medal-level snacks and treats. Nothing makes me happier than seeing the beautiful spreads and snacks you create from my tips. If you make something inspired by this post, please tag me at @ainttooproudtomeg so I can see and share!
And, If you liked this recipe, please rate and review.
Olympic Ring Colors Cocktail
Description
The perfect drink for an Olympic themed party served alongside Olympic foods.
Ingredients
Lifesaver Gummies

Champagne, Sparkling Water, or Sparkling Cidar
Tried this recipe?
Rate & Review!
Olympic ring themed appetizer
Description
Ingredients
brie wheel

red, green & yellow bell pepper

eggplant

slice of cheddar

food coloring spray

Cinnamon School House Letter Cookies

(from Trader Joe's)

Sour Tape
Tried this recipe?
Rate & Review!