This post contains collections of products that I personally recommend (it may contain affiliate links).
Updated 2021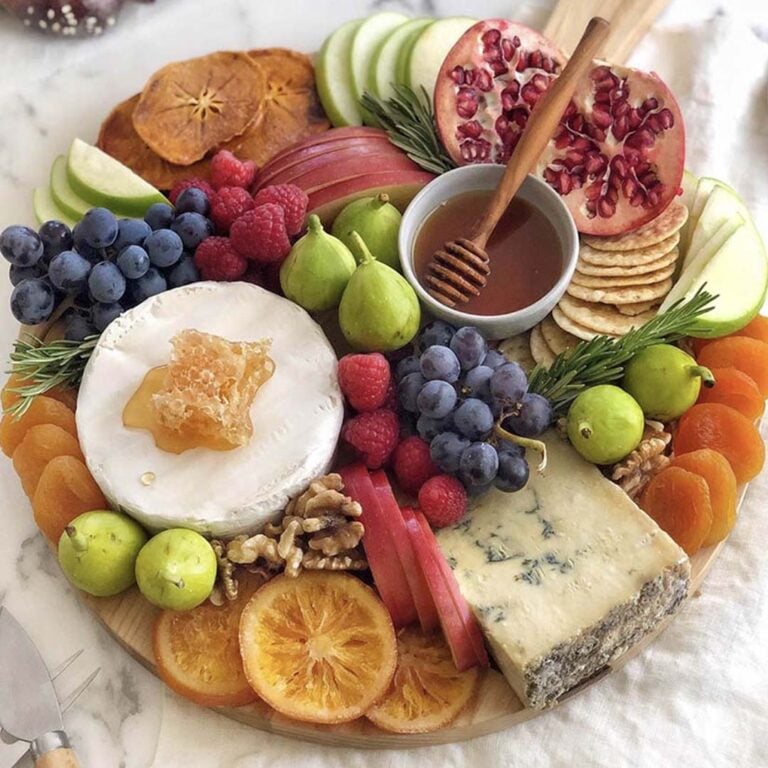 Happy Jewish New Year! I'm certainly no Rosh Hashanah expert, but when asked to make an apples and honey platter look stunning and tasty, you know I'm on it. I love making this board any time of year because apples and honey are a classic cheese board combo, but the pair is especially significant at this time of year. Use my board as inspiration to make a festive snack spread for the year to come. Shanah Tovah!
For other kosher snack and appetizer ideas, check out my Matzo Crostini and Latke Board (hint: try making latkes with other starchy veggies, like parsnips). Take a peek at my Cheese and Honey Pairings (don't forget parts two, three, and four!) for more sweet inspiration.
Build Your Rosh Hashanah Board
I went with the classic items (apples and honey, duh) and added a few of my favorite fall things. Round item's are special for this holiday, they symbolize the circle of life and the new year. I used a round board, round challah, round bowl for honey, round piece of Brie, and a whole pomegranate for garnish. NOTE: guests are totally welcome to eat the pomegranate.
Apples (see below about ways to keep them from browning)
Honey (I used both honeycomb and a little bowl with honey dipper too)
Pomegranate (whole to show off the symbolic roundness)
Cheese (a round brie and blue cheese, they're both particularly great paired with honey)
Note: if you are going somewhere kosher and there is meat being served for dinner, you will want to forego the cheese and add in more apples, dried fruit and nuts.
Quick Cheese and Apple Pairings
Granny Smith – soft, ripened cheeses like brie and camembert and creamy semi-frim cheeses like gouda
Honey Crisp – sharp cheeses like cheddar and creamy cheeses like gruyere
Gala – tangy cheeses like chèvre and blue-veined cheeses like bleu and gorgonzola
Fuji – salty cheese like gorgonzola and mild, hard cheese like fontina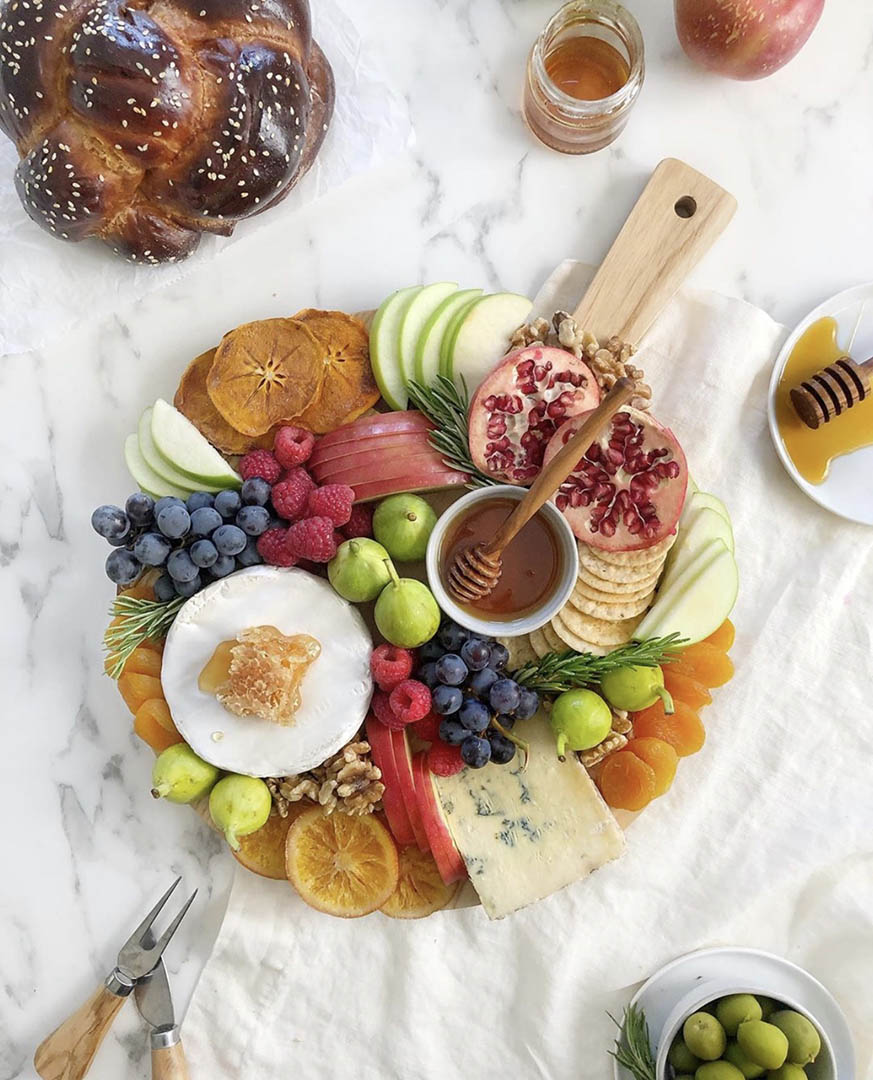 How to Keep Your Apples from Browning
Ugh, brown apples are the worst. They are totally still edible, but they look so unappetizing. The flesh of the apple starts to brown the moment after you slice it and it hits the air. It's just oxidization.
Make sure you slice your apples last! I dipped mine in lemon water (just a simple solution of the two mixed) but I don't love the tart taste of lemon when you think you're going to get a sweet crisp apple. I've also heard that the opal and cortland varieties of apple don't seem to brown as much. Try them out!
Other Ways to Preserve Your Apple Slices
Keep the slices tight together (not fanned out) so that there's less air that gets to each slice.
Instead of lemon juice, dip them orange or pineapple juice, they are sweeter and won't have that surprising tart flavor, but have a similar effect.
Sprite, 7-Up (or any other lemon-lime soda) apparently also works, although I've never tried it and it sounds kinda counterintuitive to me. It seems to be a fairly common practice. You do you!
Citric acid (like Ball Preserves) with water brushed on the apples will definitely work, but it may make the skin part bleed color onto the surrounding items after a few hours.
Salt also works well to keep your apples white (some proof here from Serious Eats). Soak apples in a simple saltwater solution then rinse the salt off. The salt taste is lessened by the water rinse, but sounds like there's still a subtle saltiness.
If you don't have any of these items in your pantry at home, at the very least submerge your slices in water directly after slicing. This will only help slightly, but it's something!
I cover this topic on my Fall Pumpkin Pie Hummus Board post, a perfect compliment to apples!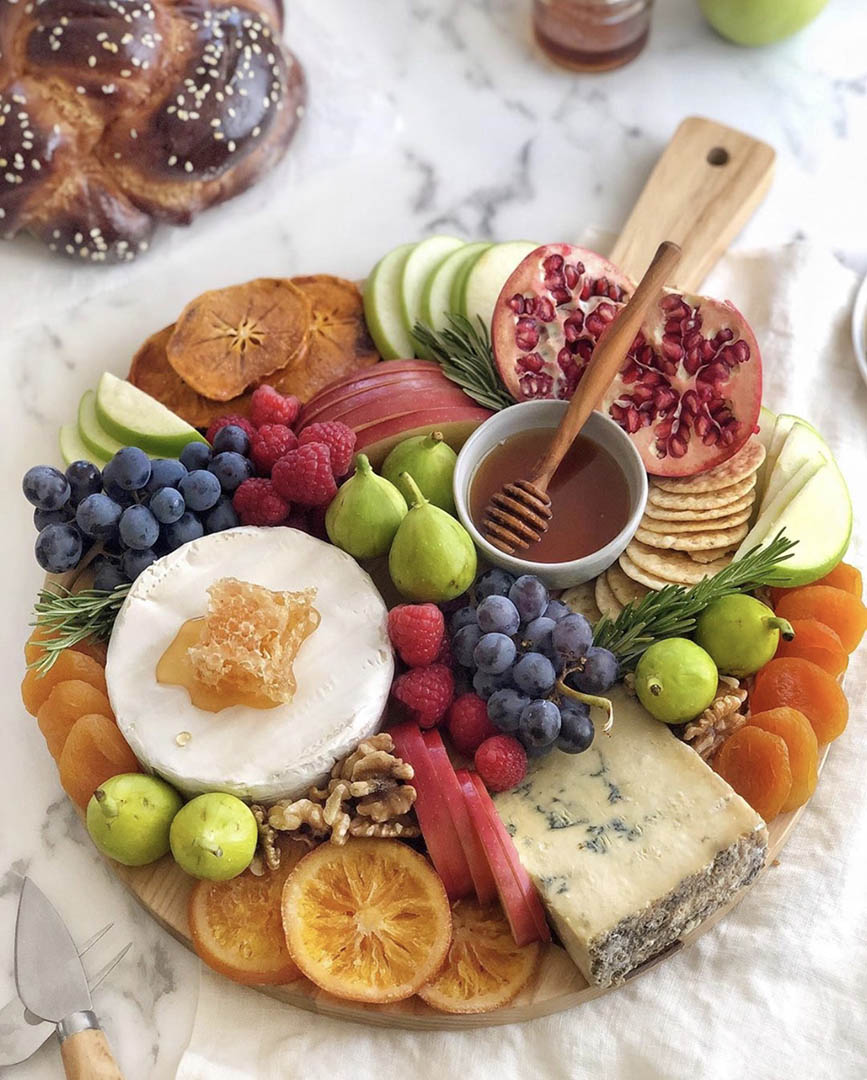 Additional Rosh Hashanah Items
As sourced from my followers, and other beautiful Rosh Hashanah boards I've saved in my Instagram Highlights, here's a recap of ideas for festive and symbolic additions to your board.
Round items – these are symbols of crowning god the king of the new year.
Sweet things – to enhance the sweetness of the coming new year. For example, challah gets raisins or a little added sugar for the holiday.
Newness – to bring in the coming year, pomegranates are considered a Jewish new fruit of the season, the many seeds symbolize a new year full of merits.
Fish – symbolic of God and the desired opportunity to do good. Smoked fish is popular and there are many options for cooked fish as well.
Carrots – in the Jewish tradition bring many blessings.
Show Me Your Boards
I hope this post inspires you to create delicious cheese pairings boards. Nothing makes me happier than seeing the beautiful spreads and snacks you create from my tips. If you make something inspired by this post, please tag me at @ainttooproudtomeg so I can see and share!
And, If you liked this recipe, please rate and review.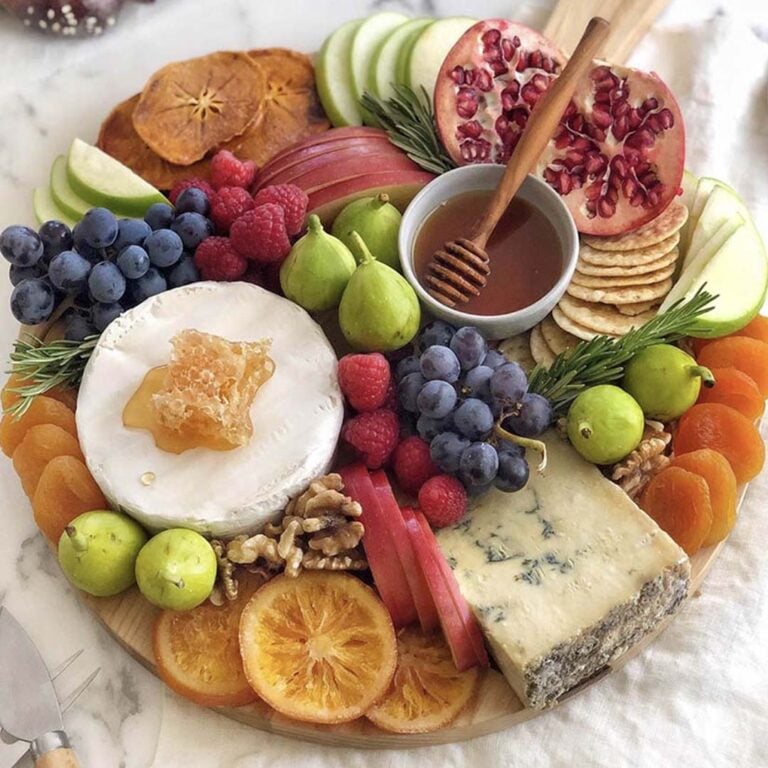 Rosh Hashanah Board
Description
Celebrate the Jewish New Year with this kosher Apples and Honey charcuterie board.
Ingredients
Produce
Red apples

sliced

Green apples

sliced

Green figs

Dried apricots

Blueberries

Raspberries

Pomegranate slices

Dried orange slices

Dried persimmon slices
Accouterments
Raw honey

Walnuts

whole

Honey comb

for garnish

Fresh rosemary

for garnish
Instructions
Start by placing the cheeses and bowl of honey evenly spaced throughout the board.

Fan the crackers out around one or two of the items on the board, then add the apple slices next to their complimentary cheeses. Add the berries, figs, walnuts, orange slices, and pomegranate slices throughout the board, being sure to break up similar colors.

Add the orange and persimmon slices and apricots around the edge of the board, then garnish with rosemary and add the honeycomb to the top of the brie

Serve remaining crackers and bread on the side.
Tried this recipe?
Rate & Review!