This post contains collections of products that I personally recommend (it may contain affiliate links).
Updated 2022.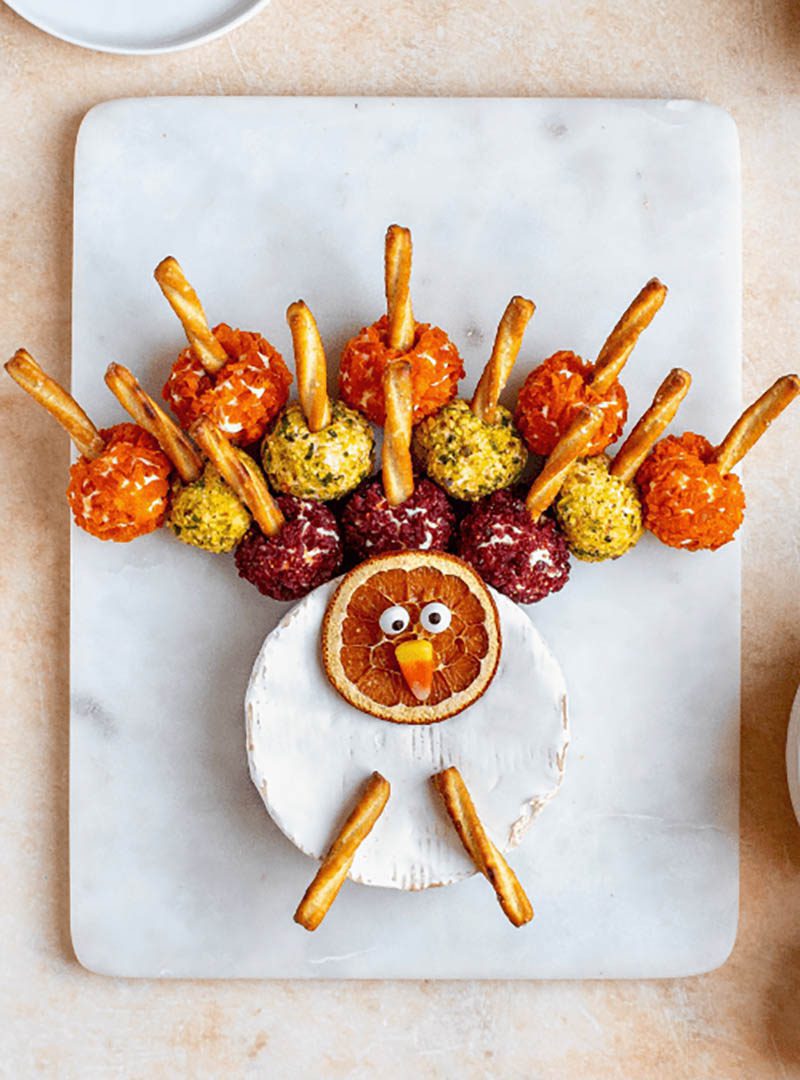 I love Thanksgiving, so I go all out when it comes to appetizers. For this recipe, you'll build a cute turkey out of cheese (did you expect anything less?)! Be sure to check out my other Turkey Day ideas, like my Cheesegiving Meal Board, Thanksgiving Cheese and Dessert Board, Thanksgiving Turkey Board, and Thanksgiving Kids Snack Board.
For more autumnal ideas, try my Fall Dessert Board, Fall Harvest Board, Elevated Fall Cheese Board, Fall Burrata Board, Pumpkin Cheese Ball, Caramel Apple Board, and all my other Boards with Gourds posts.
Tips for Making Cheese Ball Bites
Cheese balls are super easy to make. It mostly comes down to great ingredients and flavors that pair perfectly.
Jump to the Recipe
The main step is to combine the cheeses together in a stand mixer. If you don't have one, you can use a hand mixer or two large forks. The key is to get the mixture as smooth as possible so you don't have pockets of either cheese flavor.
When you pulse the dried fruit in the food processor it can get gummy, so chop them up as fine as possible before pulsing. A cleaned out spice grinder or coffee grinder works well for nuts.
When serving, be sure to label the different toppings, especially nuts since they are often an allergy food.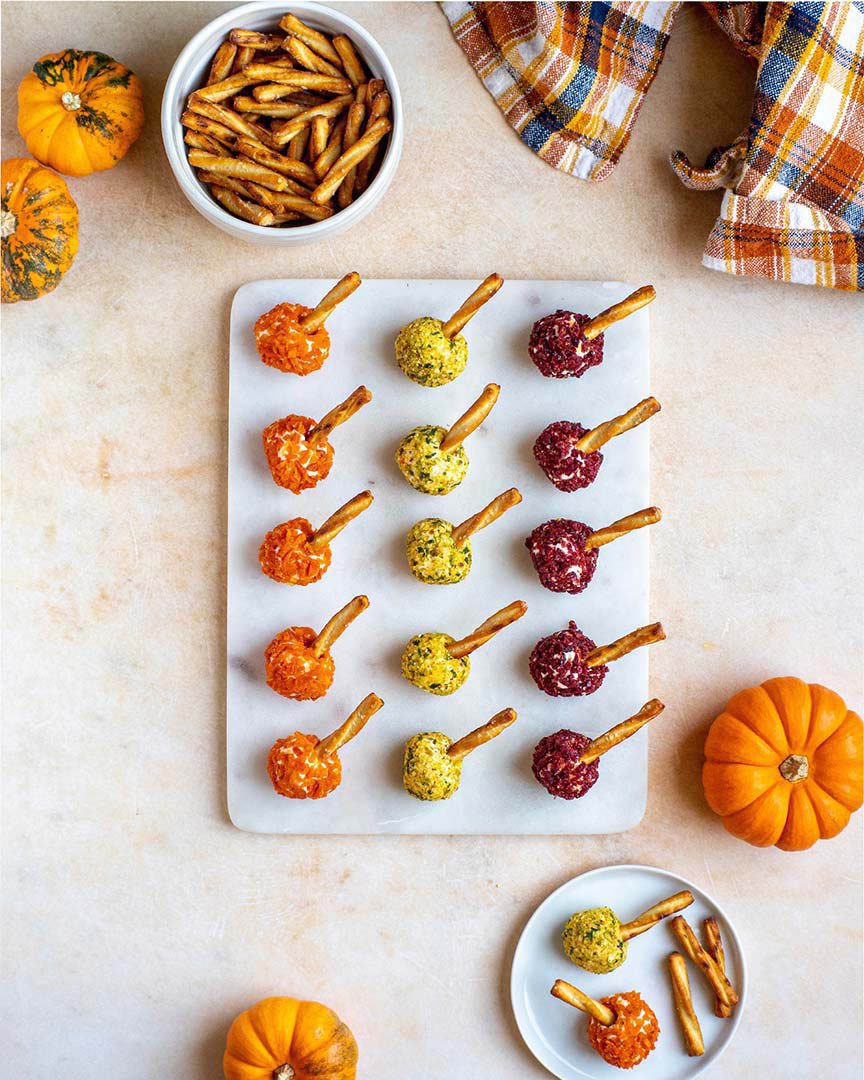 The Secret Cheesy Ingredient
Boursin Cheese! You know I love it and use it all the time. It's so versatile and universally loved. A good friend, (and amazing chef), Ryan mentioned his cheese ball recipe uses Boursin. I couldn't pass up the opportunity to make something adorable and festive from this.
Most cheese ball recipes call for a combo of butter and cream cheese, but this ones uses Boursin instead of the butter. I love it because it's super decadent and rich. The garlic herb flavor really takes these cheese balls to a whole new level.
If you don't want to use Boursin, there are plenty of alternatives, sour cheese or goat cheese are the most popular.
What Makes Cheese Ball Bites So Great?
So easy to serve! The Fall colors they're coated in look really festive an appetizing.
Make a day ahead! Smart hosting means being prepared and organized. You can make these way ahead of time and keep them in the fridge. (Just be sure to add the pretzels day-of, so that they don't get soggy!)
Safe from double dips! The individual servings are great for social distancing hosting. Guests can grab a serving and come back for another one later.
Easier clean up! There's a lot less mess on your board because they are totally self contained.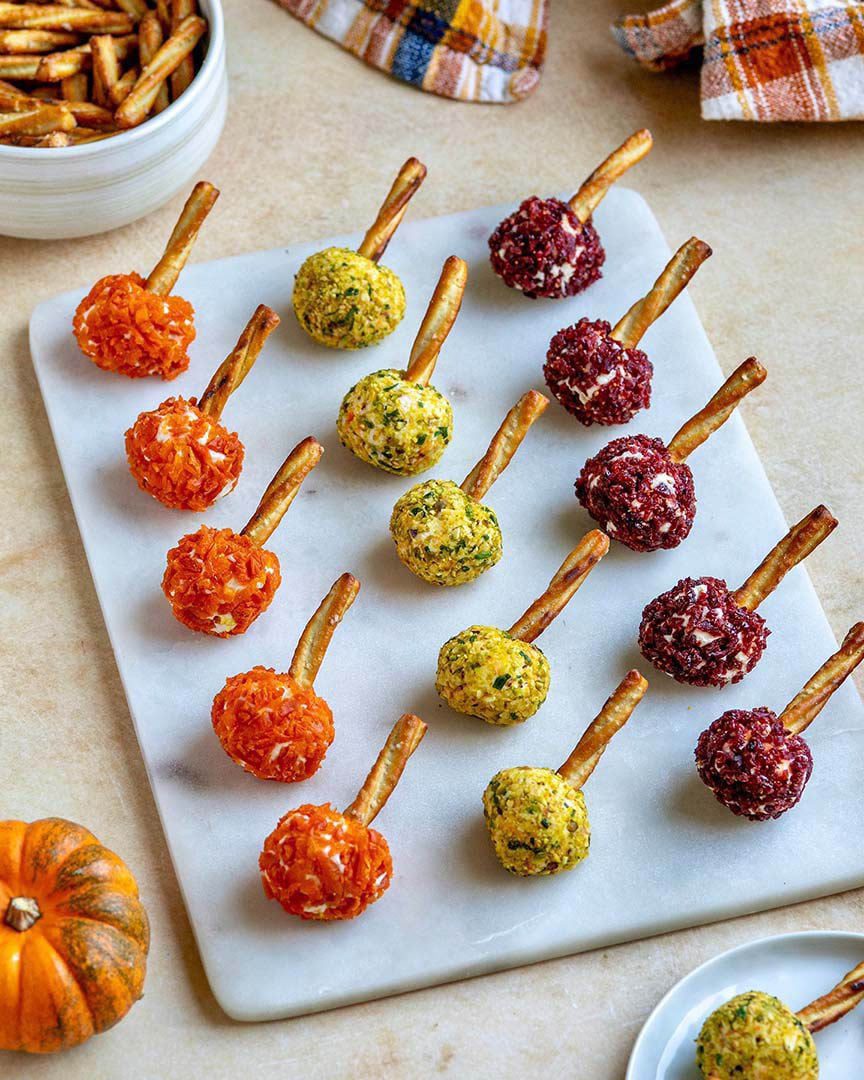 How To Build Your Cheese Ball Turkey
I'm such a sucker for a holiday-themed appetizer. You've probably seen my Turkey Veggie Appetizer and CharcuterTREE. I know there are turkey appetizers all over Pinterest right now and I am totally here for it, but I wanted to think of something new this year. I'm loving this bite-sized cheese ball turkey!
Build the Body—Start by adding the body of the Turkey. In this case, I opted for a yummy round piece of brie. Because what's better than cheese? More cheese! Unlike the cheese ball bites, you can serve the brie like you would on any board.
Designing the Face: For this cutie I used a dried orange to create a face shape on top of the brie (great combo if you haven't tried it!). You can find them at Trader Joe's. If that's not your thing, whatever you use you'll want to make sure it round and also is smaller than the body. I think the orange adds a nice Fall color and elegant ingredient with the fancy brie.
Adding the Eyes—Duh, I'm in love with edible eyes for just about any fun board (like this Halloween Muffin Tin). There are different sizes you can choose, go with what fits the turkey shape you're creating.
It's Called a Snood!—Did you know that? The wobbly bit underneath a turkey's beak. So cute. I used a candy corn for this, I think it gives exactly the right impression but also lends a fun cheeky attitude. You could also cut a small bit of a bell pepper. Make it your own!
Making the Tail Feathers—Here's where the cheese balls shine. Place color-coordinated rows around the brie cheese. I choose these three Autumnal colors because they are perfect for Fall, but I also knew they would be different enough to make a beautiful tail of turkey feathers.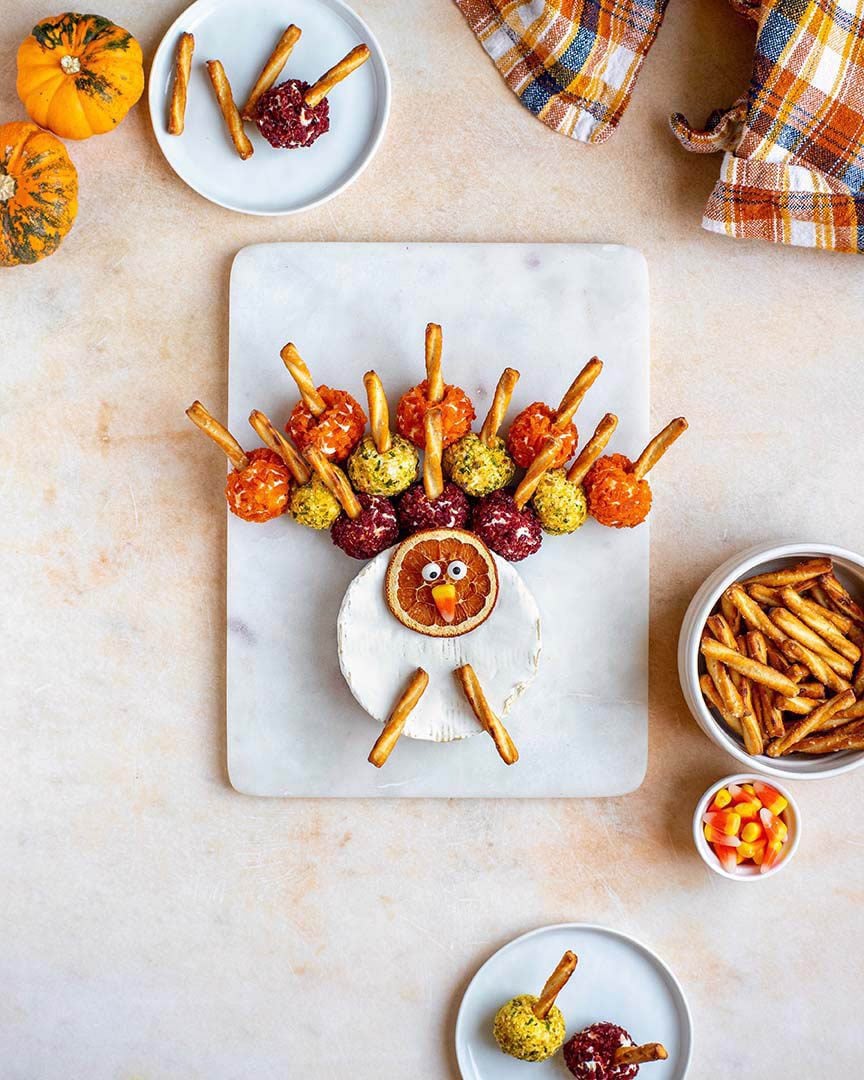 Flavor Alternatives & Accessories
There are so many options to making these little cheese balls just what you want.
While a classic pretzel stick works perfectly, I wanted to switch it up and use these cute pretzel twists. They are Rold Gold Recipe No. 5 (see packaged below) and have a rich savory butter flavor that brings these bites to the next level.
Other toppings to consider: minced herbs like parsley, finely chopped nuts like walnuts or pecans, bacon bits, cracker crumbles, thinly shredded cheese, diced olives. Heck, if you wanted to grind up some pretzels those would be delish too!
Feel free to fill your board up as high as you want with the feathers, or keep it small and leave extra cheese balls off to the side for more snacking opportunities.
Show Me Your Turkeys
I hope this post inspires you to create delicious holiday snacks. Nothing makes me happier than seeing the beautiful spreads you create from my tips. If you make something inspired by this post, please tag me at @ainttooproudtomeg so I can see and share!
And, If you liked this recipe, please rate and review.
Easy Cheese Ball Turkey Shaped Appetizer
Description
Ingredients
For the balls
5.3

ounces

Boursin Cheese

Softened

8

ounces

Cream Cheese

Softened

1

TBSP

Chopped Parsley

1

tsp

Chopped Chives

1/4

tsp

Lemon Zest

1/8

tsp

Worcestershire Sauce

1

dash

Tobasco

1/3

cup

Pistachios

Chopped

1/3

cup

Dried Cranberries

Chopped

1/3

cup

Dried Slab Apricots

Chopped

1

bag

Recipe No. 5 Savory Butter Pretzels
For the board
1

brie wheel

1

orange slice

candy eyes and candy corn
Instructions
Combine Boursin, cream cheese, parsley, chives, lemon zest, Worcestershire sauce, tabasco in the bowl of a stand mixer fitted with a paddle attachment (or in a large bowl if using an electric mixer). Mix until a smooth uniform mixture has come together, stop and scrape down the sides and continue mixing if needed.

Mix until a smooth uniform mixture has come together, stop and scrape down the sides and continue mixing if needed.

Line a tray with parchment paper and begin to scoop the cheese with a tablespoon measure onto it, refrigerate for half an hour.

Meanwhile in a food processor separately chop the pistachios, dried cranberries and slab apricots finely, then place each in their own bowls, so all your toppings are ready.

Note that dried fruit can get gummy in the food processor, so make them as fine as possible before they turn gummy (or into a paste).

And, if you want them to be finer after you take them out, feel free to use a knife to finish them off.

Once the cheese has chilled roll each piece into a ball between your hands, then roll each piece into either the chopped pistachios, apricots or cranberries.

Once ready to serve, stick a pretzel rod into the center of the cheese ball.

Place the brie towards the bottom of the board. Fan the cheese balls out in layers around the top of the cheese to resemble feathers. Add eyes and candy corn beak to the orange slice to make the turkey's face. Enjoy with more pretzels on the side!
Tried this recipe?
Rate & Review!
Photos by: Haley Hunt Davis