This post contains collections of products that I personally recommend (it may contain affiliate links).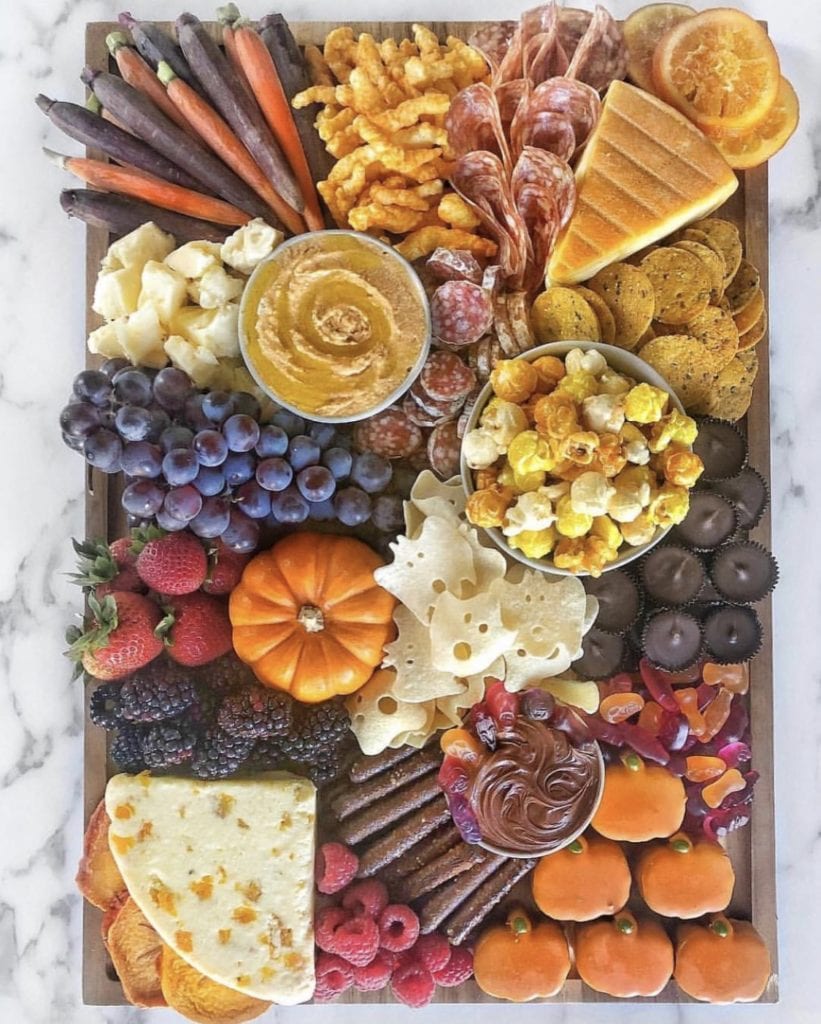 Once September rolls around, Trader Joe's morphs into a Fall wonderland filled with pumpkin-shaped goodies and fall flavors in every food group. Honestly, once I see their Halloween items in stock, I start to collect my favorites for future boards. From ghost and bat chips to spooky gummies and pumpkin popcorn, Trader Joe's is an absolute gold mine for fun, themed snacks.
For other autumnal inspiration, take a look at my Elevated Fall Charcuterie Board, Fall Burrata Board, Halloween Snack Board, and Halloween Candy Board. Plus, if you're trying to celebrate on a budget, check out my $35 Trader Joe's Charcuterie Board or $65 Trader Joe's Charcuterie Board and use it as a handy dandy shopping guide!
You can also search all board ideas by holiday on here, including other Halloween Board Ideas, Thanksgiving Board Ideas, Hanukkah Board Ideas and Christmas Board Ideas.
Start With Halloween Colors
When brainstorming a themed board like for a holiday, I always start with a color palette. You've seen this specific use of color on my Valentine's Day Candy Board, Christmas Cheese Board and Thanksgiving Cheese and Dessert Board (to name a few).
For Halloween I'm looking for orange, purple, yellow, brown, and black.
Cheese twists and certain cheeses will give you orange
Purple carrots and dark grapes are super fun to get some purple pops
Popcorn and cheese are a sure way to get yellow
Obviously chocolate is an easy one to get brown
Blackberries or black olives are nice for black
There are other Halloween-specific items like Trader Joe's Boo Chips (white), candy corn or mellowcreme pumpkins (yellow and orange), or hummus or chocolate dip (brown) will give your board a good dose of color.
Put a Pumpkin on it!
This step is crucial. I love putting whole pumpkins and decorative gourds on board. Check out my "Boards with Gourds" category to see more examples of this. Tag me (@ainttooproudtomeg) and use #BoardsWithGourds when you post yours.
Be sure your guests don't try to eat them. These are decorative only, though you should treat them like any produce on your board and wash/dry them prior! You can find them in a variety of colors. White pumpkins are super cute, classic orange is great. Gourds and small squash come in green, red, orange, brown, white—add the ones that have some personality and fun shapes!
What if I don't Have a Trader Joe's?
As always, this is just meant to be your inspiration. Follow the tips below, but you can easily find similar products online.
How to Build Your Board
When I build a grazing board like this there really aren't many rules I follow. But placing the larger items on first will ensure there's enough space for them. Adding in the smaller snacks is easy once you know where there are spaces to fill.
Place any bowls, gourds or ramekins on the board first, you want to make sure you have ample room for these. On this board I have chocolate dip and spicy hummus.
Then add the larger blocks of cheese like a brie wedge on opposite sides of the board.
Note that the larger items above are spaced out throughout the board so that there is room in between all of them to add the dipping items and smaller snacks.
Mentally section off your board so that you'll put sweets separate than meats.
Add fruit, pretzels, and other candy near the chocolate dip.
Veggies, crackers, and cubed or crumbled cheese can go next to the hummus.
Then with remaining room, sprinkle gummies, more fruit, and candy as you see fit.
Honestly there are no strict rules with a grazing board, make it your own!
Show Me Your Boards
I hope this post inspires you to create scary good cheese boards. Nothing makes me happier than seeing the boo-tiful spreads and snacks you create from my tips. If you make something inspired by this post, please tag me at @ainttooproudtomeg so I can see and share!
And, If you liked this recipe, please rate and review.
Trader Joe's Halloween Grazing Board
Description
A halloween cheese & charcuterie board with Trader Joe's Halloween gummies, chocolate mousse pumpkins, apricot stilton & more.
Ingredients
Cheese
Autumn Chimay

White Stilton with Apricots

Creamy Toscano (Syrah) 

cubed
Dips
Spicy Hummus

Chocolate Almond Spread

could sub Nutella
Meat
Salame Secchi

sliced

Calabrese Salami

folded
Carbs
Seed Sweet Potato Crackers

Ghost & Bat Potato Snack

Baked Cheese Crunchies

Pretzel Sticks

Candy Corn Popcorn
Produce
Les Petits Carrots of Many Colors 

orange & purple only

Thomcord Grapes

Strawberries

Blackberries

Raspberries
Sweets
Halloween Gummies

Peanut Butter cups

Dried Orange slices

Chocolate Mousse Pumpkins
Instructions
Place dips and popcorn in bowls, then add the bowls and pumpkin to the board first to anchor the board

Add the cheeses to the board and space-out evenly throughout the board.

Arrange the snacks and berries around the bowls and cheeses, being sure to keep the sweet items away from the meats. Try to arrange complimentary foods close to each other, for instance: berries and pretzels by the chocolate dip and ghost potato snacks by the hummus.

Tuck the salami into the empty spaces and add the sliced oranges to the edge of the board.
Tried this recipe?
Rate & Review!